San Luis Obispo based wedding florist, Nicolette Lynch from Festive Designs gave us the 5 best tips to keep your wedding flowers looking great in photographs-- all day long! "One thing we know for sure? Your memories of the day may fade, but your professional pictures from your wedding day will last forever! We have some advice on how to protect your investment and ensure that your flowers last all day and look as good in pictures as they do in person." Keep scrolling to find out these flower power saving tips!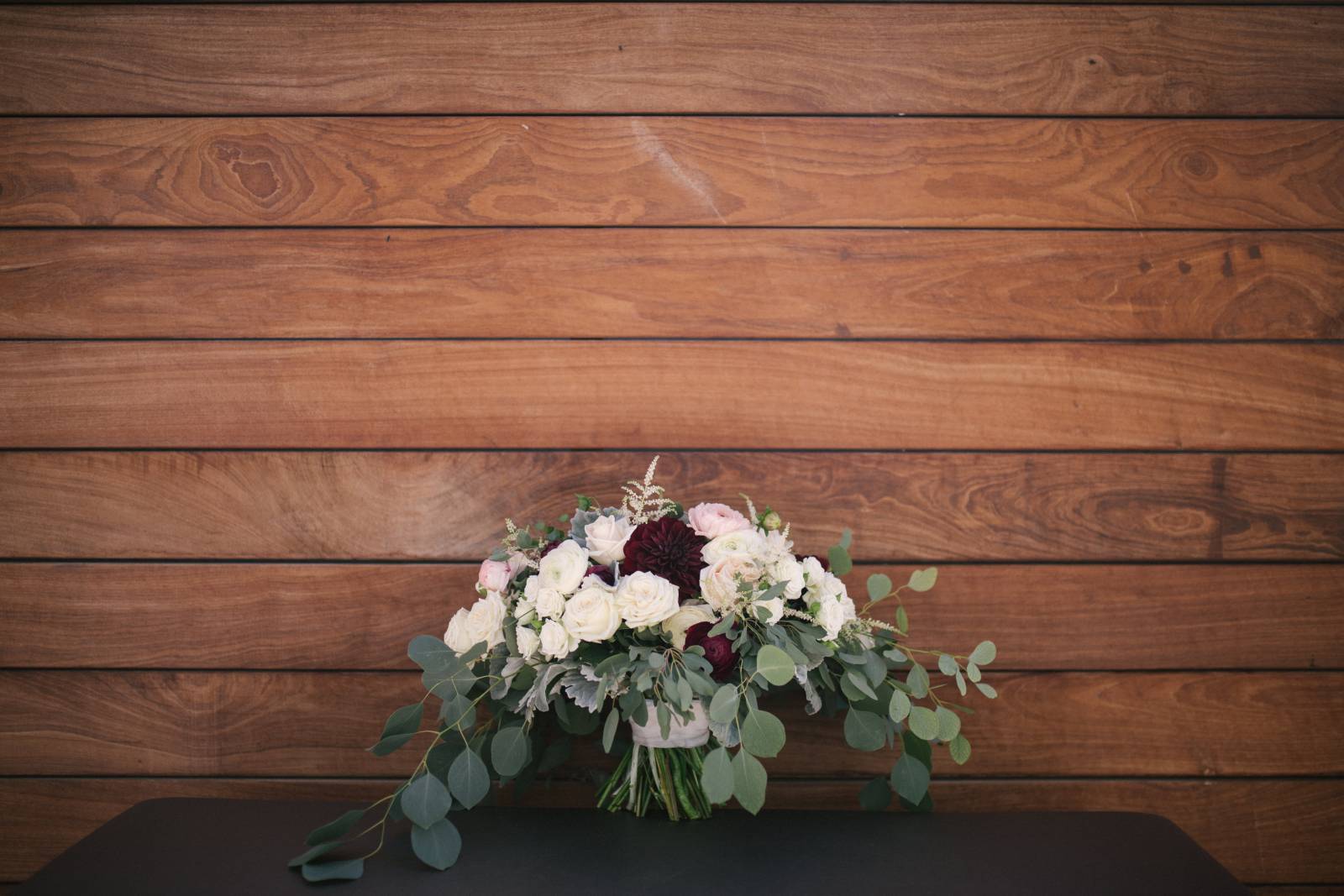 1. Set Them Up For Success.
Select flowers that won't have to fight for survival in the first place. If you're getting married in the peak of summer at an outdoor venue without a tent, it's going to get toasty. Go for flowers that are hardy and can last for hours out of water. Sunflowers, chrysanthemums, cymbidium orchids, protea, and succulents will still be photo-ready when the cake is being cut. Their more delicate counter parts like hydrangea, ranuculus, garden roses, tulips, and anenomes will be struggling to hang on. They are better suited for a temperate day with some sun coverage.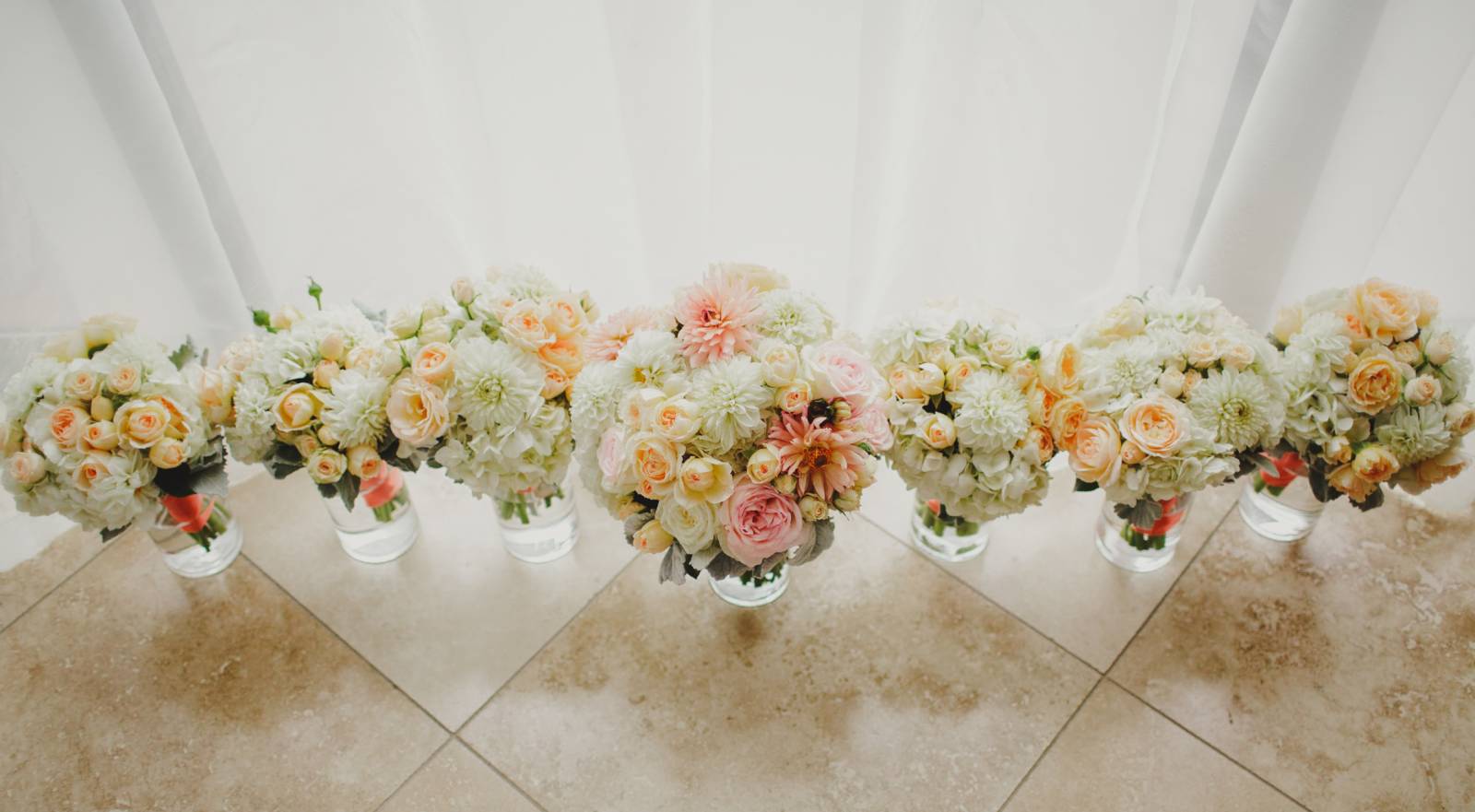 2. Let Them Drink!
When we create bouquets that contain some of the more fragile blooms, we'll always drop them off with vases they can rest in. We'll have just enough water in there so that the flowers can soak up some water between bridal party photos and the ceremony. Every minute helps, so when you're not using them, put them back in the vase. Ask your florist if that's something he or she provides, or if you should bring your own. Putting them back in the vase also means they are upright and not laying on their sides. Remember- bouquets are designed to be held, not resting. We've definitely seen a few bouquets that were neglected in the morning, walking down the aisle with smushed sides by the afternoon. So tragic.
3. Beware Of The Bear Hug.
Wedding days are full of joy, reunions, old-friends, celebration and HUGS. No offense to the fellas, but our grooms and groomsmen are the biggest offenders of the boutonniere busting bro hugs. You know the kind we're talking about. Whenever we pin boutonnieres on the guys in the morning, we remind them, "Remember to be careful of the flower as you hug people. We brought an extra one, just in case." We've definitely seen our fair share of rose heads pop clean off when sandwiched in an emphatic hug. It's a funny thing to think about- but it happens. It also happens when photographers encourage the entire wedding party to jump off of things prior to the ceremony. My heart skips a beat every time. So how can you account for damage prevention? Consider a durable boutonniere. Herbs, greenery and foliage are always a great alternative. Rosemary, magnolia leaf, lavender, eucalyptus, and ferns will all survive the jumping and squishing like a champ.
4. Hold It Low.
Now, this one is actually more about making you and your dress look good- not the flowers. Knowing how to properly hold your bouquet is key- which is why we explain the strategy to the bridal party when we deliver the bouquets. You're going for a relaxed grip, unlocked elbow, and thumb near your belly button. It may feel unnatural in the moment, but it will actually look great and relaxed. If you're not conscious of it, that sucker will creep up on you and all of a sudden your bouquet is at your chin and it will look like you're trying to hide behind it. It's kind of a phenomenon. We're not sure if it's nerves, the weight of the bouquet, or the fact that one arm is higher, hooked in the elbow of your aisle escort. In an effort to combat this, you'll often find us at the top of the aisle before the procession whispering, "Remember...belly button!" to the ladies before they walk down.
5. Add Some Light!
Depending on the time of year, the sun may set by dinner time. Your guests may have enough light to dance the night away- but they probably won't be able to see the detail in your floral centerpieces. Consider adding 3-5 votive candles per table to illuminate your florals into the night. Besides being practical, some soft candlelight is always so romantic. Personally, we think flowers look best when surrounded by candlelight. If your venue doesn't allow an open flame, even the faux LED votives will help add some ambiance. The photos will look fabulous!