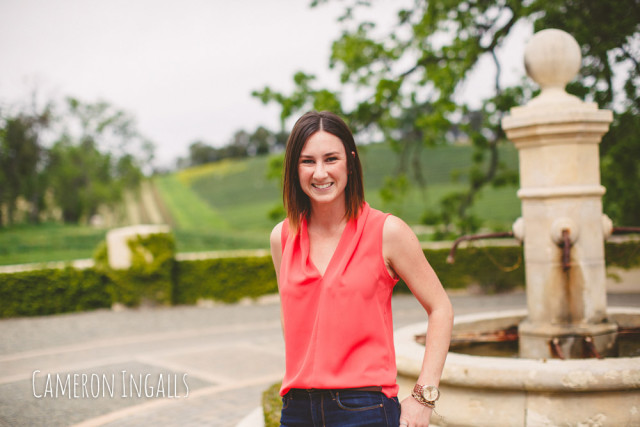 WEDDING PLANNER AND DESIGNER | ARTIST INTERVIEW ///
Kelsey of A Lovely Creative is a breath of fresh air! With eyes full of wonder for pretty little details and a heart of friendship she approaches each new wedding couple with such a well rounded perspective. Having a background in floral design, an education in event management and experience venue managing she has what it takes to make an event not only happen, but happen creatively and uniquely. Enjoy Kelsey's interview and if you're looking for a designer for your wedding reach out to her right away. You will have A Lovely Creative wedding and make a wonderful friend in the process!
When I graduated high school I got a job working at a small flower shop called April Flowers. I managed this flower shop for about 5 years while attending Cal Poly, majoring in event management. While I loved working with flowers and constructing wedding florals, I am more of a full-on party planner at heart! I like to make lists, organize, delegate, design and implement events. I am a complete type A, to say the least. When I graduated with my event management degree, I began venue managing; while that was a textbook position for me, it lacked the need for me to express my creative and design skills. I was always told throughout my life: "If you love what you do, you will never work a day in your life." So my mission was to find out how I could make a living designing and planning parties. Luckily, I grew up and still live on the central coast where there are plenty of weddings and events taking place almost year-round! With over 8 years of experience at the time, I decided to start my own business designing and planning weddings and events and haven't looked back!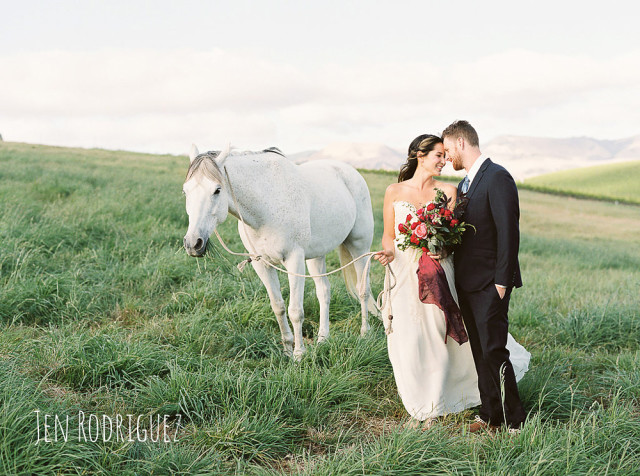 Who or what continues to inspires you?
I am inspired by really simple things like colors, patterns, and atmospheres. I usually get one small idea, picture or theme and run with it. I am often inspired by flowers and floral designs because I have such a strong floral design background. My design boards are usually a ton of floral pieces and flower types and then I add in the other details that bring the whole vision together like linens, d cor and other specialty accessories. I can't help it!
Other industry professionals that I admire also inspire me. Seeing and admiring their work is motivation for me to continue creating.
What makes your business unique?
My business is unique because I really try to customize the planning experience to the couple so it is enjoyable for them. I want them to be as much involved or as little as they want throughout the planning process. I enjoy building a relationship with my clients and want them to have fun planning a really special and important day of their lives!
How would you describe your ideal couple?
My ideal couple is one that couple is completely in love and just adores one another. They are fun, relaxed and trusting of me planning their day, but also have their own eye for aesthetics and let me know their ideas. They are stylish, smart and want their wedding day to reflect them as a couple in all the details of the day. They are people that I would be friends with if we met outside of planning their big day!
What's your business philosophy?
Each wedding is unique and each couple is unique. We really try to make their planning experience enjoyable and customized to them. We assume the stress so our clients don't have to stress about the details of the planning process, but still can be involved in the joy of planning an event! We work with clients to make their vision come to life while assuming the tasks and responsibilities that can sometimes be overwhleming for couples.
Favorite part of a wedding?
I have two favorite parts of a wedding: my first favorite is sending the bride down the aisle. I love this part of the wedding because it is so special and often the first time her family, guests, and her soon-to-be husband are seeing her in this beautiful gown she has picked out for her wedding day!
Second, I love the later part of the reception when everyone has gotten through the day and is now relaxing, probably having a drink or two and dancing the night away!
Why do you do what you do?
I design and plan weddings because I love meeting with my clients and hearing their vision and designing and brining that vision to life. I absolutely love the relationships and friendships that come from the wedding planning experience not only with clients, but other like-minded industry professionals. I love making people happy!
What question do you always ask the Bride & Groom?
"What is the most important part of the wedding for each of you?"
This is important to me because I make sure to communicate this to the couple's wedding vendors and between them and myself, be sure that specified part of the wedding day is memorable and special for them.
How do you normally begin your day?
I give Kolby (my fur child, a miniature austrailian shepherd) breakfast, hop in the shower, eat breakfast myself and get to answering e-mails or whatever else that day has in store! I'm pretty normal...
What would you say is your greatest accomplishment?
My greatest accomplishment to date is starting my own business. I never thought that I would really, actually do that in my life. I knew that I wanted to be doing something I loved, but didn't see myself going out on my own and creating a business that is also my passion.
What do you enjoy doing on your day off?
On my days off I enjoy hiking, traveling and pretty much anything that is outdoors. I have a miniature australian shepherd who keeps me active and out of the house. I enjoy cooking for people. I spend a lot of time with family and close friends. You will most likely find us bbqing, watching live music or at a brewery hangin' out!
OK, tell us your Nickname(s)?
Kels is pretty much it. :)
Tell us one thing few people know about you?
I rode horses competitively throughout high school and college and placed top 20 in the world in my discipline. It was a pretty rewarding and amazing experience!
"Whatever you are, be a good one"-Abraham Lincoln
What do you miss most about being a kid?
I miss all my friends always being around and having a whole summer of nothing to do! When you grow up you still have your best friends, but they likely are not your next door neighbor. I lived in a cul-de-sac full with all my best friends and we would play endlessly and sleepovers all summer!
What's in the top 5 of your bucket list?
Hike to the top of half dome
Where do you see yourself (or business) in the near future?
I would love to be doing weddings and other events in Santa Barbara and Southern California and expand the areas I work within!
Anything else you want to say that we didn't ask?
Nope, you pretty much covered it :)