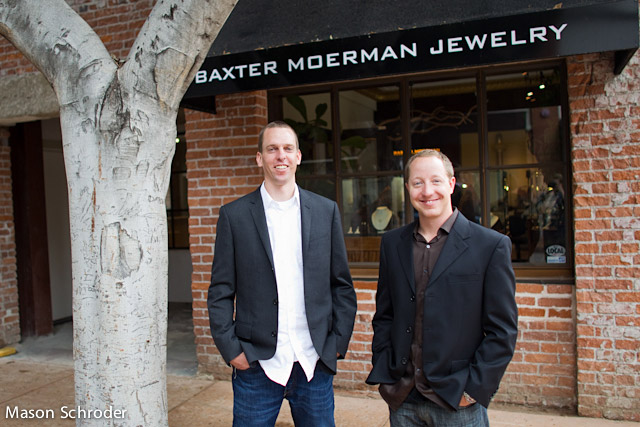 JEWELRY | ARTIST INTERVIEW ///
Central Coast Jewelers Matt Baxter & Matt Moerman are two creative guys who create one of kind artistic hand made pieces. They have been working together for years on collaborations and finally ventured out with their own store front in the heart of downtown San Luis Obispo. Walking through their shop you won't find anything you've seen before. They don't carry lots of stock jewelry because they customize most jewelry for their clients. They both had a hand in designing and building me and my wife's wedding bands and her engagement ring. We wanted something as unique as our love and they totally pulled it off brilliantly! The design process with these guys was so much fun and are always so proud to share their work with people we meet who ask us about our unique rings.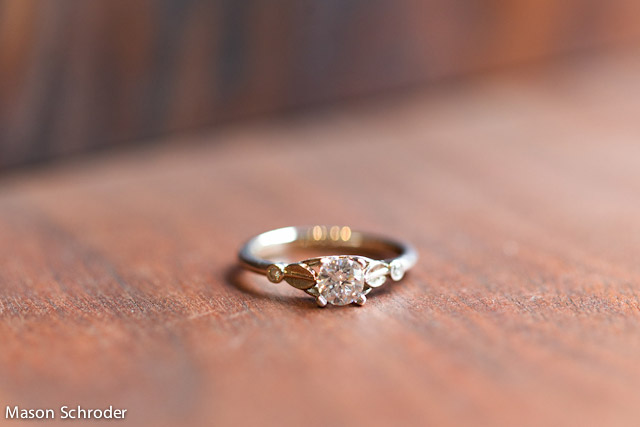 How did you get started in doing what you do?
B: I got my start by taking a class on silversmithing while at James Madison University in Harrisonburg, VA. Once I found silversmithing and jewelry design, I had no doubt the path I wanted to take.
M: I took a jewelry class in the craft center at Cal Poly and instantly realized jewelry was the perfect medium to express my ideas with.
Do you consider what you do as an art form? (if so... explain)
M: Of course! We look at jewelry as small scale sculpture that comes to life when worn.
Who or what continues to inspires you?
B: We each see things a slightly different way. Working together, we can take our designs to an interesting place they otherwise would not have gone. We have a friendly competitive spirit that drives us to make better and better quality pieces.
M: Nature! We are surrounded by the most amazing designs and textures, from eroded hillsides with color striations to tiny seeds arranged in a pod, inspiration is everywhere.
What makes your business unique?
We only carry jewelry that we have designed and made right here in our shop. We also work closely with customers to create heirloom quality jewelry, engagement rings, wedding rings, and pieces to commemorate a special day.
How would you describe your ideal couple?
B: The couple that has a good grasp on what they want, but allows us to put our spin on the design and take it in an interesting direction. A trusting couple.
What's your personal business philosophy?
B: Do what you say, when you say you are going to do it. If you make a quality product in a professional manner, you will always have customers.
Favorite part of a wedding?
B: When the bride emerges to walk down the isle.
Why do you... do what you do?
B: I am enjoy producing things with my hands, and the detail oriented craft of fine jewelry. Often working under a microscope, our jewelry is all about the details. It's hard to describe, but I love the personal challenge of making my next piece the best one I have ever made.
What question do you always ask the Bride & Groom?
First music album you ever bought?
M: Run DMC - Raising Hell
Favorite movie or documentary?
B: "Dead Man"- Jim Jarmusch
Song that makes you want to dance like nobody's watching?
B: "Sugarfoot"- Black Joe Lewis & The Honeybears
M: "The Ring" - Jamie Lidell
How do you normally begin your day?
B: Very simply. A stretch, shower, coffee, and a breakfast of cereal/yogurt/almond milk, or two 'toads-in-a-hole'.
M: My daughters usually wake me up to make breakfast, I also require a few cups of coffee.
What do you enjoy doing on your day off?
B: Enjoying the company of friends, going for a surf on the north coast, and working on jewelry at the shop without interruption.
M: Playing guitar, checking out the tide pools with the family, hiking.
M: Not obsessively, I like picking up rocks and shells on the beach, or interesting natural specimens.
Tell us about your first job?
What would you say is your greatest accomplishment?
B: Walking the entire length of the Appalachian Trail in 2005. I took 4.5 months to walk the 2174.9 miles north from Georgia to Maine.
M: Opening Baxter Moerman Jewelry.
How do you sign off on emails?
If you moved to a foreign country, which one & why?
M: Barcelona, Spain. I love the vibe of the city, it's laid back, and I am a fan of art nouveau.
If you were an animal, what would you be?
If you were in a band, what instrument would you play?
M: I've played guitar in several bands.
Ok, tell us your Nickname(s)?
M: My favorite was given by my sister in law - "Pichu"
Wedding trend that your loving right now?
M: People breaking out of the mold of tradition, using colored stones in engagement rings or interesting bands instead of a solitaire engagement.
B: The new tradition seems to be the non-traditional wedding set. Whether it's rose gold or rose-cut diamonds, we have a portfolio full of work we have produced for customers that simply could not settle for a generic wedding set. Almost every man requires a custom-made ring that refers to their personality, though most folks assume men have no opinion when it comes to jewelry except the price of obtaining it.
Read the book or watch the movie?
M: Book and movie, in that order.
Stranded on a desert island... list three things you'd bring with you?
M: Surfboard, sunblock, cocktails.
Tell us your favorite song or band (new or old)... right now?
M: I'm currently in a delta blues phase, gritty acoustic blues.
B: The band "Middle Brother", it's got Delta Spirit, Deer Tick, and Dawes all in one great band.
M: "The only constant is change." (????? ??? ??? ????? ?????)
B: Flowing creeks, crashing waves, morning thunderstorms, cicadas in the summertime.
M: A coffee pot percolating, my kids laughing, the rain.
If and when it happens... what do you want people to remember you bye?
What do you want to be when you grow up?
What's the hardest thing you've ever had to do?
B: Forgiving a trespass of a friend. So hard sometimes, but so easy when I realize just how often I act like an ass.
Whats the greatest gife you've ever given or received?
B: The encouragement of my parents. They brought me up (either intentionally or unintentionally) to follow my own path, and encouraged me along the way.
What do you miss most about being a kid?
M: The lack of responsibility, and how time seemed to crawl by.
B: Exploring the outdoors without any commitments except getting home before dinner.
What's in the top 5 of your bucket list?
We travel with empty buckets.
Tell us something you learned last week?
M: Sometimes snakes are born with two heads and if it's a snake-eating snake it will attack itself!
At What age did you really become an adult?