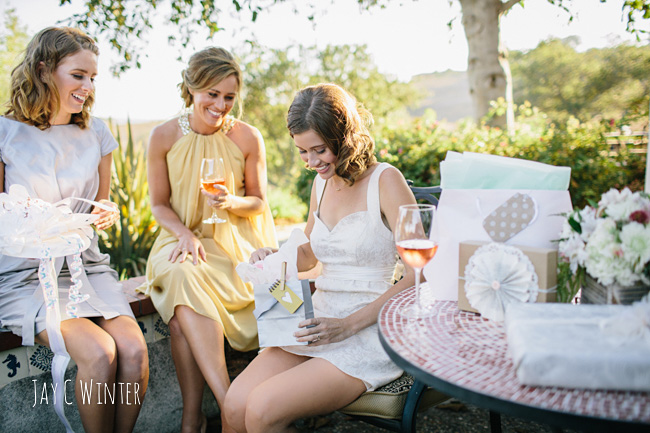 What better way for KnotCrashers to introduce the Crash bride, than with a delightfully feminine bridal shower held on the gorgeous grounds of The Casitas Estates, in Arroyo Grande, CA. Meet Laurie, 100% in love with her husband of five years, she is getting ready to celebrate their adventure of being the very first Crash couple. We are so excited that Lance and Laurie are up for the adventure of renewing their vows before a fabulous gathering of engaged couples who are ready for some fun and planning.
True to the California spirit, the bridal shower embraces nuances of an old mission aesthetic. There is a feminine softness to the traditional terra cotta hues, which gently plays off a pale blue that reflects the open skies gracing the hill top of The Casitas Estate. The invitations were hand painted by Alecia Teague of Morningside Paper Studio. Here eye for detail and amazing talent is easy to see with each delicate flower, ombre painted lettering, and unique textured paper.
Jay C. Winter of Photography by Jay C. Winter had an eye for catching all of the Estate's details from terra cotta and glazed tiles to wisps of lavender blowing in the breeze of a Californian Indian Summer. His warm tones and use of light give the images a golden cast that reflects the ease of a balmy late autumn afternoon. An afternoon that beckons the ladies to sit awhile and visit while they casually celebrate Laurie and her love for Lance.
The linens, by La Tavola, give a sense of old world charm with a lovely paisley pattern offset by a bold stripe that is layered with texture. Even in the monochromatic details like the napkins and the dessert linens, we see bold and flirty, textured layers.
Bella Bloom Events strengthened the feminine touch by being playful with tradition in all the floral arrangements. Again, the terra cotta was highlighted in soft tones, while structured forms had romance breathed into them through the fluttering texture of freesias, hydrangeas and roses....along with untraditional elements such a scabiosa pods and olive branches that reflect our California landscape. The colors were soft, but the texture was divine!
With devastatingly beautiful vistas of the California landscape surrounding them, the ladies leisurely soaked in their celebration while sipping on a dry rose and pondering a most decadent display of confectionary. For their delight, the talented hands of pastry chef Whitnie Burke at Paper Cake Events coaxed sugar, butter and flour into delightful treats. Trained at Le Cordon Bleu, Whitnie skillfully dressed the table with little creations of meringue, butter cream, and of course, the quintessential French macarons. Delightful and tempting for the ladies, the trouble is established quickly as they try to decide which dessert to try first!
As if adding more charm to the day were at all possible, Katie Goodwin of Sign, Sealed & Delivered hand-painted several pieces to make everything a bit more special. Using objects like old windows and ornate frames, Katie scrolled sweet messages for Laurie in honor of the celebration. Her custom floral detailing shows that her talent obviously is not limited to scribing beautiful fonts alone.
For Laurie's "mock bridal shower," the ladies were all gussied up in gorgeous gowns from Simply Bridal. After all, if you are going to spend an afternoon at the incredibly chic Casitas Estate, you must have a dress that makes you feel sophisticated and beautiful. The skilled hands of The Blushed Company enhanced their natural beauty further. We love how they made Laurie and her girls look unique to their own personalities. They are true beauties, and it is always refreshing to see hair and makeup that accentuates rather than tries to recreate. Laurie, our bride, received special treatment by Courtney Rossi Artistry for hair and makeup. She was delightfully pampered and primped in a manner that would please any discerning bride. The result was somewhere between sophisticated and sweet.
Of course, who could resist the final icing: jewelry. Not just any jewelry, but the loveliness that is J. Hannah Jewelry: simple, elegant, and exceptionally Californian. This jewelry is meant to highlight a woman's femininity and style, worn alone or layered into something divinely unique: perfect for everyday, but simply a must for a bride and her maids.
Thank you to Laurie, Kristi and Katie for modeling with levity, ease and grace. And a huge thank you to Photography by Jay C. Winter and all our amazing wedding professionals who pulled this beautiful shoot together. We are more than a little excited for the first Crash on February 21st! More details at knotcrashers.com.