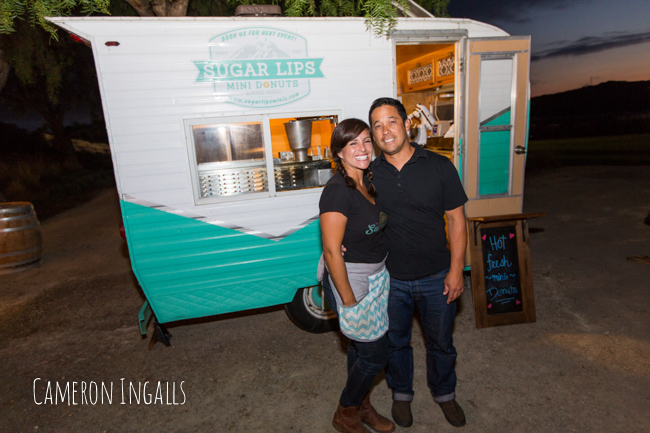 CAKE & DESERTS | ARTIST INTERVIEW ///
Let's be honest, who doesn't love a good donut?! There isn't a single situation in life that eating a donut doesn't make that moment THAT much better. So to have them as your wedding dessert just makes you EPIC! Not to mention everyones new best friend. These mini donuts will not only give you SUGAR LIPs but will also bring a big smile to your guests faces. Not to mention, Sugar Lips arrive at your event in style with their adorable vintage mobile truck that is sure to bring a hint of flavor to any event. The mobile truck guarantees easy set up and take down making them a one stop shop dessert solution.
Now, go get yourself some Sugar Lips!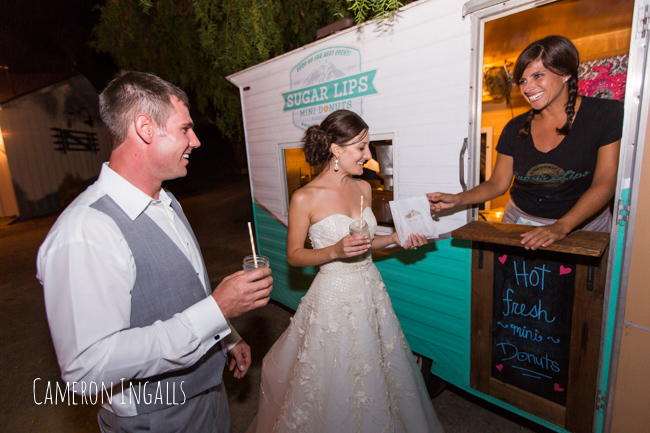 How did you get started doing what you do? I was a stay at home mom looking for something I could do to make some extra cash. I saw at a farmers market up in Oregon booth making fresh donuts and thought that would be fun to have here in SLO.
Who or what continues to inspires you?
My love for donuts inspires me. They're just so good.
What makes your business unique?
Warm, mini, melt in your mouth donuts made to order is pretty unique plus we have a little vintage Cardinal trailer that we make them in which is pretty fun.
How would you describe your ideal couple?
Laid back, easy going, great sense of humor, go with the flow couples are the best!
What's your business philosophy?
I am all about making my customer happy. I like to be accommodating, easy to work with, always on time, clean and friendly.
Favorite part of a wedding?
I love watching people dance and let loose. Weddings are such a happy time. I feel so lucky to be a small part of someones "best day ever."
Why do you do what you do?
My husband and I have 3 kids and don't get out much. This is our chance to hang out together, enjoy other people, sometimes get free food and drinks, and make some money all at the same time! It's a win win for sure!
What question do you always ask the Bride & Groom?
Is there a place for me to plug in?
How do you normally begin your day?
4:15 am I get up and go to work at French Hospital. Yikes! Saturdays and Sundays i usually sleep in till 5. Definitely every morning starts with some strong espresso!
What would you say is your greatest accomplishment?
My friends and family are my greatest accomplishment. I have 3 rad kids, a husband that is still really likes me after 11 years, and great support system of friends that I've known and raised my kids with for over 12 years.
What do you enjoy doing on your day off?
I love playing soccer, running, hiking, basically anything outdoors. We're a big camping family.
Tell us about your first job?
I worked at a Mexican restaurant called Uno mas up in the bay area working as a cashier. Boring.
OK, tell us your Nickname(s)?
Jessie B, Jess, Guatemalan beauty (my BFF calls me that)
Tell us one thing few people know about you?
I cry when I hear a marching band. Not sure why but they make me really emotional. Is that weird?
Wedding trend that your loving right now?
Mini donuts of course! I also really love all the vintage, old wood, rustic look. I'm pretty sure that's a trend that will never go away.
Wedding trend that will hopefully be out next year?
I'm not too hip with what's trendy really.
Whatever is true, whatever is just, whatever is honorable, whatever is pure, whatever is lovely, whatever is commendable -if there is any excellence, if there is anything worthy of praise-think about these things.
What do you miss most about being a kid?
Not having to care too much about anything. I miss being able to play all day in the summer, riding my bike around looking for friends
What's in the top 5 of your bucket list?
This is a hard one, off the top of my head I guess it would be....
Meet someone from the Beatles.
Stare in my own reality TV show.
Live in a tree house in a forest somewhere.
Where do you see yourself (or business) in the near future? I am thinking about a little storefront somewhere in SLO. Or maybe just getting another vintage trailer and staying busy with weddings and events.