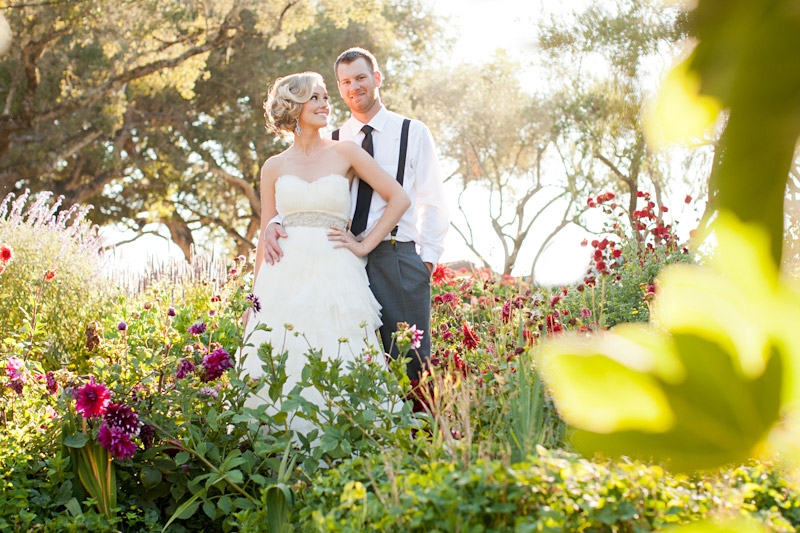 "Jenna is The Wedding Standard's newest and most awesome team member. She will be blogging real weddings, artist interviews, and all things inspiring in the world of weddings. We are thrilled to have her on board and figure the best way to introduce her is to showcase her stunning Carmel Valley wedding from the summer. This girl has wicked style and pulled together an absolutely beautiful wedding. Enjoy this post by Jenna!" -Cameron Ingalls
The word that best describes our wedding day would be truly magical. Everything from the location, the date, the weather and the people made it all I hoped it would be, and much more. There are so many amazing little things that made our wedding day so special.
The style of our wedding could be best described as vintage rustic country chic. The whole look just kinda turned into things that we loved and thought were awesome and it just worked out beautifully. There was no specific colors because I didn't want to detract from the magnificent scenery. The vision I had for the day was for it to be romantic and timeless and when I look back at the day, I believe we achieved just that.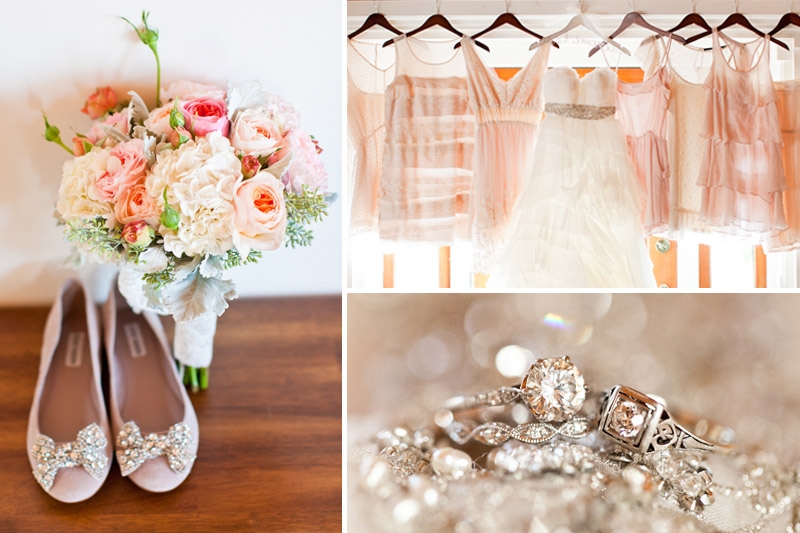 My dress was purchased at a Epiphany Boutique in Carmel. The brand was Watters. I had many alterations done to the dress to make it uniquely mine; I lowered the back, sweet hearted the neckline and added a vintage inspired crystal belt. All the alterations were done by Epiphany's because alterations are included free with the purchase of your dress. Very cool might I add! My earrings cost $5 and were found at a small antique store, they were definitely one of my favorite finds. Another one of my favorite finds was the beaded white vintage dress I sported for our sparkler departure. I found that dazzling little number at Ruby Rose and can't wait to find somewhere I can wear it again! For the bridesmaids dresses I wanted them to all be different and in the blush tone family. The reason I decided to do different dresses for everyone is that I wanted each of my bridesmaids to find a dress that they love, looks great on them and can really actually wear again. All the dresses were bought at various stores and expressed each of their own individuality.
My flowers were done by the wonderful Christine Cater. I chose a pale pink color palette for our flowers. One thing I wanted was for the tables to be full down the middle of the entire length of the tables. We chose all different antique looking vases of various sizes and shapes. Our bouquets were vibrant yet still understated and Christine did a fantastic job creating exactly what I had imagined.
Another thing that made our wedding so special to us was that it was truly a family affair. I am lucky enough to have a seriously musical family. The music started at the shuttle pick up location where two of my cousins jammed out on their guitars for guests as they boarded the shuttles. The ceremony music was provided by Heartstrings Monterey who are also my mom's band and I grew up listening to since I was a little girl. My sister sang during dinner and a close friend of our who is a DJ provided the dance tunes.
For Photography we used the oh so talented Alexandra of Cameron Ingalls Photography. Alex was seriously the best to work with! She not only made me feel comfortable and relaxed but throughout the day members of my bridal party kept commenting on how much they adore her. It was just like having a girlfriend in the room hanging out with us while we got ready. Our pictures are the main thing that people bring up to us almost daily. Hiring Alex was the best decision I made. Our pictures are absolutely stunning, there is not one that I don't love.
The location. Daniel and I were married in beautiful Carmel Valley at a friend of my family's breathtaking private estate called Hawk Ridge. Not only do we have history at this great place but it has some remarkable history itself. The ranch used to be home to the late Merv Griffin where glamorous celebrity parties were often held. The locations is also the home of the oldest oak tree in California which is pretty impressive in itself.
My hair was inspired by the hollywood glam look that you would find from the 1920's. All the crew from Tigerlily Salon traveled from SLO to work on the whole bridal party's hair and makeup. Katie Price did my updo and then took it down and styled it before the reception showcasing my long curls that I like to rock daily. Tigerlily owner Larella Ellsworth did a sensational job on my gorgeous makeup.
Every detail of the day was either hand made or had a special meaning to us. All of our invitations were made by myself, my mom and my mother-in-law. An oak tree drawing by our friend was included on our save the dates, invitations, wine bottles, thumb print tree, and thank you cards. The rustic touches to the wedding including the wooden signs and place card holder were all made by my super handy husband.
Oak trees was one of the themes for our wedding and hold special meaning to us for many reasons. The main reason being is that the location of our wedding is also the place where Daniel proposed exactly 2 years prior to the date of our wedding! Besides our wedding day, it was the most romantic night of my life. Daniel proposed just after sunset, under a large oak tree strung with white lights, with ravishing views surrounding us. (The exact location pictured below) Oak trees also exude a lot of what Carmel Valley is known for. I grew up making forts and climbing in oak trees leaving them to always hold a special place in my heart.
The mustache and lips place tags, pie topper and thank you cards that were laid on each place setting were all made by me, making it positively a labor of love. Daniel's dad owns the 1937 Buick that we made our departure in, lavender touches were taken from their garden, the cookie favors were Daniel's mom's secret recipe and many of the antique decor pieces were borrowed from her storage giving our wedding truly unique touches.
When planning our wedding Daniel and I just wanted everyone to have fun, with great food, killer music, awesome people and tons of love in the air. The day exceeded our expectations and we feel so blessed to have had such an amazing day. We got to profess our love for one another, surrounded by all of our favorite people in the world.
Want to submit your Real Wedding or Inspiration Shoot? Go to our Submissions Page to find out how!