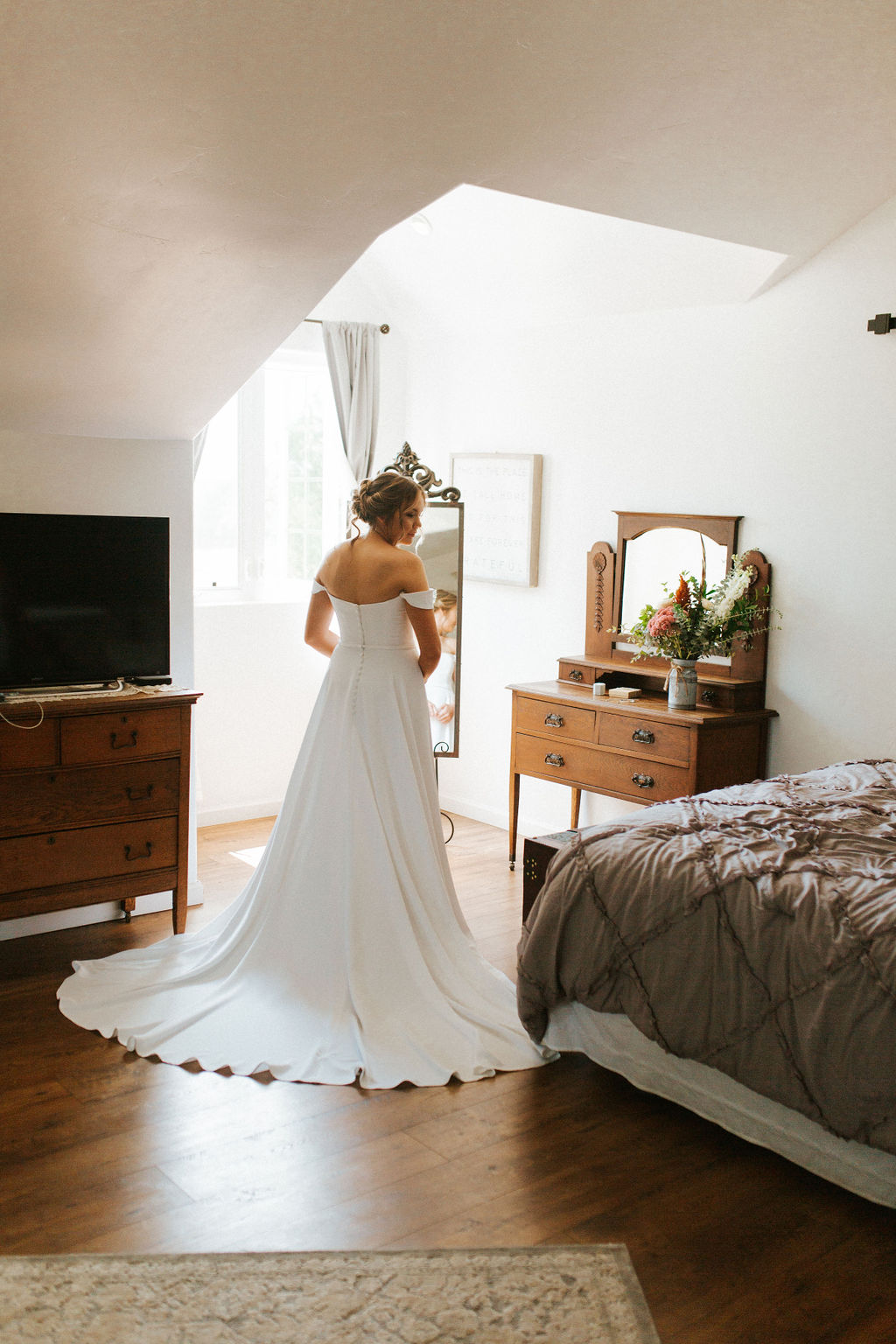 How did you help make the couples vision come to life?
Chloe & Jayden's day was deeply intimate and so them. These two were most interested in celebrating their day with all of their friends and family while having beautiful photos that captured all those sweet, real moments. They were a perfect fit for us because our approach to weddings is exactly this! We gave Chloe & Jayden plenty of space to authentically experience every sweet moment of their day, from their first touch before the ceremony to cocktail hour, where they finally were able to celebrate with all their people.
Chloe & Jayden met at The Graduate in college, and line dancing quickly became a big part of their relationship. Their vision for their reception was to recreate the grad. They also communicated with us how excited they were to dance with us at their wedding, so we learned a couple line dances and joined right in with them while we shot their reception!
Tell us about a moment from the day that stuck to you.
I will never forget the look on both Chloe and Jayden's faces when they saw each other for the first time walking down the aisle. We see this moment almost weekly in our line of work, but this one was truly something special. You literally cannot recreate the beaming, tear-filled smile that each of them had on their face- so full of excitement and joy and beautiful emotion.
How did the wedding design express the couples love story?
Chloe and Jayden are pretty country people, so finding a ranch style venue was a must. A simple, rustic vibe was incorporated throughout the day, with lots of antique and wooden elements accented by natural greenery. Their first dance song was "Love Like Crazy" by Lee Brice, and the two even built their own photo booth that showcased the name of the song as the background. Photos of the two over the years together were incorporated in the decor as accent pieces (especially on the gorgeous dessert table). Fallen Oaks Estate is so beautiful and rustic on its own that it doesn't take a crazy amount of decor to make it personal, and these two kept it simple and "on brand" for them!
Describe one of the details about the wedding that you were most excited about.
The donut table was my favorite part (I love dessert, what can I say haha). Chloe worked with SloDoCo to incorporate custom colored frosting to match her bridesmaids' dresses and tie their rustic blue theme together.
The other super exciting part was Chloe and Jayden re-creating The Grad during their reception. A touch so personal to them, they even sent all their guests video tutorials of their favorite line dances prior to the wedding, so everyone could join in and party with them. The dance floor was absolutely packed all night, and I loved talking with Chloe's mom about how genuinely happy Chloe and Jayden looked all night.