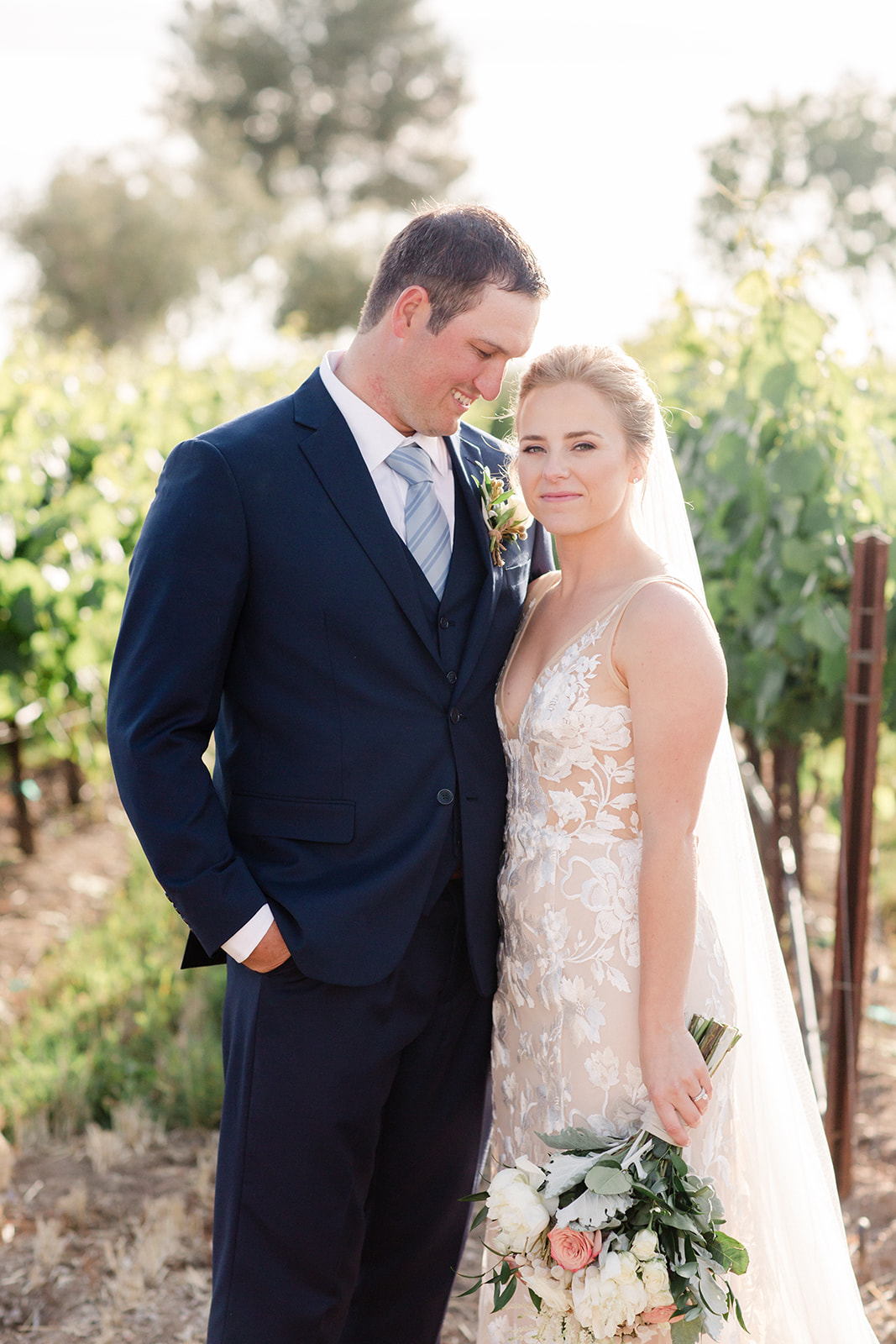 It was a warm and welcoming day at Rava Wines for this dreamy mauve and dusty gray-blue wedding! The venue set the tone for the neutral decor, while simple and elegant details were spruced through out to complete the design. Elegant Affairs Events curated a wonderful day, allowing the couple to truly enjoy each and every moment. Anna Delores Photography allows for us a sneak peak into the magic, while the bride shares more about their dream day.
Girl meets boy!
We met at orientation day at Cal Poly, SLO. We shared the same major, Crop Science, and proceeded to have most of our classes together throughout college. We remained friends through the end of Junior year and started dating our senior year. Brian picked me up at the airport after I travelled abroad for 3 months and the rest is history! We have been together for almost 5 years. Both of us were brought up in agriculture and that remains a large part of who we are today. Brian carried the ring around with him every time we went anywhere, but he never found the right time. One day, he was working late on a Sunday. He left what he was working on, rushed home and proposed in our living room. He said that was the only thing that could make him happy in that moment- I was so shocked and, of course, said "yes!"
Memorable Moments
I will always remember having all of the people we love in one place. It was an amazing feeling to walk down the aisle and know that all of those people have made Brian and I who we are today.
Wedding Planning Inspiration
We both have large families and we love spending time with them. Our main consideration, aside from getting married of course, was that we wanted everyone to be comfortable and have fun. We knew we weren't going to be able to see everyone personally, but we knew that both sides would have fun together! We wanted to keep things simple. The venue is so beautiful already, so I just wanted to add simple, neutral decor to it. It turned out better than I could have imagined!
Color Palette
We used mostly neutrals with a lot of greenery and added accents of mauve and dusty gray-blue.
The Details
We spent hours prior to the wedding sewing together quilt squares for everyone to sign. I am so excited to put them together in a quilt that we will have forever. Everything about our reception was better than I could have asked for- the decor, food, drinks, music was all amazing!
Raddest Wedding Vendors

Lisa Karcher at Elegant Affairs EDC was the biggest help! We could not have done it without her. Our caterer, GrillWorks out of Chualar, CA, cooked delicious food that we are still getting compliments for! Copper & Crystal did a great job at the bar and were so easy to set up. Farm Table Treats made a delicious array of desserts to go with the desserts brought by some of our guests and everyone loved them. Epic Entertainment was amazing and kept everyone on the dance floor. Tim Derksen walked us through how everything was going to go and it calmed my nerves to know we were in such good care! Rava Wines was the perfect venue for the size of our crowd. We didn't look at any other venues because the location and set-up of the facility was perfect and absolutely beautiful. Beckie and Amanda at Anna Delores Photography were so fun to take pictures with. They are amazing photographers and were so easy to be with. Omar at Snowwood Films tagged along with the photographers throughout the day and was able to capture video that he put into a beautiful film for us to have forever! The Garden House did our florals and it was so beautiful. Kanani and her team did exactly what I asked for, and then some. They made the reception look and feel so timeless and special.
Advice for Newbie Brides
Space out the planning and try not to feel overwhelmed! The wedding can be as simple or as complicated as you make it. We also set up a joint email account to use for all things wedding and it worked wonders to keep everything organized! One last thing: when you are getting ready to make your "grand entrance" as a newly married couple, take as second as you walk into the party. It is truly the greatest feeling in the world to have all of your loved ones in one place to share such a big event in your lives. Take a breath, look around and take a mental picture. It will stick with you forever.