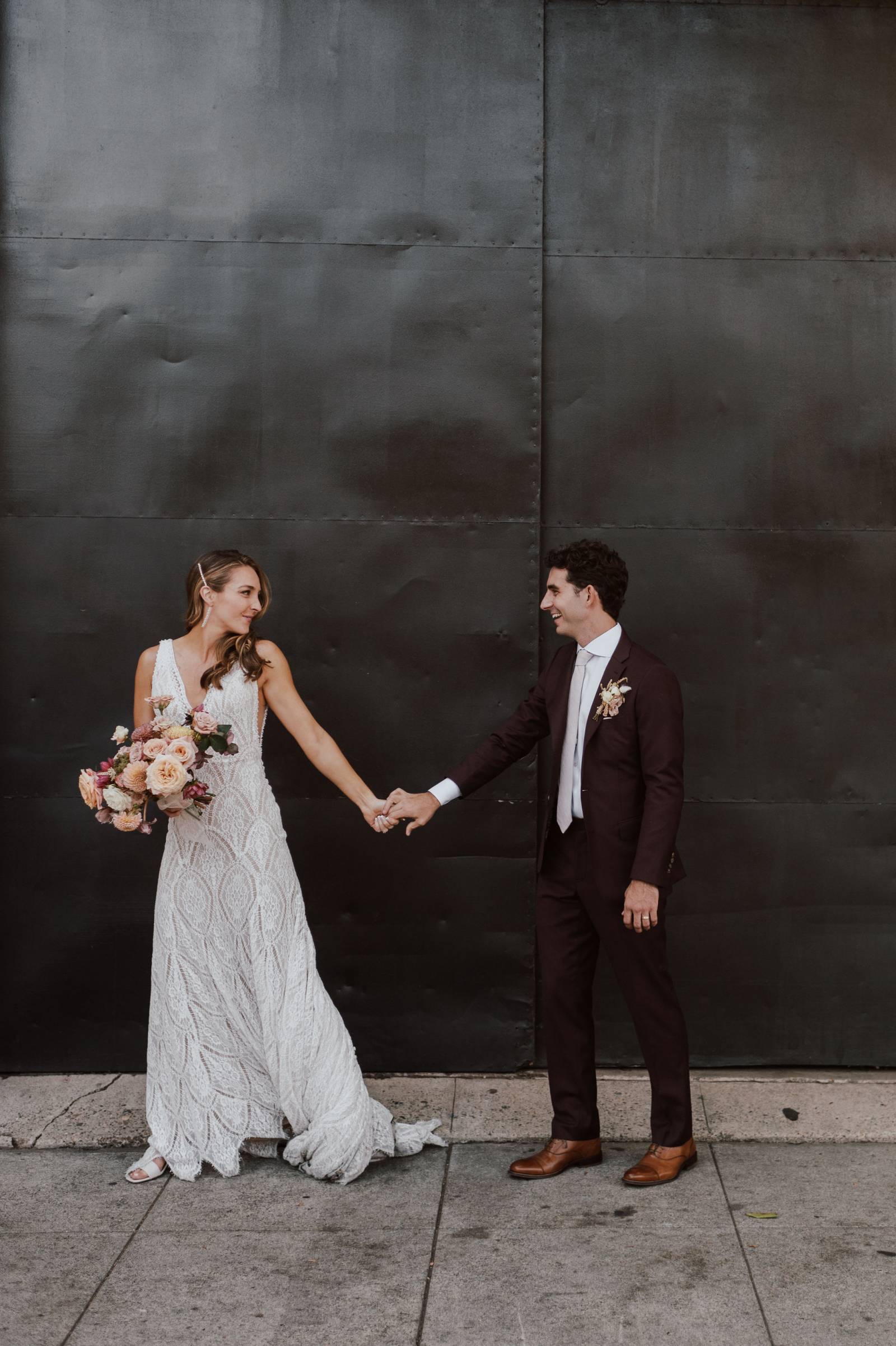 Kylie and Andrew are joy-filled, and fun-loving, and their wedding reflected all that and more! When it came time to plan their wedding, San Luis Obispo's The Penny was the only venue truly meant for them keeping things playful, eclectic and spunky. Anya McInroy Photography so sweetly captured the day, leaving no detail out! Make sure to keep scrolling to read more about the couple and their inspiration behind the day.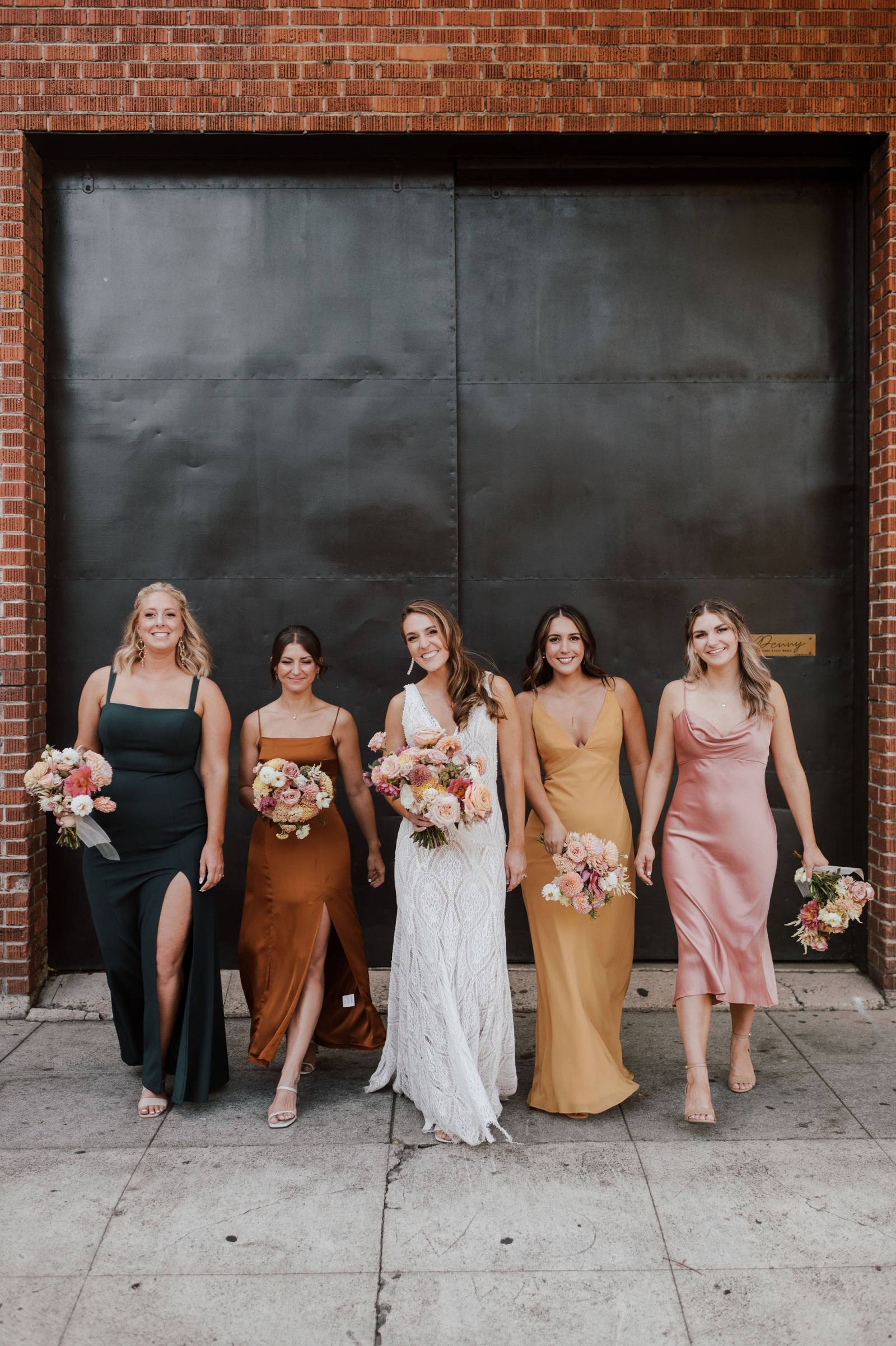 The Love Story
Andrew grew up in Chicago and I grew up in San Jose. We met in 2014 through my friends from Cal Poly who ended up working with Andrew in the Bay Area. Andrew came into the fold of our friend group easily and we hit it off effortlessly. We dated for six years, growing up and together as young professionals and exploring our own passions--Andrew found mountain biking and I found yoga. We got engaged in the fall of 2019 at our favorite vista point in the Santa Cruz Mountains at sunset after having a perfect day at our favorite brewery Humble Sea. We shared the private and quiet moment together with no family or friends playing paparazzi. I threw our save the dates in the mail in late February 2020 for a September wedding, giving it a good luck kiss, with an inkling like it might be postponed. We ended up moving our Wedding to July 2021 so we could celebrate our partnership with all our family and friends, because our community has played such an integral role in shaping our values and supporting us throughout our lives. We wrote identical vows together to reflect our personal promises for marriage. We chose to get married in SLO because the town has so much significance to us. Plus, its GORGEOUS and we knew it would be a perfect weekend party destination.
Inspiration
Our wedding vision was partially inspired by the groovy songs and airy energy of Kacey Musgraves' album "Golden Hour"; our wedding was designed to be rooted in the gratitude we have for each other and our community. Every choice we made was intentional to make this a celebration of relationship. Warm colors and earth tones really spoke to that. We love pampas grass that reminds us so much of the central coast. The Penny's cute pink hues and moody textures also encouraged us to showcase our playfulness as a couple. "Joy" was inspiration word, so we brought in some kinetic energy with eclectic floral in organic shapes with pops of bright colors like teal, marigold, and orange. I always knew I wanted to do mix-matched bridal party dresses that brought in a touch of modern sassiness. Andrew wanted to be bold and choose a fun colored suit for the summer.
Color
Marigold, Burnt Orange, Deep Teal, Blush, Maroon
Details
We are huge foodies; from the outset we knew we wanted bougie tacos to be the third star of our show. Our signature cocktails had charred limes and smoking cinnamon sticks! Sidecar knocked it out of the park!! We also served churros with dessert.
Memorable Moments
1. We are SO GLAD we did a first look at Hotel Cerro in downtown SLO. It was such a private and special sweet moment together, and we both bawled. It made us SO PUMPED for the ceremony. 2. The music accidentally cut out on the dance floor during "Uptown Funk" and the crowd sang it a cappella for two more verses. Andrew and I led by example and just rolled with it joyfully while it was getting fixed, no one was mad, we spent the time laughing and talking. Anya our photographer got so many great pics of our guests. When the music came back, the DJ played "Yeah!" by Usher and the words "PEACE UP, A-TOWN DOWN" were the most rambunctious call to the dance floor there ever was. It was epic and hilarious.
Advice For Newly Engaged Couples
Articulate your vision clearly with your partner, and make your choices with that vision at the forefront of your mind.