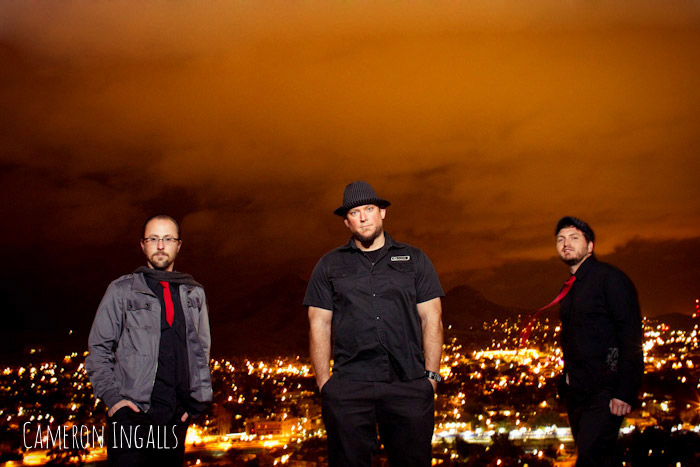 MUSIC & ENTERTAINMENT | ARTIST INTERVIEW ///
If you are looking for a good time to be had by all at your wedding reception then Matt Cross and The One Night Band is your ticket to a dance floor packed with your favorite people rocking the night away to your favorite songs. Matt is a pure entertainer and wields his 3 piece band cleverly through musical genres and eras so diverse that your grandma will want to dance with your college roommate! There is nothing like having LIVE music at your wedding; it gives an energy and buzz that people can't help but respond too.
How long have you guys been together?
The One Night Band has been together for two years. We've all been in previous bands, and played music for over a decade. I can't believe it's only been that amount of time. In that time we have played 4 weddings, spent the last year being the house band at Pelican Point in Shell Beach. We have also been regulars at Frog and Peach Pub, Mongo's Bar and Grill, Mr. Rick's Bar and Grill, and numerous private parties. We didn't realize until recently that weddings are what gets us most excited.
So you've played just about every venue in the area and you've all been in original bands in the past. Why the switch to weddings/cover music?
I consider myself more of an entertainer than a musician. What I mean is my passion is exciting and entertaining a crowd. We love watching people have a good time, and nothing pumps party goers like hearing and dancing to songs they know and love. We want to make every reception we play something the couple will never forget, and the wedding guests won't stop talking about. But we still play local bars and private functions all the time.
What types of music do you play?
We try to hit every era of music. We want to have the bride and groom dancing, but we don't want to leave out any party guest. We want mom and dad, crazy aunts and uncles, and even a grandma or two out on the dance-floor. The band hits everything from Creedance Clearwater Revival, Van Morrison, Johnny Cash on up to Bon Jovi, Michael Jackson and Journey. But also includes more modern dance hits from Justin Timberlake, to Sublime and Outkast.
How long do you play a typical reception?
We have various packages, and the band can play up to 4 hours. We also offer M.C. services for the entire reception and the band can provide D.J. service for dinner and extended dance music.
What songs really get people dancing?
We are always surprised seeing which songs get people on the dance-floor. Nothing gets guests out like 'Shout' by the Isley Brothers. But we have also gotten Grandma and Grandpa cutting the rug to Justin Timberlake's 'Sexy Back'.
How far are you guys willing to go?
Our destination is your reception! We can put together a package that can accommodate anything you have planned.