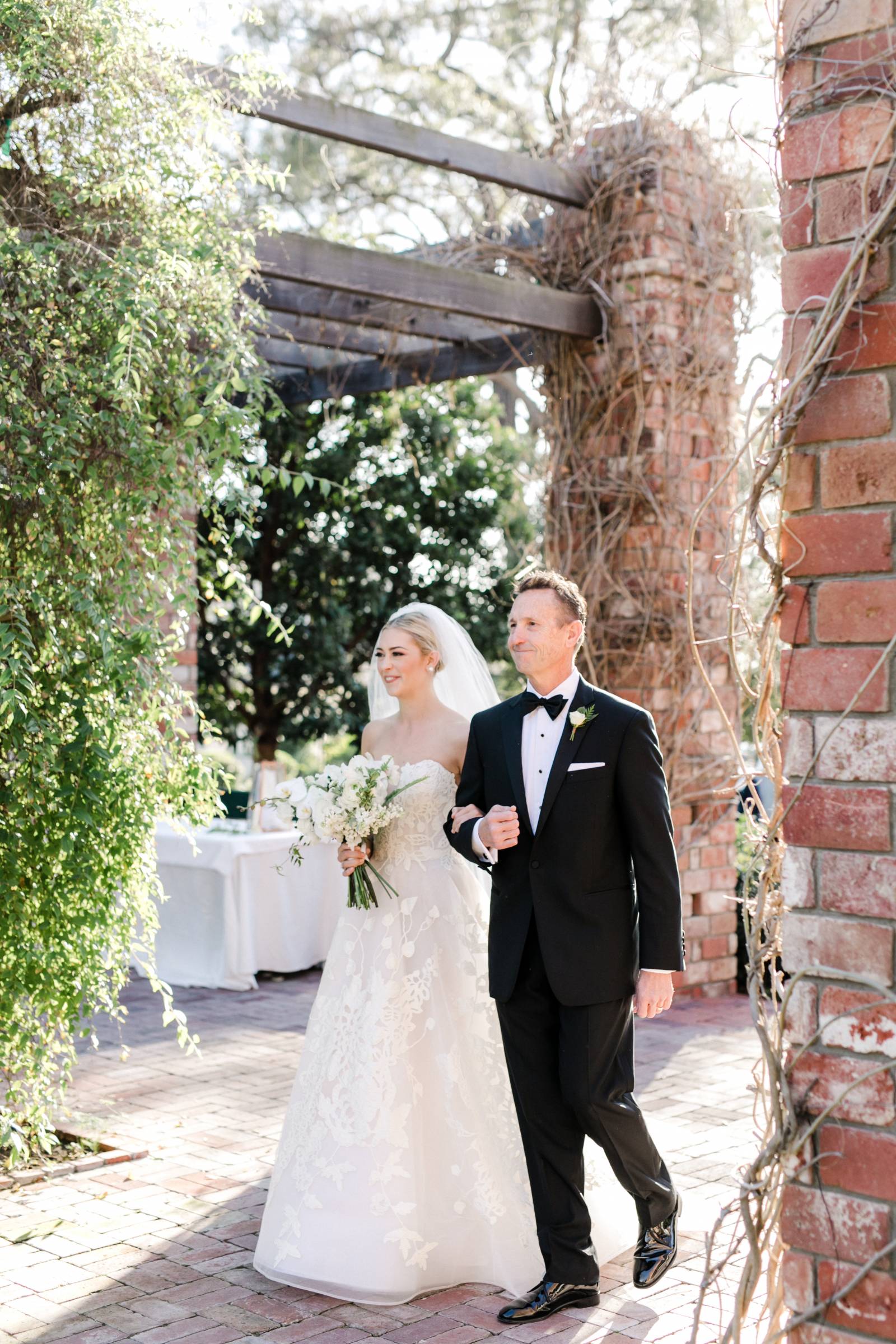 Feeling stuck trying to pick your wedding processional song? Do not worry because we have spoken to local DJ and MC, Steven, at Central Coast wedding & event services company Kramer Events, for his take on the most popular wedding processional songs. Picking the song for your grand entrance can feel like a large task, given it is the first time your guests (and your fiance if you skipped the first look) will be seeing you. From sentimental to romantic, or something that is meaningful to your and your fiance, there are plenty of options out there!
Keep on scrolling to see what songs (in no particular order) Steven has seen used most often at weddings.
"Canon In D" by Pachelbel
This traditional wedding song, brought to fame by Prince Charles and Princess Diana's processional song by another baroque composer, is beautifully accompanied by a string quartet or even a pre-recorded version.
"Jesu Joy of a Man's Desiring" by Bach
Originally composed by Johann School and then reinvented by Bach, this piece was built to be performed by a choir accompanied with trumpets, strings, and bassoons. Eventually Victorian poet Robert Bridges added inspired lyrics to the song:
"Jesu, joy of our desiring, Holy wisdom, love most bright;
Drawn by Thee, our souls aspiring Soar to uncreated light.
Word of God, our flesh that fashioned, With the fire of life impassioned,
Striving still to truth unknown, Soaring, dying round Thy throne.
Through the way where hope is guiding, Hark, what peaceful music rings;
Where the flock, in Thee confiding, Drink of joy from deathless springs.
Theirs is beauty's fairest pleasure; Theirs is wisdom's holiest treasure.
Thou dost ever lead Thine own In the love of joys unknown."
"At Last" by Etta James
Loving Lyrics: "At last, My love has come along/My lonely days are over and life is like a song"
"Over the Rainbow" by Israel Kamakawiwo'ole
Loving Lyrics: "Somewhere over the rainbow/Skies are blue/And the dreams that you dare to/Dream really do come true"
"What A Wonderful World" by Israel Kamakawiwo'ole
Loving Lyrics: "I see trees of green, red roses too/I see them bloom for me and you/And I think to myself what wonderful world."
"Say You Won't Let Go" bt Daniel Hang (Instrumental)
This instrumental rendition is sure to give your guests goosebumps as you walk down the aisle.
Loving Lyrics (from the original song): "I'm so in love with you/And I hope you know/Darling, your love is more than worth its weight in gold/We've come so far, my dear/Look how we've grown/And I wanna stay with you until we're grey and old."
"Can't Help Falling In Love" by Vesislava (Instrumental)
This Cello cover of Elvis Presley's romantic song will create a loving atmosphere.
Loving Lyrics: "Take my hand, take my whole life, too/For I can't help falling in love with you."
"Can't Help Falling In Love" by Kina Grannis (Instrumental)
Another version of Elvis Presley's song, from the wedding processional scene in Crazy Rich Asians.
Loving Lyrics: "Like a river flows/Surely to the sea?Darling, so it goes/Some things are meant to be."
"Speechless" by Dan + Shay
Loving Lyrics: "You already know that you're my weakness/After all this time I'm just as nervous/Every time you walk into the room/ I'm speechless."
"A Thousand Years" by Christina Perri
Loving Lyrics: "I have died everyday, waiting for you/Darling, don't be afraid, I have loved you for a thousand years/I'll love you for a thousand more."
"A Thousand Years" by The Piano Guys
Another take on Christina Perri's song.
Loving Lyrics: "And all along I believed, I would find you/Time has brought your heart to me, I have loved you for a thousand years/I'll love you for a thousand more."
"Perfect" by Ed Sheeran
Last but not least is this extremely romantic song by Ed Sheeran, which Steven says you will hear all sorts of versions and covers of.
Loving Lyrics: "But darling, just kiss me slow, your heart is all I own/And in your eyes, you're holding mine."