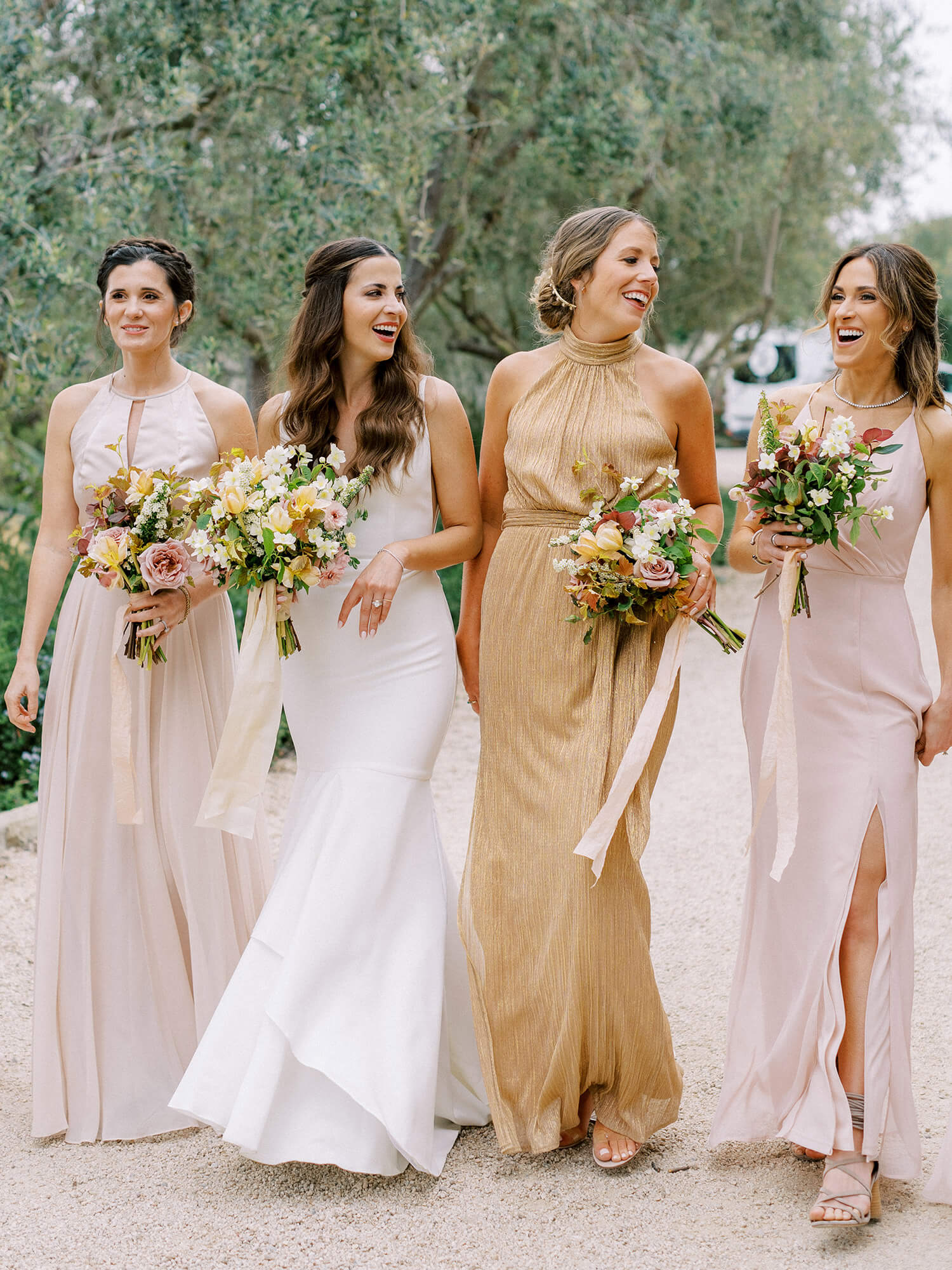 Throughout time we have seen bridesmaids dresses evolve significantly. From frilly full skirt dresses, to Hollywood glam, to simple silhouettes, we have seen it all. Traditionally, bridesmaids wore the same dress color and style, however brides are now mixing up styles and colors between their bridesmaids, adding a little flair to the day. This is not only a great way to help your girls stand out, but also a great way to accommodate everyones personal styles and make sure they are feeling comfortable throughout the day.
When executed correctly, pulling off the mismatched bridesmaid dresses can create a unique and effortless look to your day, however if done wrong, it can look a little messy. Keep scrolling to hear some of our tips on how to incorporate this style into your wedding day.
Same color different styles
This is the most simple method to mismatch your bridesmaid dresses and sticks the closest to tradition. The different dress styles will add enough variance to your bridal party while keeping the same color throughout. Additionally, whether you select a handful of styles to pick from or give your girls free rein, they will likely be able to find a dress that is more flattering on them.
Same dress different colors
If you have found a dress that you love and would like your bridesmaids to wear however want to switch it up a bit more, you can have them wear different colors in that style. We recommend choosing only two to three different colors, and ordering swatches to make sure the complement each other.
Different dress styles and colors
If you are fully committing to having the mismatched look, you can go for completely different dress styles and colors. While this one is harder to pull off, it can also look incredible if done correctly.
If you plan to incorporate patterns into this look, try to keep it to the same color scheme or general genre of look. Make sure that this look also matches the rest of your wedding aesthetic.