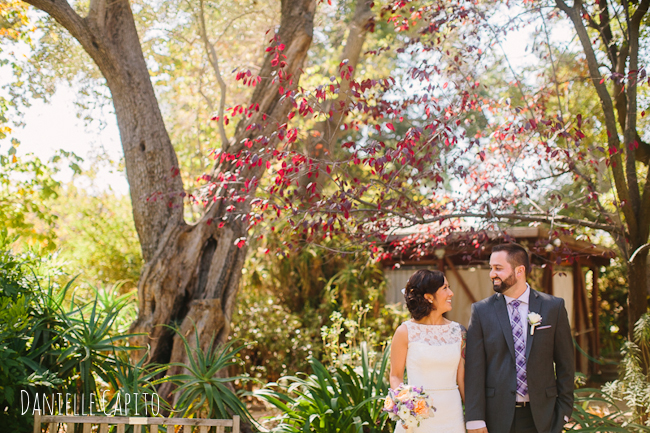 Kendra and Jeramie had a lovely garden style wedding. Located in beautiful San Luis Obispo, CA, The Dallidet Adobe and Gardens was the perfect place for these two to tie the knot. Mixed with gorgeous floral arrangements and a really neat wooden alter, this couple could not have asked for a more stunning atmosphere. Danielle Capito beautifully captured all the details of Kendra and Jeramie's special day. Enjoy!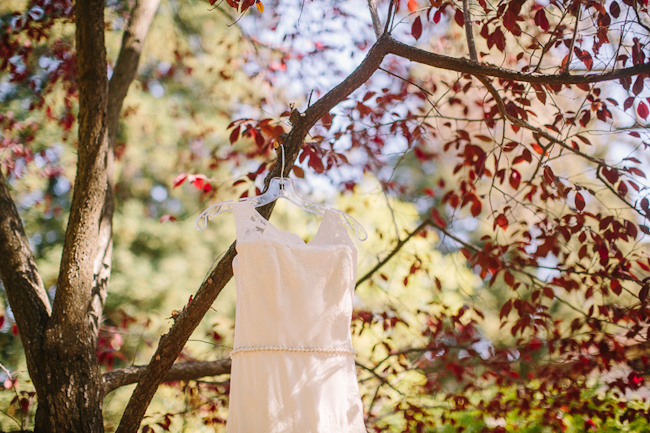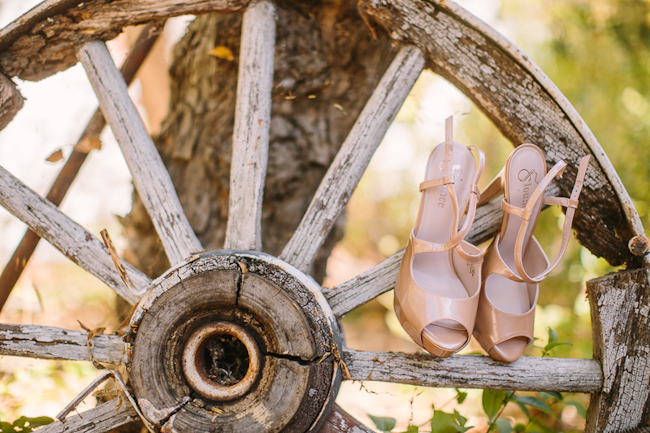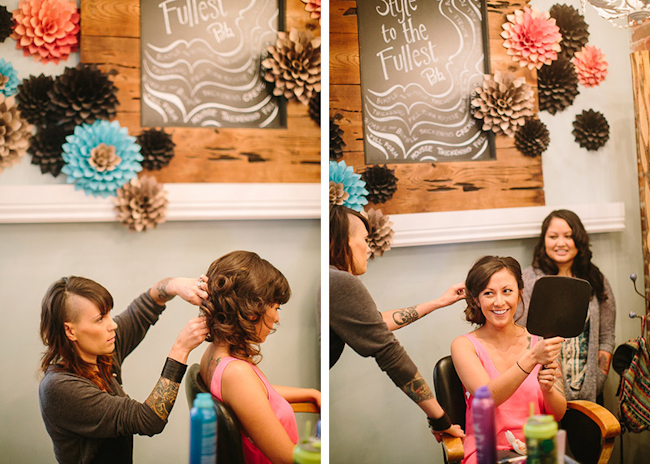 We met at my neighbor's house about 6 years ago through a mutual friend. We immediately bonded as friends, but I never saw him as a potential love interest. We would banter back and forth over a game of beer pong. He would always tell me that I needed to date a guy like him, but I never took him seriously.
He ended up moving to Texas for work after college. On his first visit back to CA for Christmas break, I made him promise that he would visit me. He came over to my house with a six pack of hefeweizen (which happened to be my favorite beer), and we both instantly felt the chemistry. I walked him out to his car at the ended of the night, and he surprised me with a kiss. From that point on, we realized that we both liked each other as more than friends....We ended up moving in together about a year later.
He took me to Half Moon Bay in January. We had lunch and walked on the beach for the first part of the day. Later, we drove around till he found the perfect little secluded beach. We were looking out at the water, and when I turned around, he got down on one knee and asked me to marry him. I was such a crying mess...I couldn't even say "yes". I eventually pulled myself together, and obviously said yes.
Wedding Planning Inspiration...
The venue really dictated the theme. It's such a lush, intimate setting. We wanted something that felt more like a backyard gathering, rather than a formal wedding setting.
I loved the idea of having a small gathering of fresh flowers on each table. I wanted it to look like we picked them right out of the garden.
I also LOVED the wooden structure that we got married under. It was perfect for the ceremony, and the florist did an amazing job at decorating it with fresh flowers.
Gold's and earthy colors for the tables, with pops of blush and lavender flowers.
The ceremony was amazing. My stepfather was the officiant. He got a little choked up during the vows...It was really touching, Having a loved one marry us made the ceremony even more special.
The speeches were epic!!! The best man ended by playing drums while another friend played guitar and sang "I Wanna Grow Old With You". It was so unexpected and sweet.
Jer also gave an amazing, heart-felt speech, and ended on a lighter note by Icing the best man.
RADDEST Wedding Vendors...
Kramer Events was absolutely amazing! We used them for lighting, DJ, Photobooth, and Day of Coordination. Their day of coordinator Brittney is the best! She walked through the venue with us, and helped us layout everything so that the day would flow well. On the day of, she coordinated with all the vendors and kept us all on schedule. I don't know what we would have done without her!
Their DJ Nick did a great job of listening to what we wanted, and played the perfect music throughout the entire day. He was able to get a feel for our taste in music during our consultation, and kept the entire crowd going till the end of the night.
Danielle, our photographer, is so good at what she does! Our pictures are stunning! It felt so natural to have her around. She is very organized and we had so much fun posing for our pictures. She did an amazing job of capturing the look and feel of the wedding.
Advice for Other "Newbie Brides"...
A day of coordinator is an amazing investment. You should enjoy every second of your special day, It goes by so fast! Don't stress about the details on the day of. As long as you're married to your best friend at the end of it all, then everything went right.