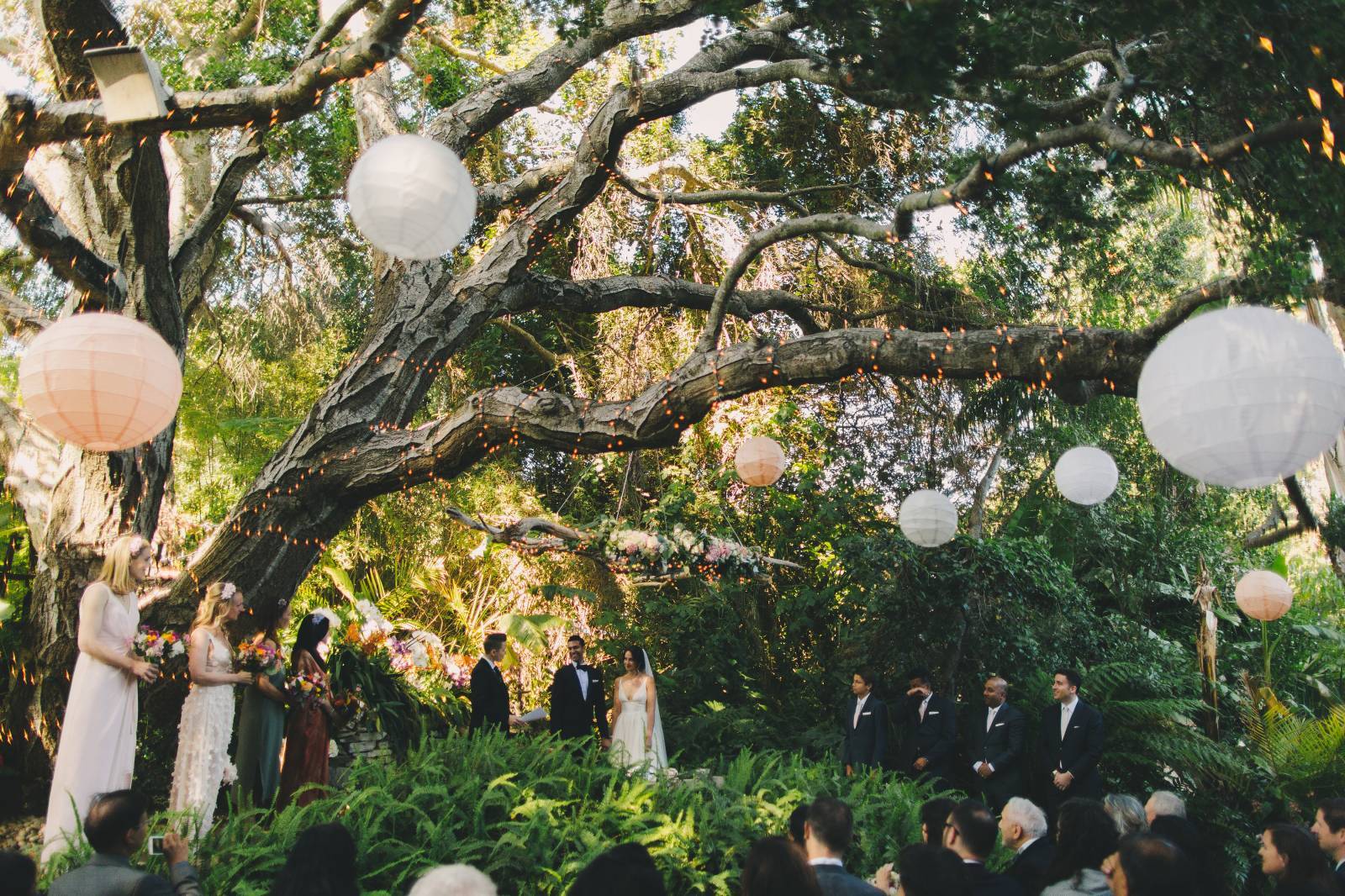 The Holly Farm in Carmel, California has a special ability to transport you to a magical place beyond the Montery Bay Area. This retreat-style wedding venue has you walking in a day-dream as you fall in love entangled in the bright green leaves of the tropical foliage. This wedding venue is a hidden gem located in the heart of Carmel valley and is brimming with tropical flowers and bright green bushes and trees. Sarah Kathleen of Sarah Kathleen Photography captured each and every breath-taking moment of Alexia and Rahul's special day!
Tell us what inspired your wedding style and or theme.
"Alexia's original dream was to get married in Puerto Rico, where her mom is from. But they got engaged as the Zika virus was getting a lot of attention, with Puerto Rico particularly vulnerable and at a time many of our friends were trying to have kids, so we went in search of a venue that would give the tropical island feel without the mosquitoes. We stumbled upon the Holly Farm in the Carmel Valley, with its lush tropical foliage and rustic decor, and fell in love. We then set about making the wedding as personal as possible, incorporating both Rahul's Indian heritage and Alexia's Peruvian and Puerto Rican heritage in the decor and the food".
Girl meets boy! Tells us your love story!
"We met on Match.com and went on our first date in November 2013, when we quickly discovered that we happened to live across the alley from one another. It took the internet to introduce neighbors! Rahul proposed in March 2016 during a trip to San Francisco, kneeling in wet grass in a meadow overlooking some view outside the city that Alexia doesn't remember seeing because there was a ring in front of her".
"Our photographer, Sarah Kathleen of Sarah Kathleen Photography, was one of the best decisions we made. She was incredibly creative and willing to experiment, her photos were pure art, but most importantly she is a beautiful soul who was playful and cool and kind".
Knowing what you know now... what advice would you have for other brides planing their wedding?
"Make it personal. I'm proud that our wedding, from the food to the throw pillows, reflected our cultures and personalities. Also, leave enough time to go around to each table and greet your guests. We started that too late and didn't get around to all the tables and then the whole evening was way behind schedule. To that end, make sure someone has a watch and is using it to keep things somewhat on task, because it's easy to lose track of time".
What colors did you choose for your overall theme?
"I didn't choose colors, and actually hated it when people kept asking me what my colors were. In general, we went for bright tropical colors (bright oranges, fuscias and purples) in the floral arrangements, including the flowers adorning the mandap for the Hindu ceremony. I decided to have bridesmaids at the last minute and allowed them to choose any dress and color they wishes but asked them to stick to a soft, muted palette of golds, blush and sage".
"Amanda Seeley from Laughin' Gal, took my vague vision and made the most joyful bouquets and flower arrangements and put them in copper Indian vases. She was also creative and mindful of our budget".
Describe 1 or 2 details about your wedding that you were the most excited about.
"We were stoked for the cocktail hour because we planned a long list of old-school reggae and had Indian and Peruvian appetizer stations -- a celebration of the music we love most and the food we are so deeply proud of. Alexia's Puerto Rican family also brought handmade musical instruments from the island that people played during the dancing portion of the evening, and that we gave away as party favors".
Memorable Moments
"As dinner wound down and our friends and relatives rose to make toasts, the candles were flickering in the dark of night and created a truly magical ambience. Another favorite moment was when everyone went to the dance floor after dinner and shook their Puerto Rican tambourines and maracas to Indian Bollywood music. It was a spontaneous and perfect symbol of the mixing of cultures we wanted to achieve".