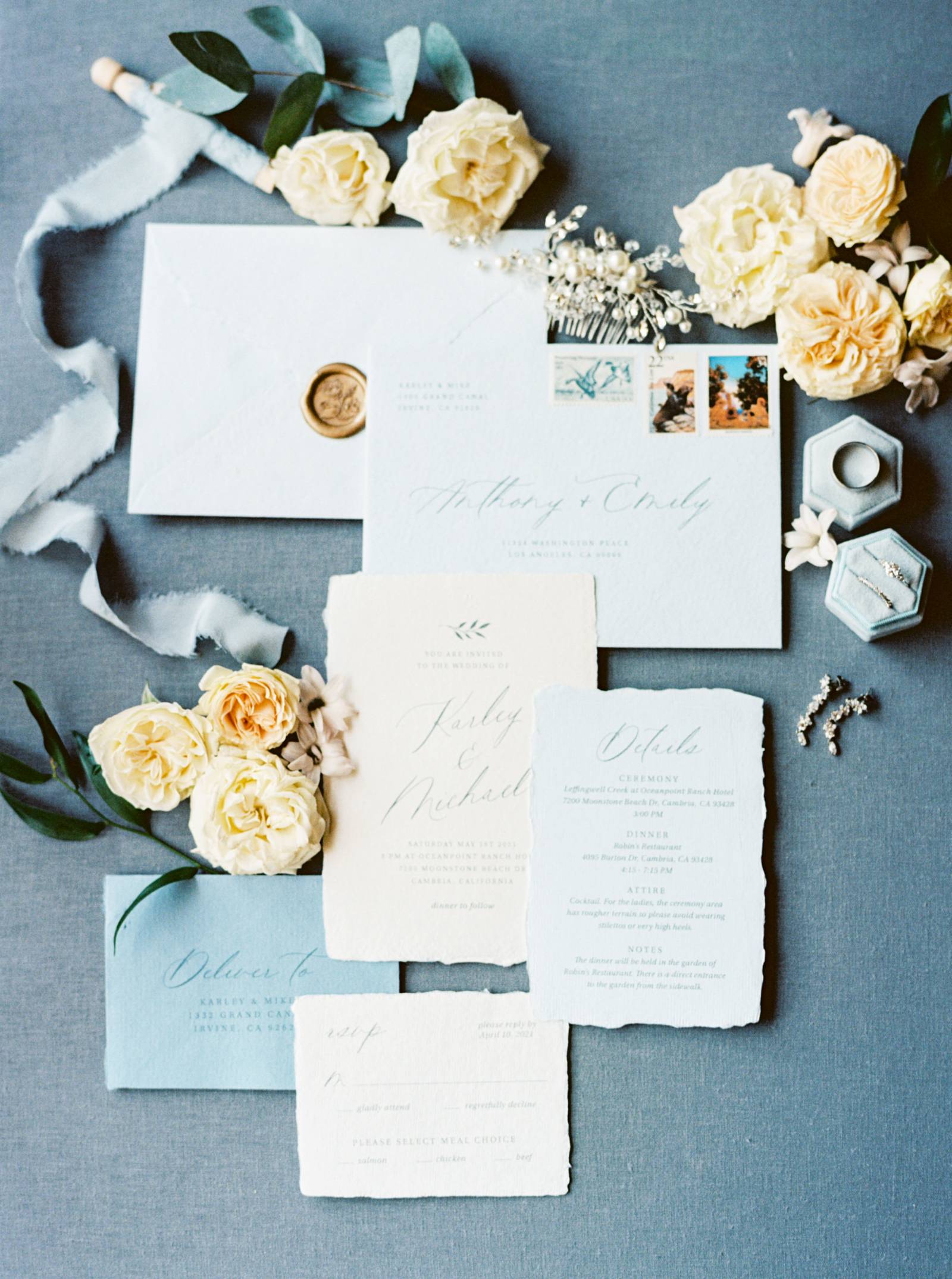 If you are wondering what to include in your invitation suite, or not even sure what an invitation suite is, you have come to the right place. Whether you are working with a stationery designer or doing it through a digital printing site like Minted, there are multiple items that you can choose to include in your invitation suite. The invitation suite includes all paper goods that are sent alongside the invitation, such as a details card or response card.
Common Invitation Elements
Invitation & Mailing envelope
Your invitation is the key component of your invitation suite. This includes all of the main details of your wedding such as your names, ceremony and reception locations, timing, etc. If you are creating a wedding website or doing online RSVP's this is also a great spot to include our URL. Included with this you will need the envelope which you will mail the invitation in.
RSVP card + envelope
This can be omitted depending on how you are collecting your RSVP's, however another common item included in the invitation suite is the response card. There is no best method on how to collect your RSVP's, however keep in mind your guests and whether or not they would be comfortable navigating the online RSVP. The RSVP card is sent with an addressed and stamped envelope.
Postage
Lastly, in order to actually get your invitations to your guests' doors, you will need to purchase the proper postage. The post office has a unique selection of forever stamps which you can use that may also go along with your wedding aesthetic.
Additional Add-ons
Reception card
If your ceremony and reception will be at a separate locations, this is a great way to inform your guests where the reception will be taking place following the ceremony, including the date, time and place.
Directions
The directions card is a way to share the basic directions to get to your venue. While you can include this on your wedding website (and you should if you have a wedding website), this is another way to share the information on where guests will need to go.
Details card
Adding on a details card is especially helpful if you will be having events that span the entire weekend. From brunch, to rehearsal dinner, to a welcome party, or an after-party, this will inform guests (even if it is only a select group that you send it to) all of the information they need to know.
Accommodations card
You can always include this on your website, however if a lot of your guests will be traveling from out of town, adding on an accommodations card can be helpful to share any information on hotels, including room blocks, or transportation information if it will be provided.
Invitation wrapper
In a full invitation suite, all of these paper goods are typically held together by a wrapper such as a ribbon or belly band. While this is not necessary, it can absolutely pull the look together and create a fun suite.