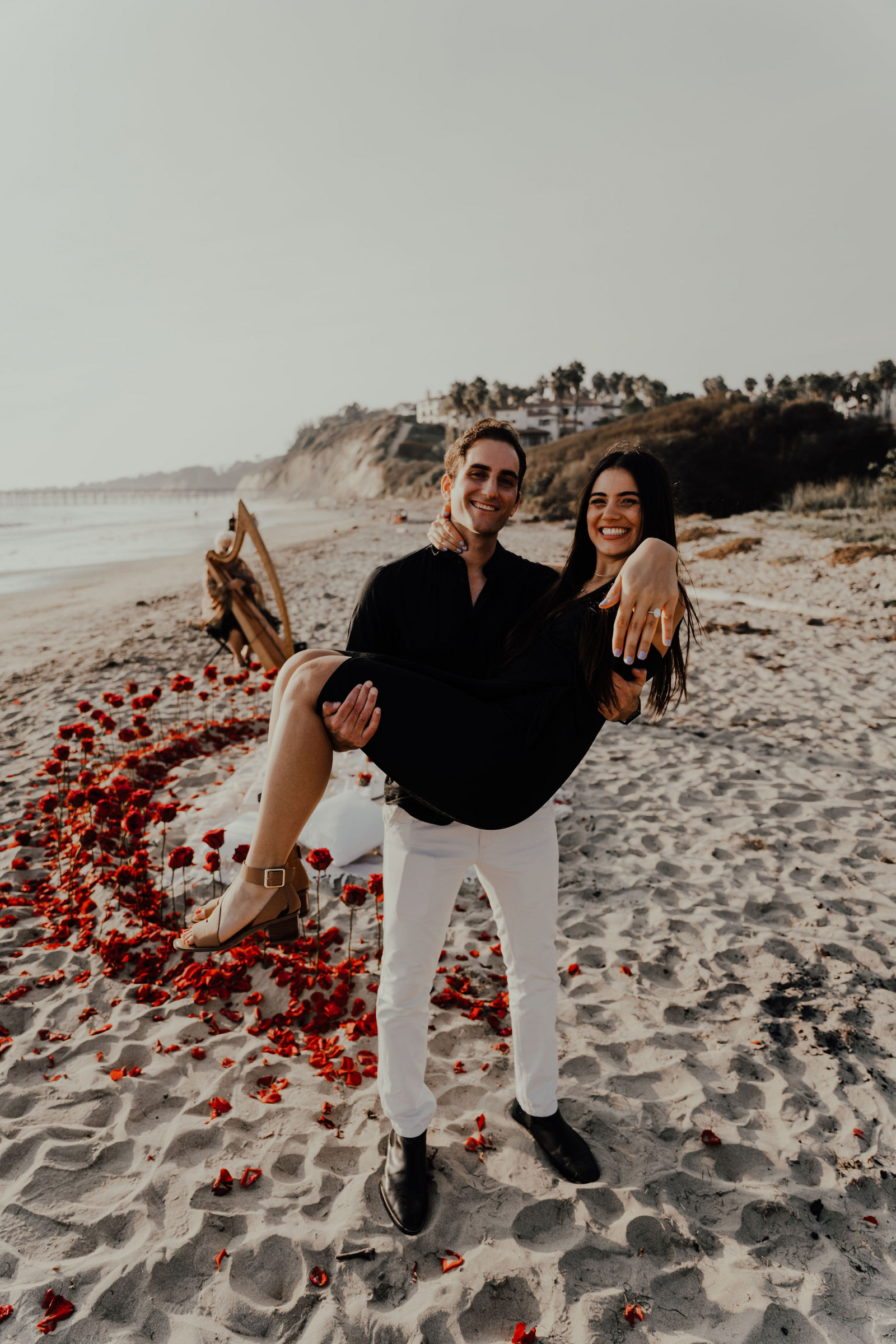 Happy Valentine's Day Everyone! Today we get to take the time to show our friends, family, and significant others how much we love and appreciate them. Whether you will be on your own this year or planning a cute dinner date, there is always time to celebrate love!
Speaking of love, we cannot help but fall head over heels for Faraz and Nassim's Santa Barbara proposal at Santa Barbara Hotel Ritz Carlton Bacara. Nicole, owner and founder of Santa Barbara Picnic Co., crafted this gorgeous sunset beach proposal, creating the perfect romantic setting for this sweet couple. The proposal was all captured by Santa Maria photographer JT Flixx.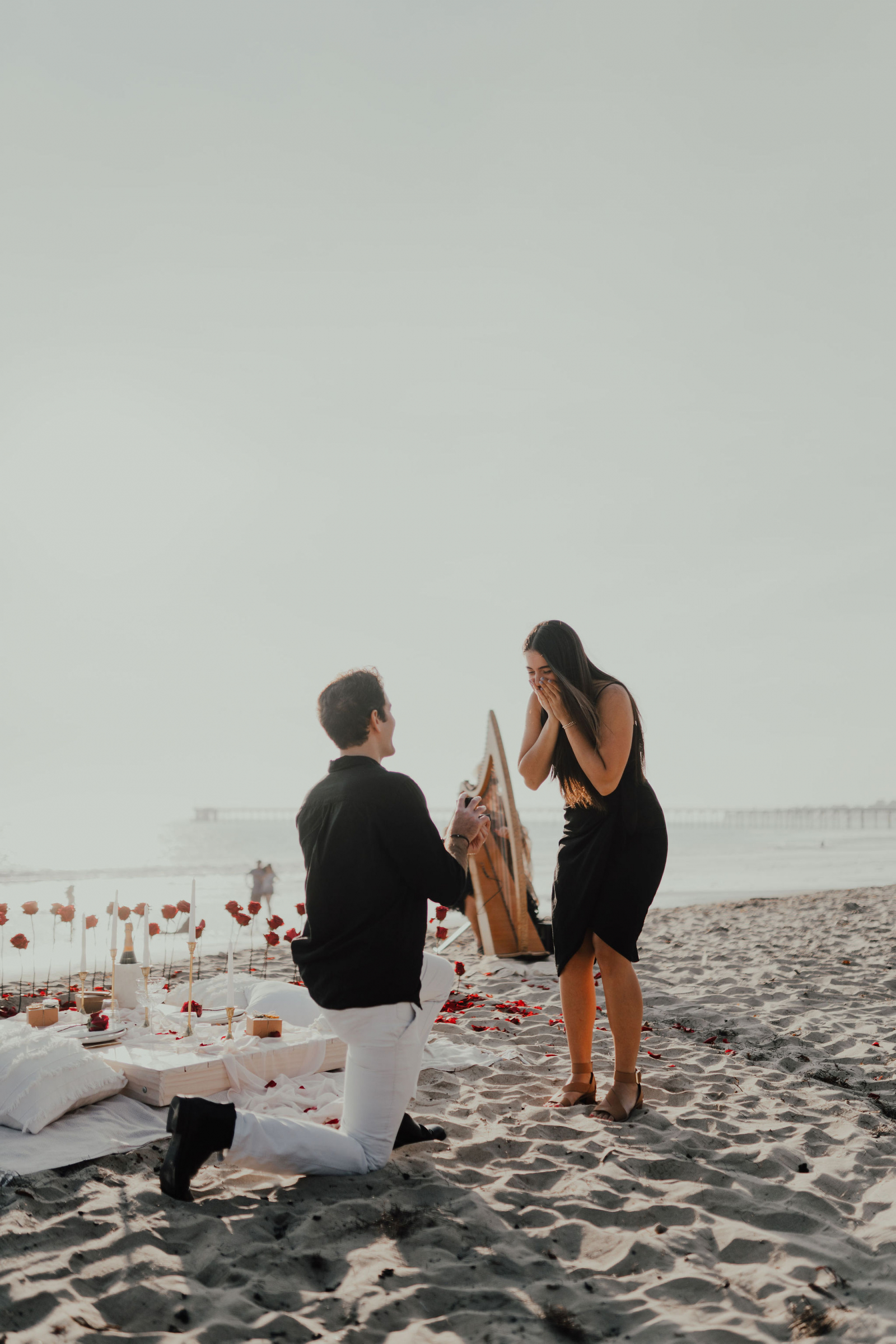 How did you two meet?
We're college sweethearts! We met at UC Berkeley our senior year through a mutual best friend Aliza who was sorority sisters with Nassim and in a business club with Faraz. Looking back, she probably only introduced us because we were her two Persian friends and she figured we'd get along. 5+ years later, she was right.
Who said I Love You First?
Definitely up for debate! Nassim casually let it slip about a month into dating at a date party, but then backtracked and tried playing it cool. Nobody wanted to be the one to say it first! But Faraz finally caved on a weekend staycation in San Francisco a couple months into dating.
Tell us more about the proposal!
The date of the proposal was 10/15/2020, our 5 year anniversary. It had been in the works for 5 years - that same date (October 15th) is the date Nassim's parents got engaged back in the day, and Faraz made the move and asked her to make things official on 10/15/2015. The proposal itself took a couple months of planning, huge shoutout to Nicole Leza at SB Picnic Co. for coordinating the extravagant beach set-up. We both love the beach and had a vision in mind (from TikTok, naturally) of what type of set up we wanted - Nicole helped bring the dream to reality, complete with the long stemmed rose set up, petals, and the harpist to top off the sunset proposal!
How did you celebrate the proposal?
Nassim had always hinted that she wanted a big party with family & friends after the proposal. Of course, COVID threw a wrench into those plans, but Faraz was able to coordinate both families to meet in Santa Barbara (Faraz's family came down from San Francisco, Nassim's up from Orange County). Coordinating all the logistics and COVID tests and all that was one thing, but the real challenge was all of our hotel rooms being next to each other - Faraz needed to text the group individually and coordinate arrival times to make sure we didn't accidentally run into each other before the big post-engagement surprise party! The engagement turned into a full weekend of festivities with the families, including a fancy dinner the night of, a big harbor private boat ride the next day, and a visit to nearby wine country!
Do you have plans for your wedding?
Now that the dust has settled we're kicking off our wedding planning, aiming for Summer 2022. We're working with a wonderful wedding planner Ellie Burton (Los Angeles wedding planner Gatherings by Elle) and hoping to lock down a venue in Southern California big enough to accommodate our big Persian families!