"Wedding cake is the sweetest piece at your wedding and ordering a wedding cake is lot of fun! Here is a quick list of 5 things to consider when choosing the wedding cake of your dreams. I hope it helps to provide some insight into the ordering procedure of your wedding cake." -Autumn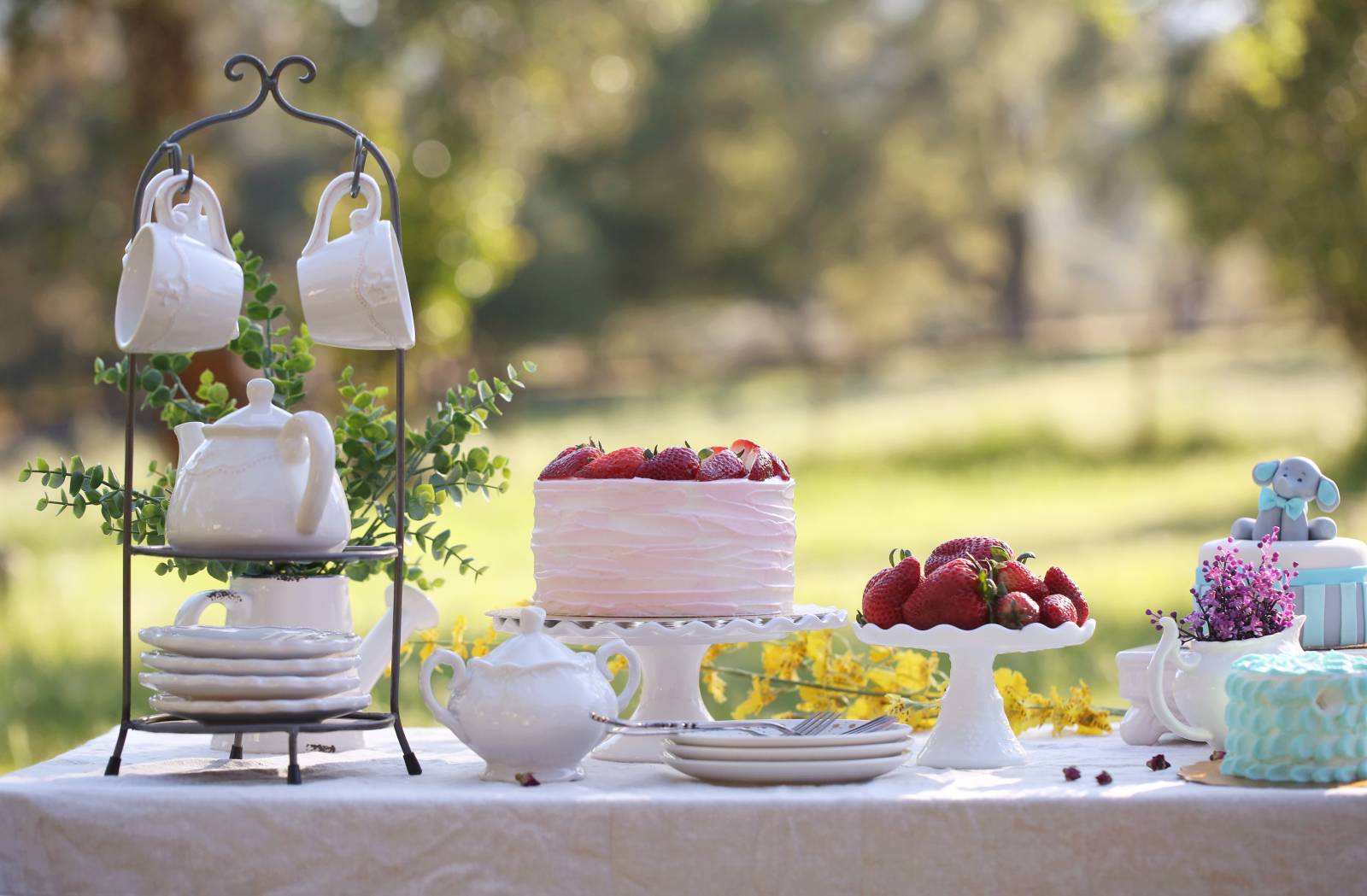 1. Size
There is great debate over what size wedding cake you should order for your big day. Ideally, we recommend one piece per guest. But please ask yourself the following questions before deciding:
First, what is the size of each serving piece? Compare different cake decorators "serving guides." You might see the same size cake offering different serving amounts. Some cake decorators create their own serving charts while others use charts from well-known sources. Make sure to tell the person cutting your cake what size slices you want served.
Second, when and how will you serve the cake? Also, will you be serving other desserts before or along with the cake? If the cake will be served late at night, some guests may leave early, and thus you might not need as many servings. If you choose to have a dessert bar before the cake is cut, some guests might not want cake as well. If you serve the cake at a cake station instead of bringing them to the tables, you probably won't need one for each guest either.
Third, do you want to save the top tier for yourself? Some cake decorators assume that the top tier is for the couple and exclude it from the total serving count while others do not. Whether or not you choose to take the top tier home to enjoy after your wedding (I don't recommend freezing the top tier for anniversary), please let the cake decorator know.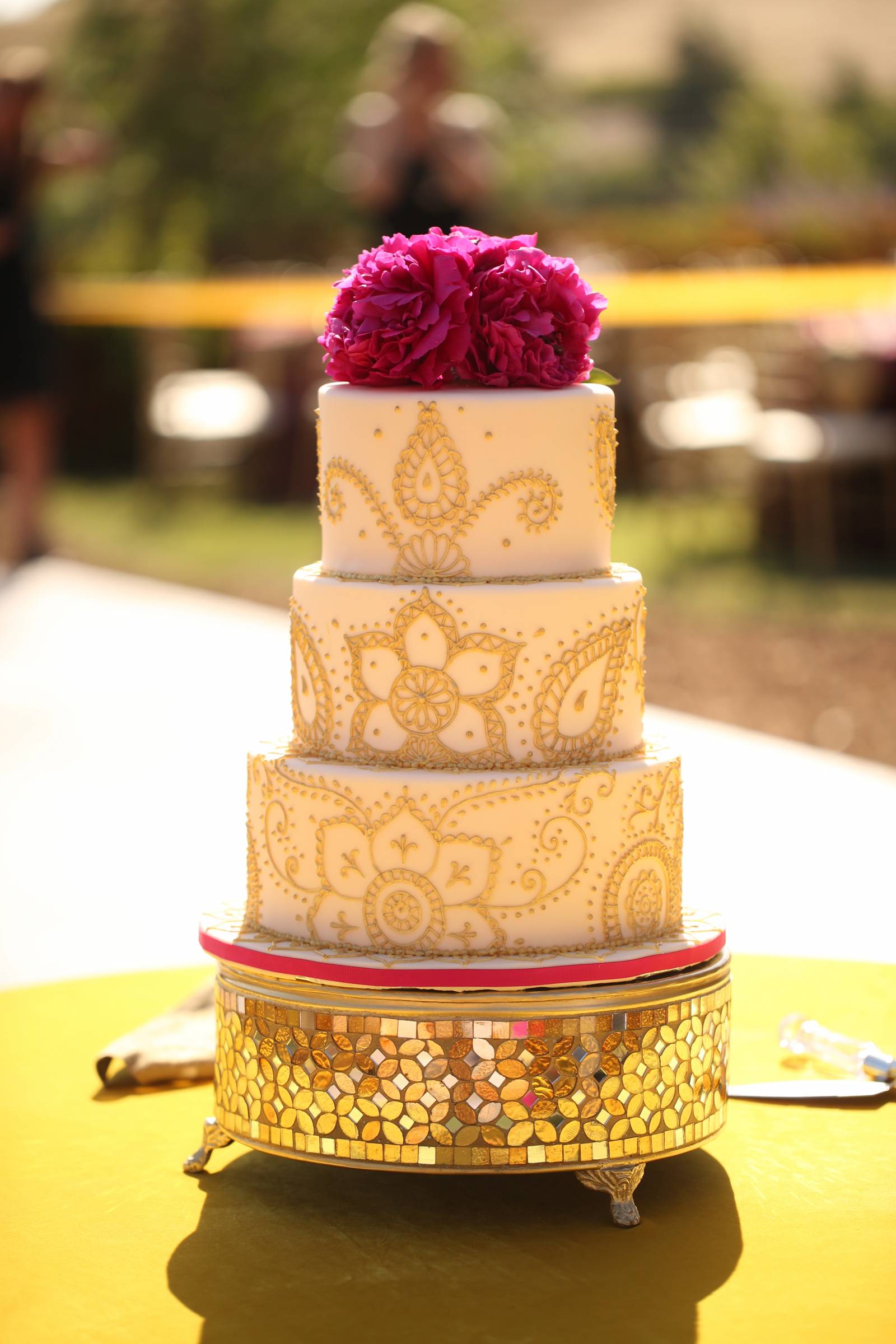 2. Cake Design
The cake design includes but is not limited to color scheme, texture, topper, and overall style. Pinterest and Instagram are great resources to get inspired! You do not need to have a complete sketch in hand, but having a basic idea will make it much easier on everyone. You can also work with the cake decorator to create a unique cake for your special day!
Some cake decorators are highly specialized while others offer a wide variety of styles. Reviewing their previous work will help you get an idea of their style. For example, if you want a cake that has piping detail, it is best to look for cake decorators that have similar elements in their portfolios. During your cake consultation meeting, I recommend bringing meaningful elements of your relationship and/or wedding day theme(s) to help with the cake design such as your wedding dress pattern, jewelry, invitation letter, and other design details
If you are interested in a multi-tier cake but your guest count is on the lower side, you can consider faux tiers which are Styrofoam cakes covered by fondant or buttercream. Please be aware that faux tiers cost almost the same as real cakes as it takes the same amount of time to decorate them as it does for real cakes.
3. Frosting
There are two common finishes for wedding cakes: fondant and buttercream. When browsing thousands of wedding cake pictures on the Internet, be aware that some decorations can only be achieved by certain frosting types. Fondant finish is flawlessly smooth and it goes well with many decoration techniques, such as hand-painted decorations, sugar flowers, and sugar lace. On the other hand, buttercream finish gives a more rustic and creamy aesthetic. Besides the look, you may want to consider the following facts:
Fondant is usually considered not as tasty as buttercream. It is a thick paste made of sugar and water and often flavored or colored. It dries hard and tasted sweet and a little chewy. Many people just peel it off and eat the cake out from underneath. However, fondant can achieve a variety of amazing effects and it is much sturdier than buttercream in warmer climates.
Buttercream is made of butter and sugar; some also contain egg and water. It is a soft and creamy frosting that usually tastes pretty good. In general, a buttercream cake is cheaper than a fondant covered cake of the same size. Buttercream can achieve many artistic and chic effects but your design options are limited compared to a fondant covered cake.
While most bakeries use store-bought fondant, fondant can be made from scratch. We add white chocolate or marshmallow to our fondant to make it tastier. Buttercream can take on a variety of tastes depending on the cooking method and the ingredients used. I encourage couples to taste different types of frosting, before making a commitment.
Some cake decorators are specialized in making fondant covered cakes while others are particularly skilled at buttercream decoration. Make sure to discuss your desired cake design with your cake decorator so they can give you their best possible recommendations.
4. Budget
The cost of a cake is determined by the size and the complexity of the design. While everybody loves a gorgeous wedding cake with amazing detail, you'd be surprised how much work goes into creating one. However, there are many ways to save money on your wedding cake without sacrificing having a beautiful cake on your big day.
First, instead of having one large wedding cake, you could order one small cake and add cupcakes, sheet cakes or cake pops to make sure you have enough for all your guests.
Second, some decorations may dramatically increase the cost, such as sugar flowers, which are handcrafted, time-consuming -- and thus expensive. Having one or two big sugar flowers, such as peonies, instead of several smaller flowers not only gives the cake a modern look but can cut down on costs. You can also use fresh flowers instead of sugar flowers. Your florist may be able to assist your cake decorator by providing some extra blooms. But please make sure the fresh flowers are well isolated and free from chemicals.
Third, as we mentioned earlier, having a buttercream cake, rather than a fondant-covered cake will save you about $1 per serving on average. You can also consider the option of a cake-slicing station, instead of a served course, so that guests can help themselves, for a savings of about 10%.
5. Cake Decorator
Popular cake decorators are booked months in advance. Planning early will give you enough time to choose the cake decorator that best suits your needs and budget.
Three common ways to find a cake decorator: 1) Word of mouth from friends and other wedding vendors. 2) Search online. Preferably on reputable wedding websites. 3) Attending wedding fairs.
After collecting your list of candidates, you can begin by reviewing their websites and reviews to get an idea of their style, skill level, and price ranges. You can then contact your candidates with your wedding date, location, and guest count to find out their availability. Once you narrow your search down to two or three cake decorators, it is time to schedule an exciting and fun cake tasting/consultation! You will want to make sure the cake not only looks good but also tastes great! I recommend making these meetings on the same day for a better comparison. The best time to taste is when you are not too full nor too hungry. Drink water during your tasting, to help cleanse your palate and keep you hydrated. Normally you are able to choose several types of cakes and fillings to taste during these consultations. It is best to taste each one separately then try different combinations together! The ultimate advice I could give is to ask the cake decorator any questions you have during these meetings to ensure we create the perfect cake of your wedding dreams!