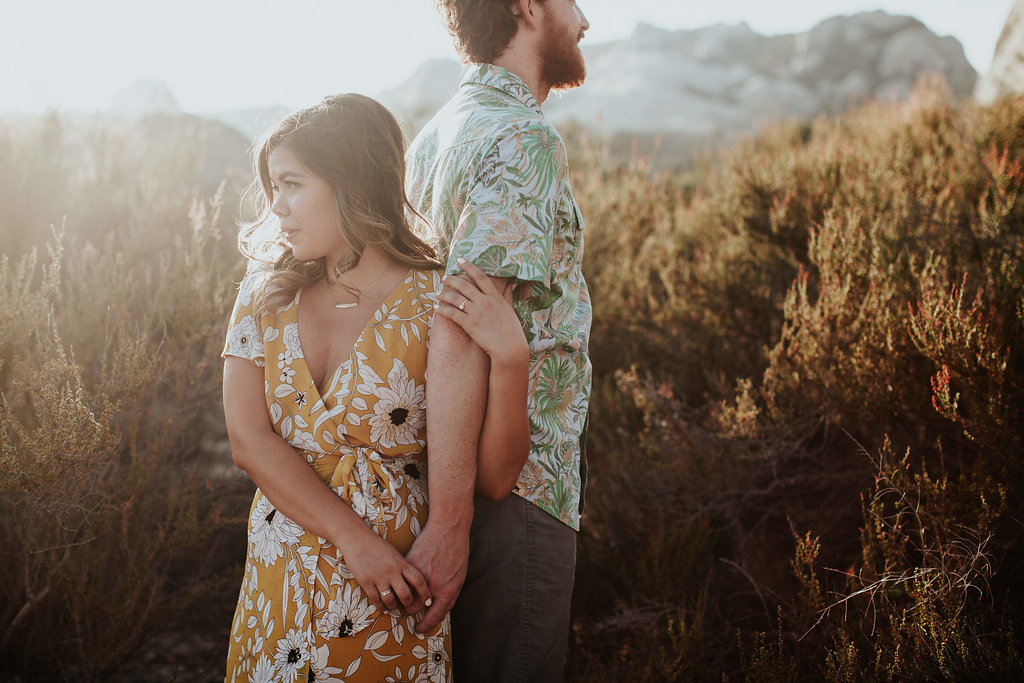 Adventure and romance summed up this outdoors inspired engagement shoot. San Luis Obispo wedding photographer, Alexandra Wallace, captured this fun loving couple, heading out to the Piedra Blancas in Rose Valley near Ojai, CA. Keep scrolling to hear how these two met, how he popped the question, and to feel the love, joy, and excitement between this couple!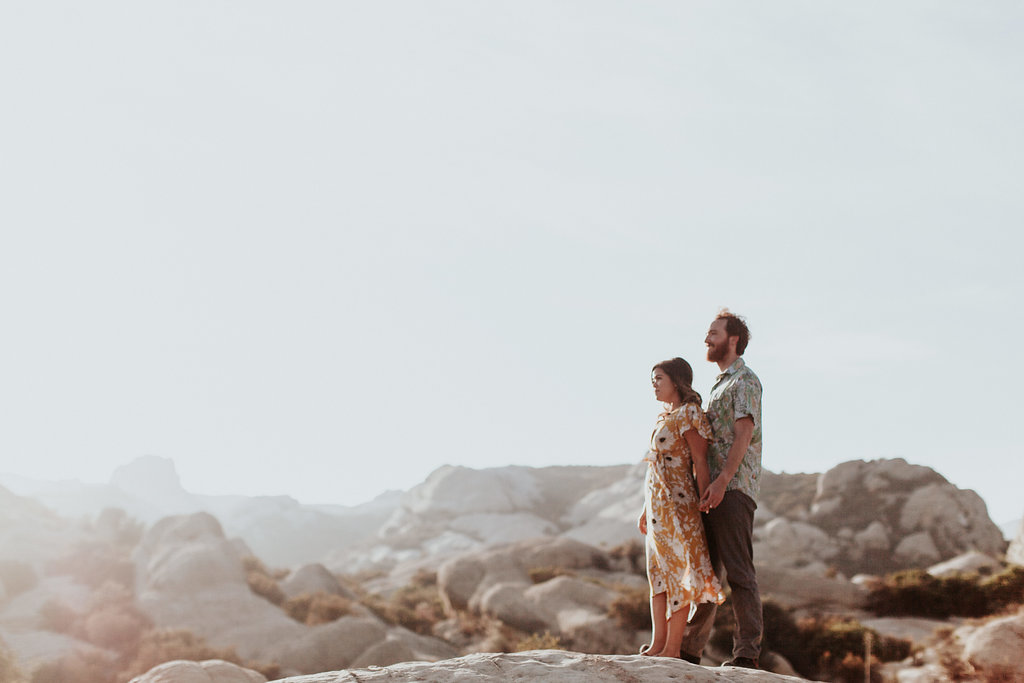 When did you two meet?
Cait and Andy met in December 2015, during her company Christmas party. He was invited by her coworkers who happened to be his long-time friends. The party was amazing--delicious food, open bar, lots of presents, and a beard competition (which Andy won). There was also a raffle and Cait won a Kindle e-reader. As a profound book lover, she drunkenly cradled the Kindle all night. Andy, wanting to meet her, went up to her and said, "Congrats! I have a Kindle, too." Figuring that opening line could 'fire up' the relationship, he waited for her response. "Okay, cool." She walked away. It clearly did not fire anything. But luckily, a few weeks later Andy convinced her to go on a couple dates where they hiked and talked for hours. They've been reading together ever since.
How did he pop the question?
Andy wanted to propose in a unique and meaningful way. And if there's one thing Cait loves as much as Andy, it's her home in Hawai'i. Planning a summer trip to the Big Island for a couple weeks, he convinced her to hike Mauna Kea--the highest point in the islands at 13,803 ft in elevation. She begrudgingly said yes (eating at the beach with family is more her thing). On May 9, 2018, they started hiking at nearly 5:00 AM. For hours they worked and sweated and stretched their limbs up that mountain, stopping for water and food when it looked like they were about to pass out. They only made it halfway. But just when an exhausted Cait was kicking herself for not making it all the way--Andy took her hands, got down on one knee, and said, "We may only complete 50% of this hike, but let's complete 100% of this relationship." He pulled out a gorgeous yellow-gold ring and she started to sob with joy. To this day, she doesn't remember anything else he said.
What was your favorite part of the engagement shoot?
We have a very outdoorsy lifestyle. Our engagement photos are meant to highlight that, so we picked a place that we had history with. The Piedra Blancas in Rose Valley by Ojai is where we had one of our first dates, where Andy asked Cait to be his girlfriend. (Though at first, she said no. Commitment is scary, y'all.) Our favorite thing was to be able to document ourselves in this location at an exciting point in our lives and relationship. Plus, we're both hams so we couldn't stop playing and cracking up the entire time.
Anything else you would like to tell us?
Alexandra Wallace is an incredible photographer and lovely person to work with. She's fun, helpful, and professional. She's able to keep you calm--you almost forget she's even there. One of the big reasons we chose her was because she's able to capture people's unique personalities, show off and use the landscape, and give the photos a timeless, authentic look.