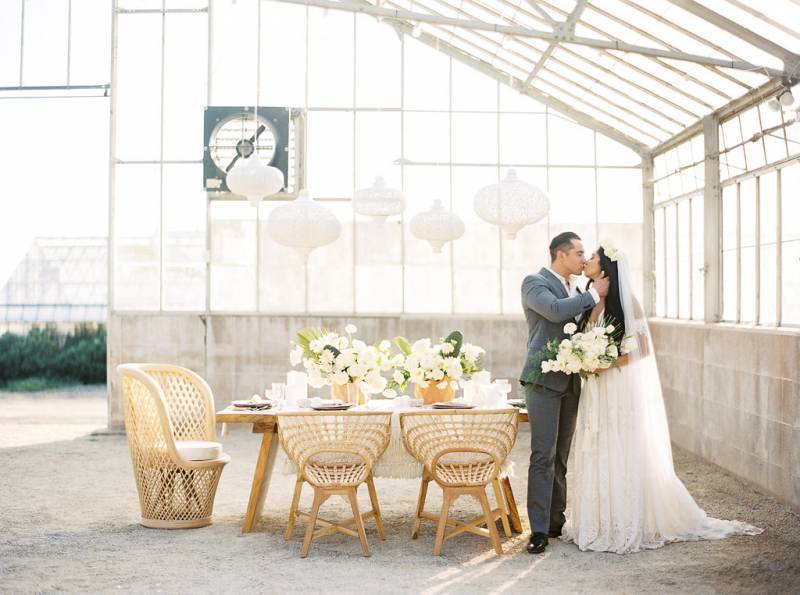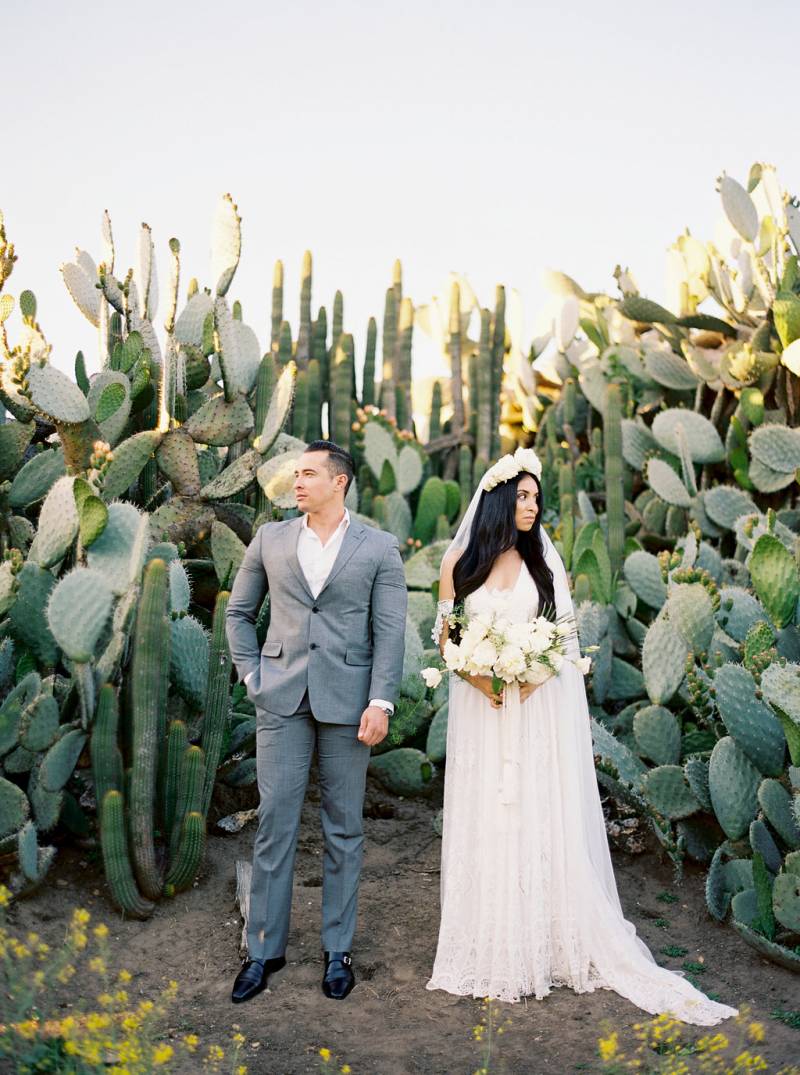 Can you describe your vision for this shoot?
From the designers of Lovelyfest: "When we dream about all the places we'd like to travel to in the world, Tulum, Mexico is at the top of our list. With it's white sand beaches, historical ruins and effortless bohemia, it is definitely a one-of-a-kind destination. Even though we weren't able to travel across the globe for this shoot, we took inspiration from it to create a high-end, textural, all-white wedding. This wedding inspiration is fit for a modern, upscale couple who loves that Mexican vibe. We were inspired by the romantic, natural feeling of the Riviera Maya, and centered the shoot around a natural palette of greens, white, ivory, grey, terra cotta, and wood."
What was your design inspiration?
"Living on the California coastline, we are surrounded by wedding venues that are both very put together and polished, and those that are less 'finished'. With the latter, we are able to use decor and our imaginations to completely transform spaces into our bride and grooms' dreams. That's precisely why we chose this empty greenhouse as the location for our shoot. The moment we laid eyes on the barren, white-washed greenhouse, the ancient ruins in Tulum came to mind. We knew our palette would go perfectly inside, and that with the right decor and vendors, the magic of Mexico would come alive."
"Floral genius Stella Bloom Design created the most incredible textured arrangements to top the dining table with, full of all-white florals and touches of cacti and palms. The florals were accented by handmade terra cotta pots, all-white pillar candles and simple yet beautiful stemware and china."
Describe 1 or 2 details that you were the most excited about.
"With high-end weddings it's important to reach out to vendors that go above and beyond in their craft. For this shoot, we carefully curated our vendor team and were lucky to work with some of the best in the industry. We had the opportunity to raid the warehouse of Elan Event Rentals, and pick out furniture (more like art pieces) that would capture the essence of Mexico. Because he travels around the world to source his rental pieces, it didn't take long for us to find what we needed. The sophisticated construction of his wooden furniture paired with his intricate and detailed accessories lent us the cohesive Tulum vibe we were after. One of our favorite pieces was the hand-carved black and white skull that lent a slight edginess to the overall mood.
We wanted to bring in each color of our palette into the tablescape, and Rosey Calligraphy's sun-dyed Saltillo tile place cards pulled everything together perfectly. Paired with a white-on-white tassel layer cake from Paper Cake events, a cactus grove reaching over 20 feet in height, and the most beautiful Mexican model couple, this shoot resulted in a high-end wedding that would fit perfectly in Tulum. Or anywhere for that matter! With flawless makeup and hair byJess Wilcox, a gorgeous lace Rue de Seine gown, and a Frieda-inspired floral headpiece, our bride effortlessly pulled off an upscale and bohemian look. Jen Rodriguez photographed everything in her timeless way and it couldn't have turned out any better. Now get us all on a plane to the Riviera Maya!"