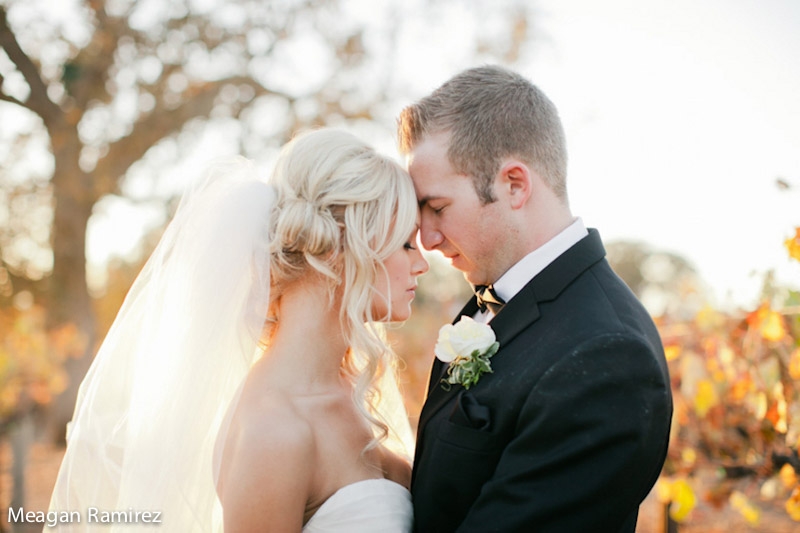 As much as I love a good vintage inspired wedding, filled with pale pink florals and flea market finds, there is something about simple black and white that turns a wedding into a chic, timeless affair. This wedding is modern and romantic, and it does't hurt that the bride looks like she could grace the cover of any major bridal magazine! Captured by Meagan Ramirez of Collective Photographers and set at the stunning Robert Hall Winery, this wedding is filled to the brim with impeccable details, yet styled in a way that is still simple leaving it truly a sophisticated soiree.
Here is more from the beautiful bride Danielle on her gorgeous day...
Wedding Planning Inspiration...
I have always been an avid black and white fan and for as long as I can remember I wanted to have a black and white affair wedding. Neil likes color, so we threw in the gold-ish/bronze accent and it was the perfect touch!
Neil and I both were very excited about our ceremony. Really everything about it. The venue was gorgeous and a great family friend was marring us and the ceremony he had written was beautiful and simple. We were so excited to finally hear the vows we had written to each other as well. I also worked alongside my invitation company (RSVP Please) to design the programs which included a "for happy tears" tissue pocket on the inside. Everyone really loved the little details I worked into the ceremony.
Something we were very excited about but didn't get to see our selves is the cocktail hour which was in the wine caverns. We were taking pictures but everyone ranted and raved about how gorgeous and amazing it was down there.
Another thing was our cookie and milk bar. We couldn't figure out what we wanted to do as favors, and we wanted it to be something that actually meant something to us, instead of something frivolous that would be thrown away. We each chose our favorite cookies, Neil's were Snickerdoodle & his mom's homemade Chocolate Chip, and mine were Oreos, Girl Scout Thin Mints, and Peanut Butter. We special ordered glass jars with custom labels and cookie bags to match. It was such a fun & yummy favor!
During the ceremony, my dad was so nervous when he went to kiss me before he gave me away he ducked under my veil to kiss me. Everyone got a good laugh and I had to tell him "lift my veil!!" I was freaking out but everyone thought it was cute.
Another fun thing was the dancing. From our first dance and our fun ending with a kiss and a dip, to most of the wedding dancing on the steps of the amphitheater. It was a fun fun night!
RADDEST Wedding Vendors...
My florist, Camilla Svensson-Burns, did an absolutely PHENOMENAL job. First off she made a totally off the wall vision my wedding planner and I had come up with, come to life! I really loved the idea of using these huge Restoration Hardware lanterns as my centerpieces but wanted flowers too. That's when we had this crazy idea to put huge flower arrangements on top of the lanterns. I had researched up and down trying to find someone who had done something similar and couldn't find anything. Camilla did a prototype for me a couple months before the wedding and I loved it!! The day of the wedding it turned out even more beautiful than I could have imagined and people went crazy for them. Also, the bouquets were to die for, more amazing than words can describe, and she even mustered up some Peonies for me in NOVEMBER!
My cake, from The SLO Cakery, was just perfect. I ogled over it all night long telling everyone "Did you see my cake?!?!" I didn't even think a cake could be that beautiful. It didn't hurt that it was absolutely delicious either.
Jin Wang, my dress designer from San Fransisco, and her team of beauties (Emily, Peony, & Lily) were all fabulous and made my fairy tale come to life with that gorgeous dress, veil, and crystal belt.
Rebeka Leighton & Lexi Warren did me and all of my beautiful bridesmaids makeup and hair and we all looked like models when they were finished with us. It was beyond gorgeous work.
My photographer Meagan Ramirez from Collective Photographers , Videographer Josh from Rain Studios, and Kristen Odenwald from Robert Hall Winery, were also just fabulous. I can't say enough good things about my vendors i really got the A list.
Plush Events did a great job at putting together my visions and putting all the decorations up day of & Trumpet Vine Catering had great appetizers and presentation of food and beverages.
There is so much advice, but I would say the biggest thing is to prepare yourself that things will go wrong. I have a serious case of OCD and prepped myself for months before to "let it go" that day and not stress on anything. If you see something going wrong just forget it, no one notices but you! You will never get that day back and you have to enjoy every bit of it. It only happens once!
Some smaller details would be doing a "first look", which I did not do. I think I would have had way better bridal party pictures if I had and would have gotten to enjoy part of the cocktail hour. Another is to have a coordinator that does more than decorate, have someone to attend to you during the day (Even if its your bridal party) to make sure you can relax and don't have to do anything!!