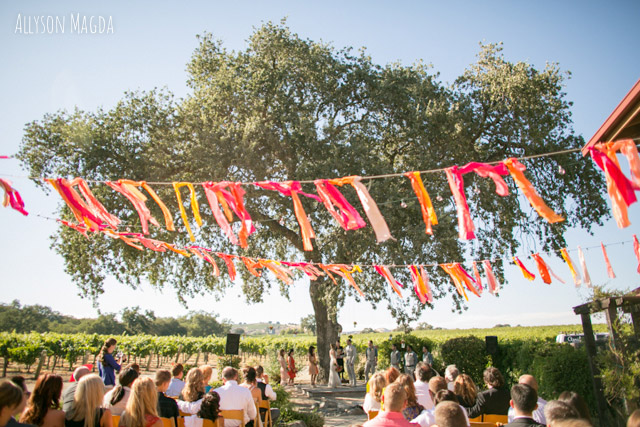 This beautiful couple's wedding was inspired by the bold and bright florals of Summer. Brynn and Daniel's cozy and casual wedding was exactly what they had hoped for! Honing in on the details and the evident love surrounding this day, photographer Allyson Magda brings this day to life for this couple to remember forever and for you to see what a true love story can be. Let's get the inside scoop with bride, Brynn...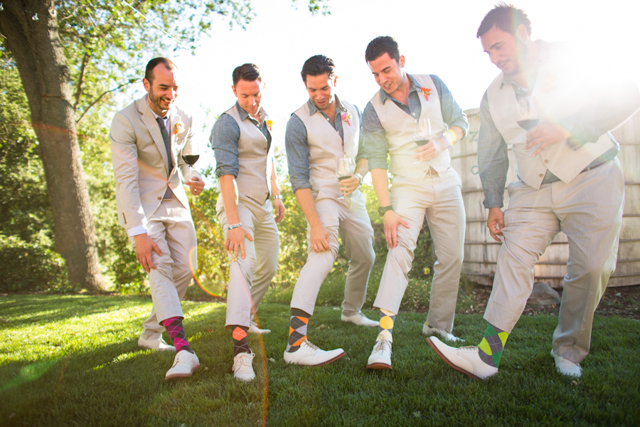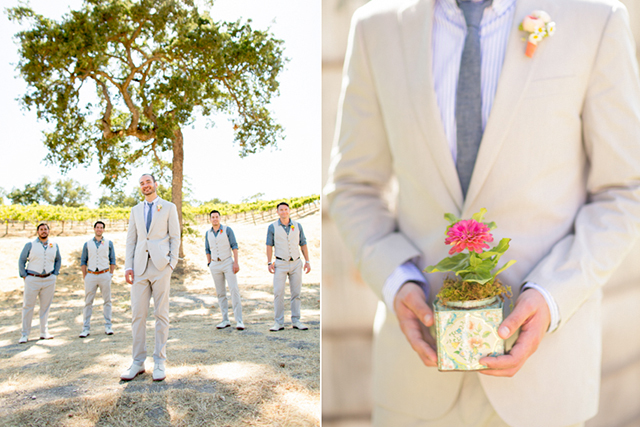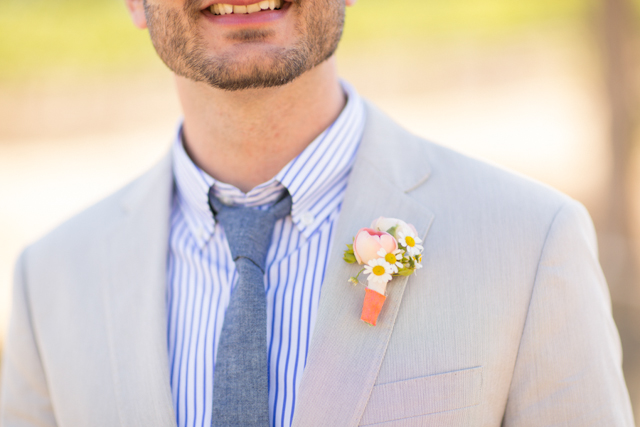 Let's just say that we are one of those (italicized) couples that likes to take their time...
By the time we got married, we had been together for nearly 14 long ones...yes, I mean years! Daniel & I started started when I was a mere 16 years old (just shy of 17) and he had just turned 19. Although we attended the same high school for 2 years before we met, and even shared a French class we never really "knew" each other. I just knew that he was that mostly weird, kind of sexy goth guy who wore black lipstick. (I was more into the skater boys back in those days!) Well, a couple years after Daniel graduated and I was in my senior year, we ended up meeting through hanging out with mutual friends at a (music) show. Sparks flew, he asked for my number and a couple of weeks later we declared ourselves "official". (Oh, young love! )
Fast forward to 12 years later & many adventures in between (including college, bringing two kitties into our lives & moving from Southern California to Seattle)...
That boy finally proposed to me! Okay, it is not really like that. We were just never in any rush. We started out super young, had to do quite a bit of growing up (within ourselves & together), so we grew. And one day we decided...why not just throw a super rad party for our closest friends & family?! Well, there was a really awesome proposal involved, but that would take way more space than allotted, so let's just leave it at this! We really did just want to throw an awesome party! And that, we did!
Wedding Planning Inspiration...
It's funny how a bride's vision can evolve -- early on in the planning, I was headed down one avenue, but then I crossed paths with this adorable watercolored citrus Rifle print ... and boom! Everything changed completely! From the beginning, we looked at our event as a celebration and a party so that we would not get caught up in so many of the traditions and formalities of a wedding. We wanted our guests to feel as if they were attending a dinner party -- it needed to feel low-key, intimate, inviting and just simply fun -- but with dreamy decor, killer music and the tastiest food around! Our guest were free to sit wherever they wished at long wooden tables, and dinner was served family-style to keep it casual and interactive.
Our family and friends played a huge role in helping accomplish our million and a half projects! I definitely went crazy, making all of the following and then some: 60 dip-dyed napkins from scratch, six table runners, fabric banners that were strung across the lawn, and a watercolored "guest book." My dear friend, Tarah, put many, many hours into hand-drawn fonts and illustrations for the screenprinted invitation suite and all other paper and graphic details such as the menus and our CD favors.There was also lots of thrifting time spent searching for milk glass centerpieces, vintage toasting glasses and cake stands! And the one DIY that might just take the cake was the tables -- yes, quite possibly my craziest move! I just had to have wooden tables for the occasion and learned quickly that the style I was seeking was very hard to come by in rentals. So bless my husband's heart, he learned quickly how to become a craftsman - and we thank all who helped him. Six 10 4-foot tables were built, assembled, sanded, oiled, painted, disassembled, packaged and shipped from Seattle to central California and then returned home post-wedding. In the end, it was all of these special touches that involved the help of many that added a lot of extra love to our celebration. And ever last detail was SO worth all of the time, sweat and tears that went into it! I was seriously the happiest bride on earth. Once I saw my vision completed and in real life, I just couldn't help but gush in excitement. And still do!
The season was summer and I wanted our event to scream it! We filled the event with juicy, citrusy hues. There was a botanical, citrus thread throughout, from the orange illustration on our invitations to the bowls of citrus mixed into the table centerpieces.
My uncle is seriously the coolest uncle. He pulled Daniel & I aside, separately, throughout the day just to have us each soak in the moment. He had me smell the air, look at the people (my mom laughing, my aunt dancing, etc.), and listen to the music. This truly created so many memorable moments for me that I can envision in my head, still.
The most memorable was walking down the aisle. I entered down a nearby staircase and felt nothing but calmness are complete peace at first...then, the music cued (Scenic World by Beirut) and I latched onto my brother's arm (who walked me down the aisle). I saw the faces of the 60 most important people of our lives, standing along the aisle, and my soon-to-be-husband at the end. It was definitely a WOW moment for me. Truly SO cool! From that moment on through the rest of the ceremony I was a total weeping wreck. But that was to be expected! Ha!
RADDEST Wedding Vendors...
When it comes right down to it, it was our fabulous vendors that truly pulled it all together. We seriously hired the creme de la creme. From our fabulous florist, April, who got me and my vision (she seriously kicks some major floral booty!!!), to Thomas Hill Organics, whose menu is still talked about by our guests (and dreamed about by me!). We also flew in our indie radio station DJ and his wife to make sure that only the best tunes were rockin' our party! I must also call big time attention to the incredibly talented Allyson Magda, our photographer, who captured the event in the most beautiful way possible. And I can not leave out our amazing onsite coordinator at Zenaida, Jen, who kept everything together and running smoothly.
Advice for Other "newbie Brides"...
My 4 pearls of advice for "newbie brides"...
You probably won't be able to help but stress over all of the details before the wedding. It's true - especially if you are anything like me: very into the details! BUT, you have to know - 1: when to ask for help & 2: when to let go. There is only so much you can do. And know that there will be things that go wrong. It is okay, I promise!
Do your homework - choose the right vendors.
Read their reviews and/or ask your venue or coordinator what kind of a reputation they (florist, caterer, etc.) have. Also, has the venue/coordinator worked with them before? I can't stress enough how important this is!!! These are the people that you are trusting to make your day as perfect as it can be!
This one probably should be no.1, but this list is really in no order of importance, as they are all important!
Ready for this?? When it all comes down to it, the day is really about YOU & YOUR FIANC .
Yep, it's that simple & that true. All of the other stuff is great & important to create the ambiance and whatnot, but don't let it consume you so much that you forget what this day is truly for.
Take it all in & remember NOW. Remember to pause throughout the day and soak every little bit it.