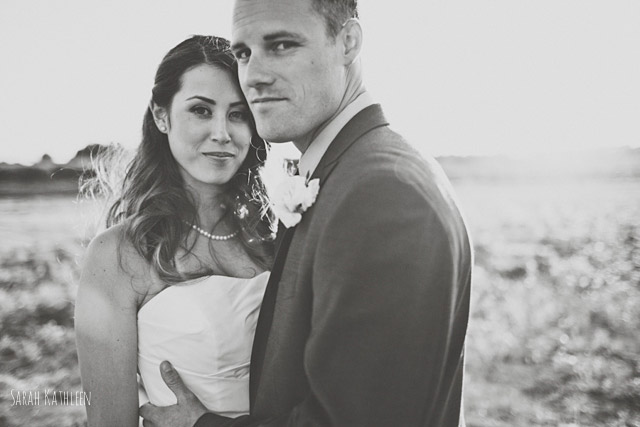 Fun, simple and carefree, this wedding paired romantic elegance perfectly alongside the natural and rustic beauty of the Dana Powers Barn. The blush-like colors with pops of coral and sea foam completed Ashley and Scott's summer spectacle. Sarah Kathleen captures this couples perfect day and genuine love with her incredible eye, leaving no detail or emotion unmentioned in this heart-filled wedding. Let's get to know this sweet couple!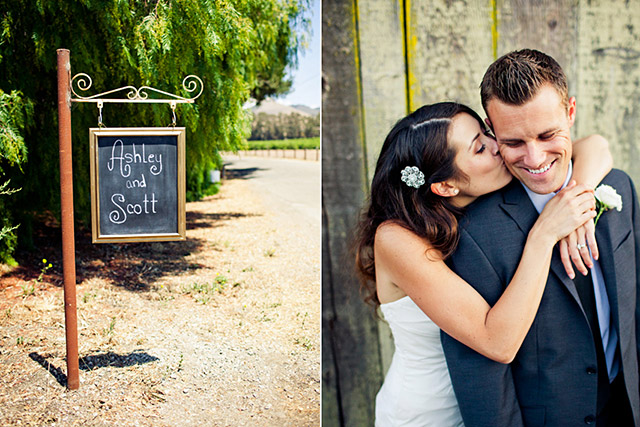 Our story began back in the summer of 2005. I was home in San Diego from college. We met through a mutual friend and hit it off pretty quickly. It was quite difficult keeping my eyes off such a handsome guy : ) Our first date was a double date, and we went to see the movie The Island. I've got to admit I was pretty nervous and don't remember much of the movie.... After that night I knew he was quite the catch. We saw much more of each other those last couple weeks of summer until finally it was time for me to head back up to school. Scott lived in San Diego and I was living in San Luis Obispo. We were young and didn't know how or if a long distance relationship would work. But although we had only spent a few weeks together that summer, I knew early on that I was in love. He was worth the distance. I must say, Scott made 75% of the trips up north to see me. He proved himself and we truly learned to appreciate one another. We've been inseparable from that point on and the rest is history.
The Proposal: It was Thanksgiving weekend of 2010. We had driven home to San Diego to spend Thanksgiving with our families. Although I was focused on the holiday and spending time with friends, I could kind of sense there was something else going on. Odd things were occurring.... My mom was making phone calls in the garage (obviously so I couldn't hear from the living room), Scott arrived to dinner very, VERY late one night, and I could sense that something was being kept from me.
Well the weekend went on and Sunday came along. Scott and I were planning to leave that afternoon after a family birthday party. But before that he said he wanted to take a drive up the coast to my favorite beach because "he missed the beach in Southern California." Sure, why not, I thought. The weather was cold, I was being kind of a grump, and Scott was acting a little unlike himself. We drove by my favorite mexican food stand and I insisted we stop so I could get some yummy rolled tacos. We took it to go and drove down the road to the beach. Scott parked the car then handed me a blanket and told me to go sit on the rocks and enjoy my rolled tacos. (What a sweet boyfriend). Soon after, he came and joined me under my blanket as I ate my snack, then we got to talking. I told him I was sad we had to leave our families and go back up north so soon. Scott's response, "Maybe if you tell your boss the good news, he'll let you take the day off tomorrow." "What good news??" I said out of pure confusion. Then Scott got down on one knee, pulled out a little white box and popped the question!!! All I could do was smile and cry with excitement. I couldn't control my emotions. It was an amazing weekend and Scott has made me the luckiest girl in the world!
Wedding Planning Inspiration...
Well the venue speaks for itself. Absolutely gorgeous. The barn was my inspiration and I wanted to carry through with the theme of soft, feminine, and romantic. I've always been very girly and to me a wedding wouldn't be a wedding without pinks and creams. I've also always been drawn to coral and seafoam green, so I knew those had to be my colors. I love the rustic-chic theme, hence the selection of the barn. And to keep it feminine, I had to incorporate chandeliers, sheer curtains, ribbons, and gorgeous bold flowers.
I was very excited to see the final composition of the florals. I had only met with the florist once and gave her photos and ideas for inspiration. So I had no idea what the final product was going to be. But as soon as I arrived to the venue that afternoon, I was blown away by how gorgeous the flowers were and the extra thoughts she put into it.
Jenny McNiece Flowers blew me away with the flower selection and presentation! Considering we only met once and everything was just talked about and never shown, I was more than pleased with the result. She was also willing to work with my budget whereas other vendors were not. Love her work!
Coral and Seafoam. Overall, I used mostly creams and different shades of coral, with pops of seafoam green throughout.
More importantly though, I was most excited to see my groom as I walked down the aisle. I had thought about that moment for so long and couldn't wait to see my friends and family and my emotional reactions to it all. I remember getting ready to walk down the aisle with my father and being so overcome with joy and calmness. He was the nervous one already filled with emotion, and I was just so excited and happy that only a single smile filled my face.
RADDEST Wedding Vendors...
The Dana-Powers House! This wedding venue was the biggest hit of the wedding. The barn and all the decoration that went into it blew all the guests away. I couldn't imagine a more beautiful place to get married. It was so unique and fitting for us as a couple. Judi Powers made our day run smoothly and she was a pleasure to work with.
Sarah Kathleen Photography! Sarah is the most talented, young photographer and she was the very first vendor I selected. I KNEW she was the one for me, and no other photographer could do it better.
Advice for Other "Newbie Brides"...
1. Although you want to spend time with ALL your guests, it's impossible (at least with a large wedding).
2. Don't forget to step away and try to create memories. You don't want the moment to pass you by.
3. Photos take up A LOT of time, especially if you don't do a first reveal with the groom. Make sure you have enough time set aside.
4. HAVE FUN! DON"T STRESS! It's YOUR day! Everything will work out just fine. Not everything will go perfect, but no one else will notice what you notice.
Complete List of Wedding Vendors + Websites