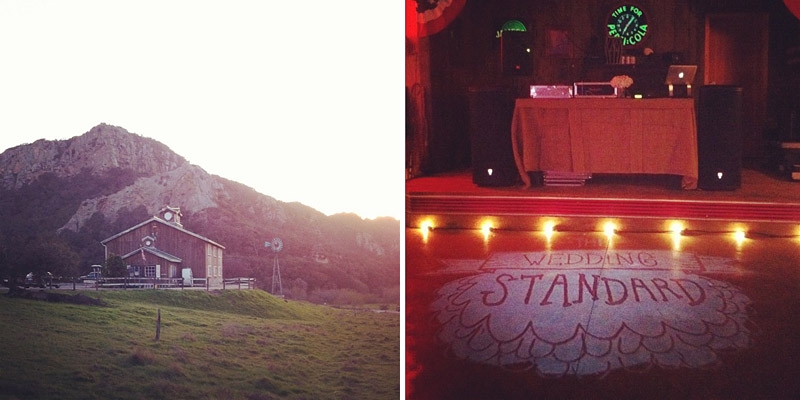 Central Coast Wedding Standard Launch Party - On March 1st we had a wild and awesome get together at The Holland Ranch to celebrate the wonderful wedding artist community growing here on the Central Coast and to launch the new and improved Wedding Standard!
Film makers CanaVP produced a short highlight video of our Launch Party.
It was incredible to see so many amazing Central Coast Wedding Artists including photographers, DJs / Musicians, Florists, Beauticians ect. coming together to support the mission of The Wedding Standard. We mingled, drank wine, ate appetizers, cupcakes, we laughed, we photoboothed, and we danced our trash off! In the middle of it all I got up in front of everyone and made a little presentation on the heart behind The Wedding Standard. I shared the history that has brought us to the launch of our new and improved Central Coast Wedding Standard. I highlighted the features of the new site and shared our dream to create the same kind of community in Santa Barbara and Ventura County. But most of all I emphasized the central factor that makes what we are doing so unique; the artist. It's all about showcasing the heart of the artists behind the businesses and the love for what we do was what brought us all together. Mark Padgett did a phenomenal job of designing and setting up the entire event. When he asked about our theme for the party months ago we explained the purpose simply being wedding artists 'Coming Together' to celebrate the LOVE of what we do; the people we do it for and with! He worked so hard to create at look and feel that expressed that LOVE and he nailed it. Thank you Mark!!! The room was swimming with positive energy, creative minds, and passionate hearts. The barn at Holland Ranch was the perfect setting for our mingle/dance party. Judy from Dana Powers House and Embellish Vintage Rentals brought couches, chairs, lamps, side tables, and yellow & blue books to decorate. Grand Event Lighting lit the barn softly, creating a warm and electric atmosphere. Two Cooks Catering served tasty appetizers throughout the evening and we poured wine from three different local Paso Robles wineries; Robert Hall, Cass and Sculpterra. Trumpet Vine Catering provided fizzy non-alcoholic beverages while Baxter & Moerman provided Mark Padgett's famous spiked Pear Punch. Enjoy Cupcakes supplied our sugar rush with their personal size wine infused cupcakes. April Flowers and Panacea Event Floral Design sprinkled the room with various vintage vases holding simple white florals. The Photobooth Experience was open for business the entire night showing off their new 'open air' photobooth, big enough for group chaos portraits. Paper Sky put designed and created our photobooth backdrop. 805 Collective helped out with graphics for the presentation as well as designed our branding. Our business cards were letter-pressed by Sugarplum Invitations. My associates Alexandra and Megan snapped a few shots of the event while the boys from CanaVP video'd the action (coming soon!). And finally... Malik Miko and my business partner Josh Jones from Goodbeat Productions shared the turntables making it not just a really cool hangout, but an epic dance party! Many people kept coming up to me the night of congratulating me on all of this and I had to keep turning it back around. It really was the result of so many awesome Central Coast wedding artists who have so much talent and love that when they all get together it becomes a party. The Wedding Standard may have been the catalyst for the event, but it wouldn't have been possible without the artists who make up The Wedding Standard.