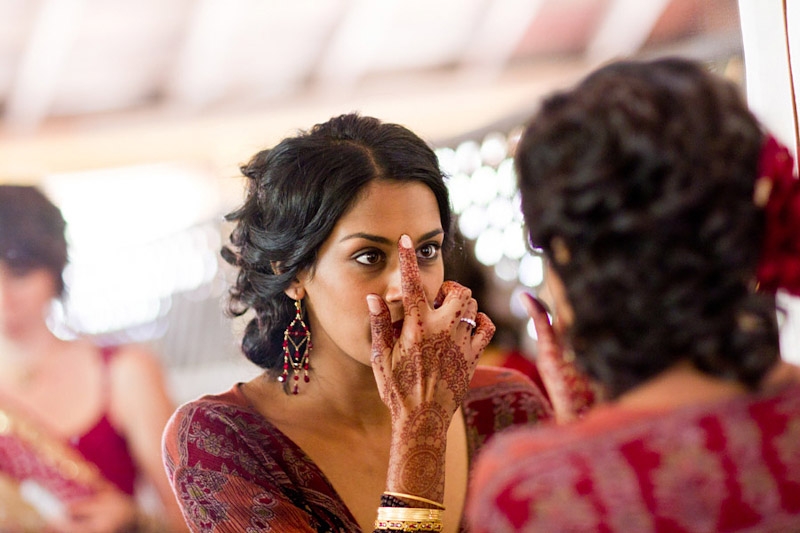 Indian Wedding with a Bohemian Touch...
This San Luis Obispo County wedding was a Indian/Irish/American Hybrid and is both radiant and refreshing! Chalk full of traditional details surrounded by rich colors and textures, this wedding is everything unique. Set at beautiful See Canyon Fruit Ranch in Avila Beach for the ceremony and Back Bay Inn for the reception, these venues were the perfect organic settings to host the couple's joyful day. Photographer Cameron Ingalls captured each special moment which included many mini ceremonies throughout the day. While videographer team Cana VP created an incredible preview movie and shared it at the reception. One of the most unique events wasn't even traditional in nature. Michael, the groom, handed the bride Monica a bouquet of hand picked flowers opposed to a first look. Michael had hiked to the top of a mountain the morning of the wedding just to pick flowers for his beautiful bride. Talk about romantic! Here is more from our beautiful bride Monica on their special day; Enjoy!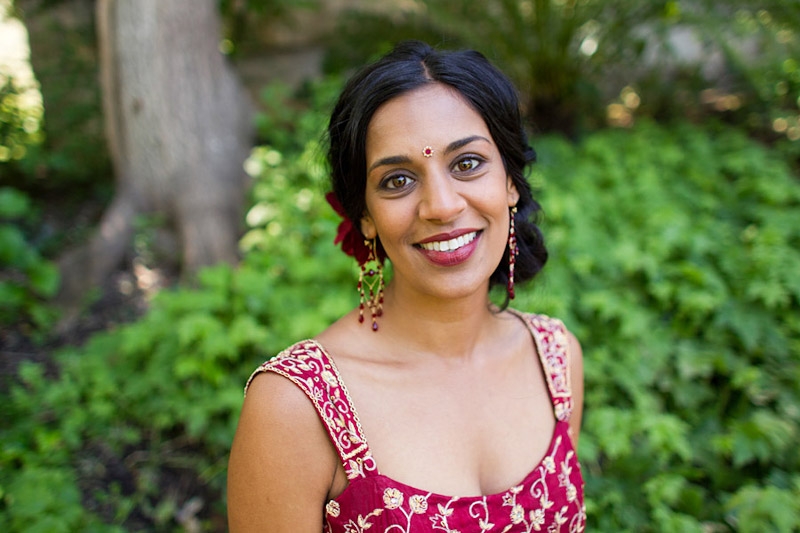 We wanted our wedding to feel comfortable, grounded, real, earthy, simple (yet special).... we recall many times saying to each other that we wanted our guests to really just "feel our Love." The theme itself was chosen well before either of us even had a chance to really think about it... a sweet mix of our cultures: Indian, Irish and American, seemed perfectly fitting. We allowed symbols and images from each culture to inspire us as we went along.... all the while, keeping in mind that we wanted a sort of earthy style as well.
Mike was genuinely OK with whatever colors were chosen (as long as he was consulted along the way, and I didn't choose pastels), so this happily became my task. I knew I wanted to wear red, the traditional color for Indian brides, so that immediately became the focal point, and guided me in choosing two other more neutral, earthy colors... dark brown and light cream/beige. At some point we realized that green was going to be a default color, as our wedding venue had tons of green as the background, so though it wasn't an official color, green entered the picture as well.
Our personal wedding day style was simple but special. Not too fancy, but enough class to allow us to feel like a true bride and groom. I had my dress made by an incredibly talented local seamstress Jennifer Blue, and my mom took it to India to have it embroidered (on a planned trip, not a special one just for the dress!) One of my requirements was that it should be comfortable, all night long...which it totally was, in addition to being perfect in every other way! My jewelry was made custom by a local jeweler I'd met over 10 years ago, and always dreamt I'd have her make my wedding jewelry. The fabric flower I wore in my hair was also made custom, using left over scraps from my dress. Bridesmaid's saris were also custom handmade in India, with jewelry purchased in India and "tweaked" by me to bring the "bling" down a notch :) Mike had his and his groomsmen's vests made in Ireland, and they all wore hemp fabric pants. Mike LOVES it when I wear little to no makeup and have my hair up... so the hair went up, and though I wore make up, I tried to keep it simple by doing it myself.
Mike went for a hike the "morning of", and picked my bouquet. He then handed it to me, around a door so we wouldn't see each other, just an hour or so before the ceremony. I didn't know until later, but he also picked two smaller matching bouquets for both our mothers.
Mike came down the aisle in a traditional Indian way (called a Barat), in a full dancing musical procession with his family behind him, welcomed by my family. We had the bridesmaids walk out together, in a line, cupping a handful of flowers which were placed on the wedding alter. I then walked down the aisle with both my mother and father by my side.
Our ceremony was unique (and experimental) for sure! It was a mix of Indian and American traditions, that lasted way longer than anticipated....but ultimately allowed us to honor our love and commitment in many different ways.
One thing that made our wedding unique is that we had a whole Indian dancing, henna and food night, the evening before the wedding/reception. We held it at the community center in Los Osos, decorated it with tons of Indian decor, requested that all our guests wear Indian clothing, served Indian food (that my mom cooked), had an artist lady doing henna for all of our guests, danced two different Indian dances with all of our guests, hired a localI Irish dance team to perform... and just had a blast! It was also a really great way to "break the ice" for the whole wedding weekend. It gave us an opportunity to meet and welcome all of our guests beforehand, rather than seeing them all for the first time as I walked down the aisle. I think it helped us be less nervous, and we felt like we really got to spend time with everyone a bit more.
Decor choices truly evolved and were chosen as we went along and became inspired and guided by our Indian-Irish-American theme, as well as an overall natural/earthy style and color scheme. We hand drew Indian and Irish designs for our invitations, found little gold elephants for name placements (which doubled as great wedding favors for our guests), grew our own mini-gardens in centerpieces (Mike and I are big gardeners), used old planks of wood from a fence we took down at our house to display family photos, found old wine barrels and fixed them up for bars and cocktail tables, used old saris to decorate the alter, had chocolate covered strawberries at each place setting (one of my favorite foods which went perfect with our color scheme!)
Mike and I fooled all of our guests, by performing a choreographed dance to a medley of Indian love songs, as our first dance. After talking with Mike a bit, we agreed that, though it's "oh so cliche", one of our most memorable moments was me walking down the aisle towards Mike. I think we were both just incredibly present and loving this moment that we'd thought about and envisioned for so long. We both recall feeling more grounded and happy, rather than nervous. I recall taking in everything around me, the breeze, the trees, the sounds, looking out at the crowd, trying to make eye contact with each of our guests, smiling so wide, and then realizing that I should be looking straight down the aisle at my groom! Mike recalls seeing me for the first time all "dolled up," thinking about how beautiful I was to him, feeling proud, and then noticing a huge gust of wind kick up and swirl around for a bit. It was just incredibly joyous and perfect!
Want to submit your Real Wedding or Inspiration Shoot? Go to our Submissions Page to find out how!