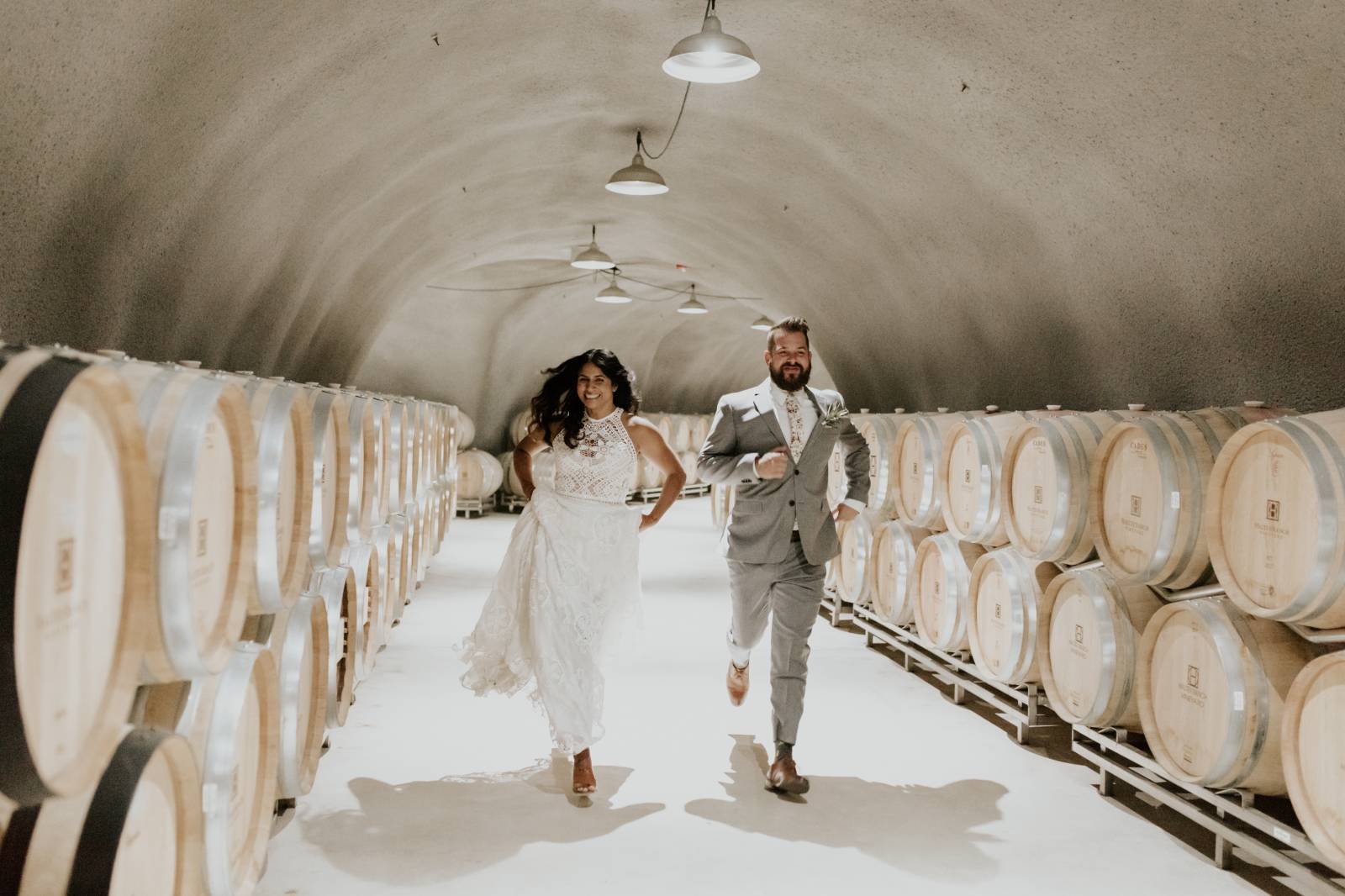 We've seen many stunning weddings hosted at Paso Roble's Halter Ranch, but this double wedding weekend was one for the books. Chetna and Miah wanted to pay homage to their strong cultural backgrounds choosing to go with an American Wedding on Friday, and an Indian Wedding on Saturday. Spark + Sparkle Events was a true rockstar styling and planning the two weddings, while Little Boat Photography captured each. Be sure to scroll all the way through to see how beautiful each celebration was, along with what Chetna says about her and Miah's love story!
Girl meets boy!

We went to the same high school, I had a MAJOR crush on him but all he cared about was surfing and skating. We maintained a friendship and a casual romance for 15 years and grew a little apart for about 5 years. Reunited 3 years ago when he FINALLY realized what he had been missing all his life! And we have been together ever since (like hearts over our eyes ever since)
The Proposal
He had been acting weird ALL week. Asking me if I wanted to go hiking that Saturday almost every day. So I had a feeling, even told friends this could be it. Then the day comes and he was open to just chilling at home, no more weirdness. We went hiking regardless and he popped the question. He likes to think he just "kept throwing me off all week".
Wedding Planning Inspiration

We both come from diverse backgrounds so we wanted to incorporate both cultures. We had a romantic American wedding on the Friday and then had an Indian wedding with a big celebration on that Saturday. A two day wedding!
Color Palette
For the American wedding we had blush, ivory, and sage. For the Indian wedding we did orange, gold and red.
Memorable Moments
Having Miah's parents come down the aisle to their wedding song (45 years prior) as they were being seated. After the American ceremony, close friends performed our wedding song in one of the two rustic barns on the property.
The Details
The venue had two houses on the property that both sides of the family could stay. That way our newly extended family were able to stay together all weekend long. The venue was so large we were able to have two ceremonies back to back and completely different from one another.
Raddest Wedding Vendors
We couldn't have asked for a better ensemble of vendors. They were each unique in their own way. We especially loved Fire & Wine catering, their wood fired pizzas, super fresh salads, and out of this world charcuterie & cheese boards had all of our guests raving. But of course Kacey House at Spark + Sparkle Events deserves all the credit in the world for managing, planning, and executing a weekend we will never forget. Our choice to go with Little Boat Photography ensured that memories from that weekend were not only beautifully and candidly captured, but stylized in a way that made us look great! Ricardo from Elegant Details Floral & Event Design will make your dreams come true. We gave him some stylistic elements for our two day back to back weddings and not only was he easy and professional to work with, he knocked it out of the park!
Advice for Newbie Brides
Be sure to check the calendar of events in the city you are getting married. Have a solid plan for an after party. Hire a planner!