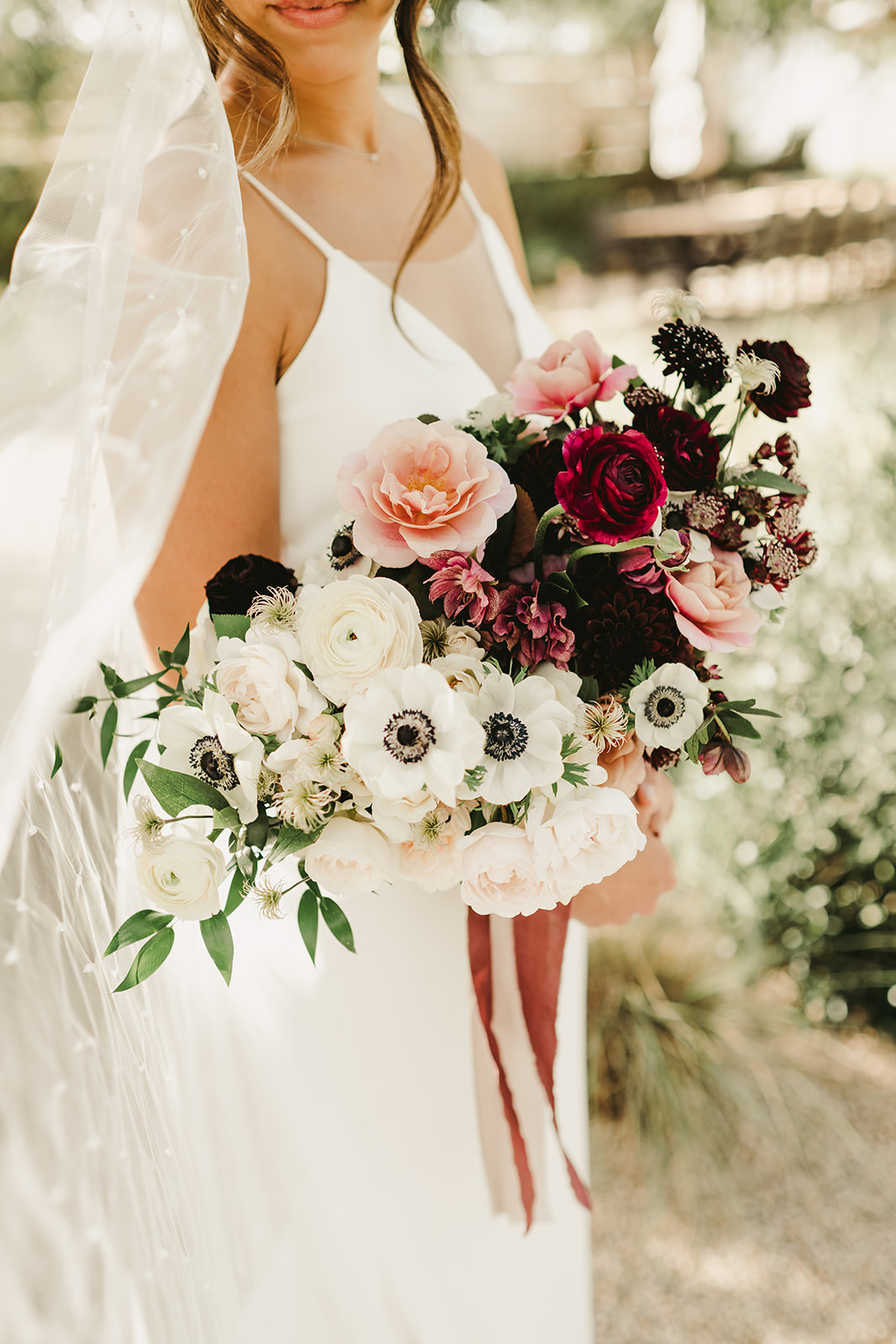 Floral design is a very fun element of your wedding day and adds a lot of character to your design. When trying to find a florist and picking your floral design, there is a lot to keep in mind. Selecting a florist who is on the same page as you, in the right budget, and able to bring your dream to life is key to having beautifully designed flowers on your wedding day. Below are some tips to keep in mind when looking for a florist and deciding on your floral design.
Look for inspiration and ideas
Find pictures on Instagram and Pinterest for inspiration photos of floral arrangements. This will help narrow down the type of flowers and styles you like. Most florists will specialize in a certain style so look for the ones that have similar work to your interests. Make sure to keep these inspiration photos to share with your florist.
Check out these bright florals with sienna and neutral tones by Santa Barbara Florist Coco Rose Designs.
Do your research
Ask for references from friends, family, and any vendors like your wedding planner. If you know someone who recently got married in the area, ask about which florist they used. Your planner will be able to give out multiple recommendations at different price points based on your design. You can also check out online reviews.
These romantic florals were arranged by San Luis Obispo florist Idlewild.
Have options
Feel free to check out multiple florists and evaluate the different options. Check out their social media and portfolios to see if their overall feel and design matches yours. Get proposals from different florists so you can weigh your options.
We are loving these rustic inspired florals put together by Los Angeles florist Going Steady Studios.
Flowers have seasons
Keep in mind that flowers do have seasons and your favorite flower may not be in season on your wedding date. If there is a specific flower that you want at your wedding, make sure you figure out when it is in season in your area. Your florist will also be able to recommend other similar options.
These elegant fairytale inspired florals were arranged by Ventura florist Knot Just Flowers.
Narrow down your budget
While floral design can make or break a wedding, it can also break the bank. Determine how much of your budget you are able to put towards floral design before setting your mind on very extravagant designs. Typically 10% of your overall wedding budget will go to floral design, however this can change depending on what flowers you pick and how many. Bring this number to your florists when you meet with them.
These striking florals with edgy undertones were designed by Southern California florist Jenn Sanchez.