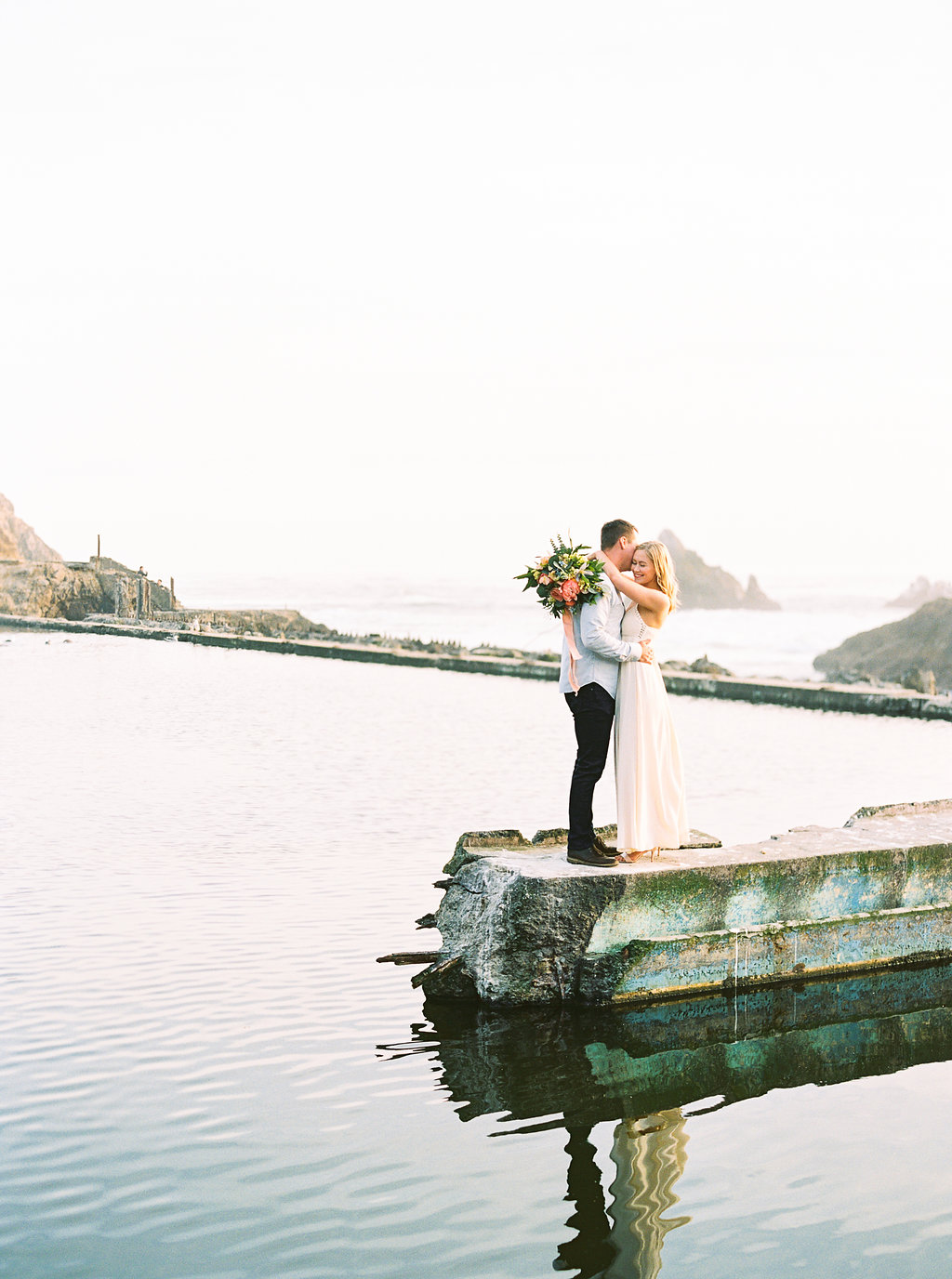 JEN RODRIGUEZ is a Central Coast-based wedding photographer that specializes in capturing joy, love, and natural light. She's been behind the camera at wedding celebrations for eight years and counting, with over 250 weddings to date. A seasoned pro at engagement photos, Jen is here to answer all of your questions.


"WHY SHOULD WE DO AN ENGAGEMENT SESSION?"
An engagement is a really fun and memorable time for a couple, and scheduling an engagement session is a great way to not only document this truly exciting time, but also to give you some practice time in front of a camera before the wedding day. As a bonus, after our session is done, not only will we feel like old friends because we've had a chance to run around and have a great time together, but you'll also end up with some incredibly gorgeous photographs! I call that a win-win!
"WHERE SHOULD WE TAKE OUR PHOTOS?"
When it comes to where we can take your photos, the sky's the limit - literally. We could hop in a hot air balloon if you'd like; but before we head off into the clouds, let's first tackle some locations on the ground. I always like to first ask my clients if there is a place that is important to them that they'd like to incorporate into the shoot, because sentimental feelings trump everything. If there's a spot that means something to them, I say let's go! The location of your first date, the place where he proposed, or just a spot that you love to explore together could all be great options. But, truth be told, most couples don't come to me with a spot already selected. Usually, my couples are really open to locations, and just have a general idea of the types of spots that they'd like - for example: open fields, woodsy, lots of natural light - and that's where my experience and love of the Central Coast comes in, because I can suggest a whole slew of gorgeous places for them to choose from. For my more adventurous couples, there's a completely different approach I suggest: opting for an activity instead of a location! This is where the hot air balloon ride can come in - or any other fun activity that your heart desires!
"WHAT SHOULD WE WEAR? HOW MANY OUTFITS SHOULD WE BRING?"
Whether you're opting for a scenic location or a fun activity to keep you moving during your engagement shoot, I always recommend having at least two different outfits to wear. By opting for two different looks, you're giving yourself a greater variety of final photographs to choose from, and variety is always a good thing when it comes to photos. I also love the idea of doing one dressier "date look" and one look that feels a bit more relaxed, but still polished. The biggest piece of advice I can give when selecting outfits: make sure that you feel amazing. If you feel great, it will show in your photos! And a secondary tip that might be as equally important: please don't feel like you need to match each other. Instead, find colors that complement each other, and go from there.


"WHAT IS THE BEST TIME OF DAY TO HAVE OUR SESSION?"
Hands down, my absolute favorite time to shoot is the window just before sunset. There is something magical about that golden sunlight as it's setting for the day, and I schedule sessions accordingly, so that we can enjoy all of the beautiful effects that it has on our photos. Can't make a sunset session work with your photographer? No worries; the morning sunrise light is just as lovely.



"SHOULD WE BRING PROPS WITH US?"
I love the idea of bringing along a few small props to your shoot, but don't feel the need to go overboard. The main focus of this shoot should be you and your honey. My go-to favorite props are a blanket and flowers! I always suggest that a couple should bring along a coordinating blanket to our shoot, because you never know when you might need something to sit on or snuggle up in. Flowers always add an extra level of interest and beauty to photos, and it's also a fun way to try out a bouquet that might be a bit more playful or bold than you're doing on your wedding day.
"I'M REALLY AWKWARD IN FRONT OF THE CAMERA. HOW CAN I RELAX?"
You might be feeling a bit nervous before your shoot, and that is completely understandable. I mean, honestly, when was the last time you had your photo professionally taken? It was probably for your senior photo, which might not have been the most memorable experience (I'm probably aging myself with this comment, because senior photographers are rather amazing these days!). But here's the deal: A LOT has changed since then. You don't have to worry about the unknown, because I'm here to tell you exactly what you can expect during your shoot. It's going to feel like you're out with your best friend, enjoying an ultra beautiful location, and I just so happen to be there, capturing you two having a great time. There's no need to be nervous, because you're just being yourselves, and there's no way to mess that up. If you're still feeling a bit on edge, then my next suggestion would be to enjoy a (insert your favorite strong drink here) right before our shoot, to take the edge off - but only one! You can save the next round to celebrate the end of a fabulous shoot.

"SHOULD I GET MY HAIR AND MAKEUP DONE?"
I definitely recommend scheduling an appointment with your hair and makeup artist before your engagement shoot. Not only will you feel absolutely amazing for your photos, but this is also a fabulous time to do a practice run for your wedding.

"HOW DO WE MAKE THE MOST OF OUR SESSION TIME?"
Just be ready to have fun, and be yourselves. If you do that, then your shoot will be an absolute success.