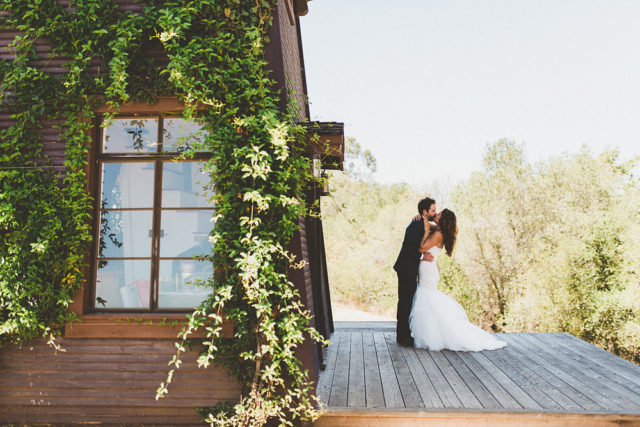 This Flying Caballos Wedding is whimsical, light hearted and dreamy. The venue is eclectic and welcoming. Inspired from an era long gone the farm house is country but doesn't give the ranch impression. We love all that Zest it Up did to capture the spirit of this couple as they designed the style and culinary flavors. Meet Elise & Kyle and enjoy their love story!
Complete List of Wedding Artists
Kyle and I met through my best friend and bridesmaid, Julia. On the fateful night of Santa Con in 2013, I had a few too many and managed to steal his number from Julia's phone. I proceeded to call him several times, text, and leave a couple voicemails. I woke up humiliated and knew that I blew it. Somehow, he stuck around. Within the first few months I knew that he was the one I would marry and just over a year later Kyle proposed to me while on vacation in New York. We found a spot in Central Park where we sat down to enjoy a bottle of wine and Shake Shack. He pulled out the ring I picked out at an Estate Jeweler a few months before, I cried, said yes, and we shared cold burgers and fries.
Zest It Up! Holy cow. I know I'm biased, but they created an amazing dinner that I have never experienced at a wedding before. Not only did they provide our catering, they also helped design and coordinate our wedding. Planning a wedding in a place you haven't spent much time can be challenging, but Sam and Chanda made it extremely easy. From the moment we told them about our wedding ideas, they were extremely supportive and excited to help us.
Gantes Co., our beloved photographer friends drove up from San Diego to photograph our wedding. This husband/wife duo is spectacular. We met them when they shot our engagement photos on our friends roof in San Francisco. Shooting with Chadwick and Jenika is like having your best friends as paparazzi. For us it wasn't necessary to get a videographer because we knew that their photos would be just about all we needed to relive our wedding.
I chose traditional fall colors for the flowers. It was summer, but who cares! I wanted every bridesmaid and my one bridesman to feel comfortable and pick an outfit that they loved my only request was they they show me first. Kyle chose grey for the guys suits and it could be any shade. I was doubted several times by my loving mother that it wouldn't be cohesive, but I didn't want the wedding party to look all the same. This was our wedding and all the rules and traditions before us went out the window.
Wedding Planning Inspiration
It was important for us to have a wedding that felt intimate. We wanted it to feel comfortable like we were having our guests over for an awesome dinner and a good time. Kyle and I live away from all of our family members and it was crucial that every detail of our wedding represented us as individuals and as a couple. After all, our guest were there for us! The Flying Caballos was a perfect venue that exudes charm and a homey feel we were looking for. We just threw in a family style dinner, lounge areas with couches and rugs, hand picked music, and said "no" to a lot of wedding traditions that don't hold any value or meaning to us.
I was struggling with spending money on favors that were meaningless. Sure, it made sense to save money in this department and do something simple or donate some money to a charity. I was hell bent on wedding favors that our guests could hold onto for a long time and served a purpose!Call me crazy, but I thought it would be a great idea to make cutting boards for every guest. The problem was that I didn't know how in the world I could make that happen, plus it wouldn't be exactly cheap. Luckily, my dad is the king of DIY and helped our wedding favors come to fruition. I flew down to my parents house in Orange County, spent two days covered in saw dust, and made 85 Mahogany cutting boards with leather straps. After all the time spent with my mom wedding planning, it was nice to have some time with my dad completing a project that we were both very proud of. They were displayed beautifully on a kitchen rack that my dad built and gave to us as a wedding gift. I'm still in awe of how amazing they turned out and how talented my dad is!
When it came time to pick our officiant, we wanted someone who knew us personally. It was important for that person to play an active role in our lives, and to guide and support us throughout our marriage.
Before my Grandfather became sick he went out to an auction and purchased a 1984 Mercedes 380 SL with the intent to fix it up. It sat for a while in my grandparents garage, until my Grandma decided to sell it months after he passed. Kyle's best friend, Sako restores old Mercedes so it seemed like the perfect idea to buy it and fix it the way my Grandpa intended. In his absence, I would give it to Kyle on the day of our wedding. After we exchanged our personal vows during the First Look, I handed him a card that read "I vow to always surprise you" and the car came driving toward us. The photos explain it all, but this moment was nothing but perfect.
The Couple makes all the rules. I realize how difficult it is to take a stand on the vision that you have for your own wedding. There are plenty of opinions and suggestions along the way and I am telling you it's okay to say "No thank you." Your wedding day should be everything YOU want it to be. I got a lot of flak and awkward responses for not having cohesive colors, for allowing my bridesmaids to chose an color and style of their dress, choosing ice cream over cake ( I hate cake), I could go on... But what I did do was put a lot of thought into the details that were important to me. And guess what?! The details that our guests loved and appreciated most were the speeches that took probably a little to long, the family dinner, the cutting boards, and the car. They walked away with a better understanding of who we are, what we are about and what we love.