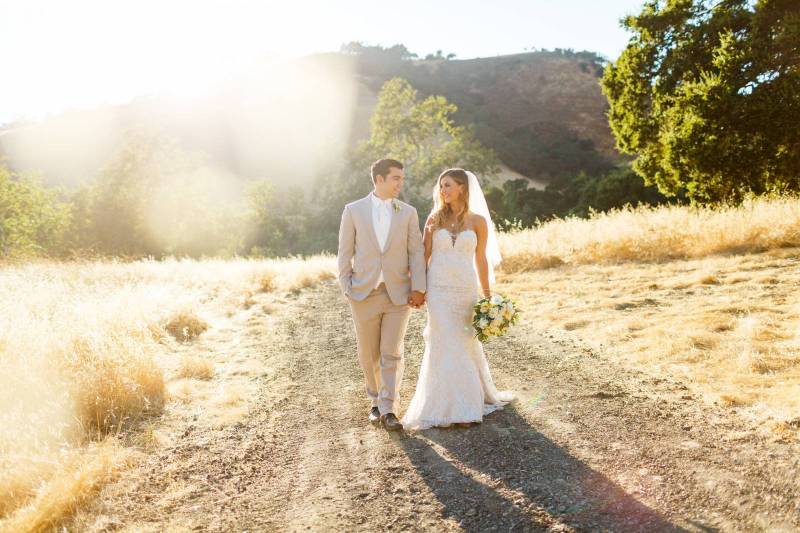 With a San Luis Obispo Wedding Venue as stunning as Higuera Ranch this bride focused on neutral colors adding fun pops of burgundy and gold on every table to compliment the grass covered hills and rich tones of the vintage dairy barn. Fluid Bloom lavished the wedding alter with eucalyptus branches and pastel florals to accent the bridesmaids mixed-matched blush dresses. Husband and wife wedding photographers Mason & Megan Photography captured the details, the feels, and the love of this wedding excellently!
"Travis & Savannah's wedding day was our first Higuera Ranch wedding, and we fell in love with this charming, rustic, elegant venue. Their hope is for couples to enjoy, relax, and dream big about their wedding. For Travis & Savannah, it was an entire weekend of celebration! Just look at the size of their wedding party! Clearly, Travis & Savannah are well loved and ready for a good time. Congratulations to the wonderful Mr. and Mrs. Beck!"
- Mason & Megan Photography
GIRL MEETS BOY!

Travis noticed me in accounting class at Fresno Pacific University. It didn't take him long to switch seats so he was right next to me. We had one study date and fell hard for each other right from the start. Travis set up a phony photo shoot (I had done some modeling in the past). Little did I know this photo shoot for a dress was actually just a clever way to capture him asking me to be his wife! So thankful for my best friend.
MEMORABLE MOMENTS

Obviously, the most memorable moment from my wedding day was looking at my husband light up as I walked towards him down the isle. His tears and smile made me feel like the most beautiful bride in the world and allowed my nerves and stress from wanting everything to be perfect to disappear! It was only about me Travis and our vows. We also loved Sugar Lips Mini Donuts. What an amazing treat at the end of a long day! We have had countless comments from guest about the amazing donuts!
THE DETAILS

One detail I loved was our favorite Bible verse down the aisle and above us at the alter. Love it patient. Love is kind. etc... the reference was above our head as we said our vows. What a great reminder as I was headed down to make the most important decision of my life! Another set of details I loved was the work Nikki from Fluid Blooms did with our centerpieces and florals. She made the most beautiful bouquets I have ever seen and had fun pops of burgundy and gold on every table!
WEDDING PLANNING INSPIRATION

I love neutral colors. They allow people's beauty to really shine because there are no harsh colors in the spot light. I did have to add a little bit of glam so I used gold rimmed glasses and some gold glitter table cloths for accents. The light colors were perfect for the winery and the summer time.
RADDEST WEDDING VENDORS

Mason and Megan photography! Sugar lips mini donuts! CJN event planning! Nikki with Fluid bloom.
ADVICE FOR NEWBIE BRIDES

Don't sweat the small stuff. (Everyone told me this and I didn't listen). In the end, what your fork looks like doesn't matter and isn't remembered. Remember that this day is about you and your spouse and everyone else is there because they love you and want to celebrate you, not because they care if they get a nice wedding favor!
Higuera Ranch offers San Luis Obispo wedding accommodations making it the perfect wedding weekend getaway with two large homes that can house 24 friends as you entertain up to 200 guests inside the Rustic Barn and on 80 acres of rolling foothills.