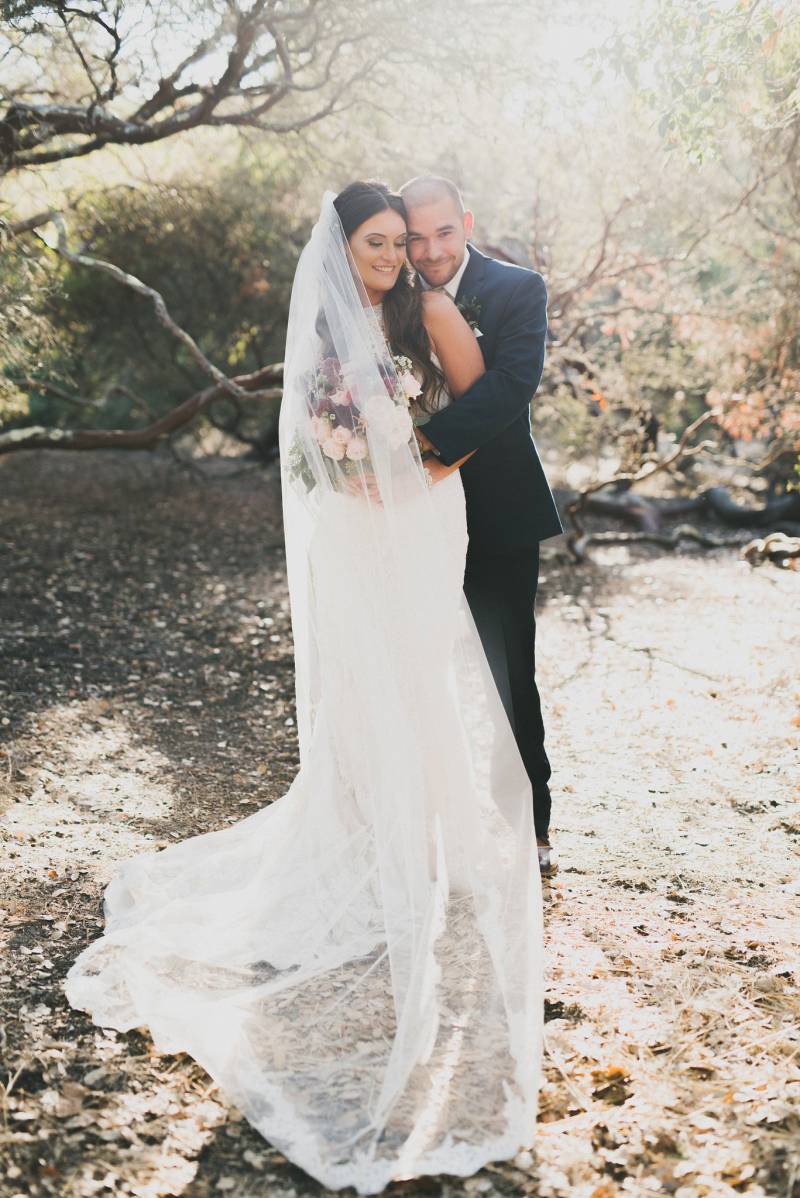 The Wedding Standard has so many amazing artists that can make your dream wedding come to life. Shannon of Plum Jam Photography shares her joy in capturing this dreamy Tiber Canyon Ranch wedding with us. The bride chose elements to create a natural, simple, bohemian look drawing inspiration from the wild nature surrounding her wedding venue. See what the bride has to say about keeping it simple and stress free!
"This wedding was a dream! Amazing couple, and awesome Central Coast wedding vendors. The day was beautiful, and everything went off without a hitch. I would be content if this wedding became my Groundhog Day, and I relived it over and over again. For reals!"
- Shannon of Plum Jam Photography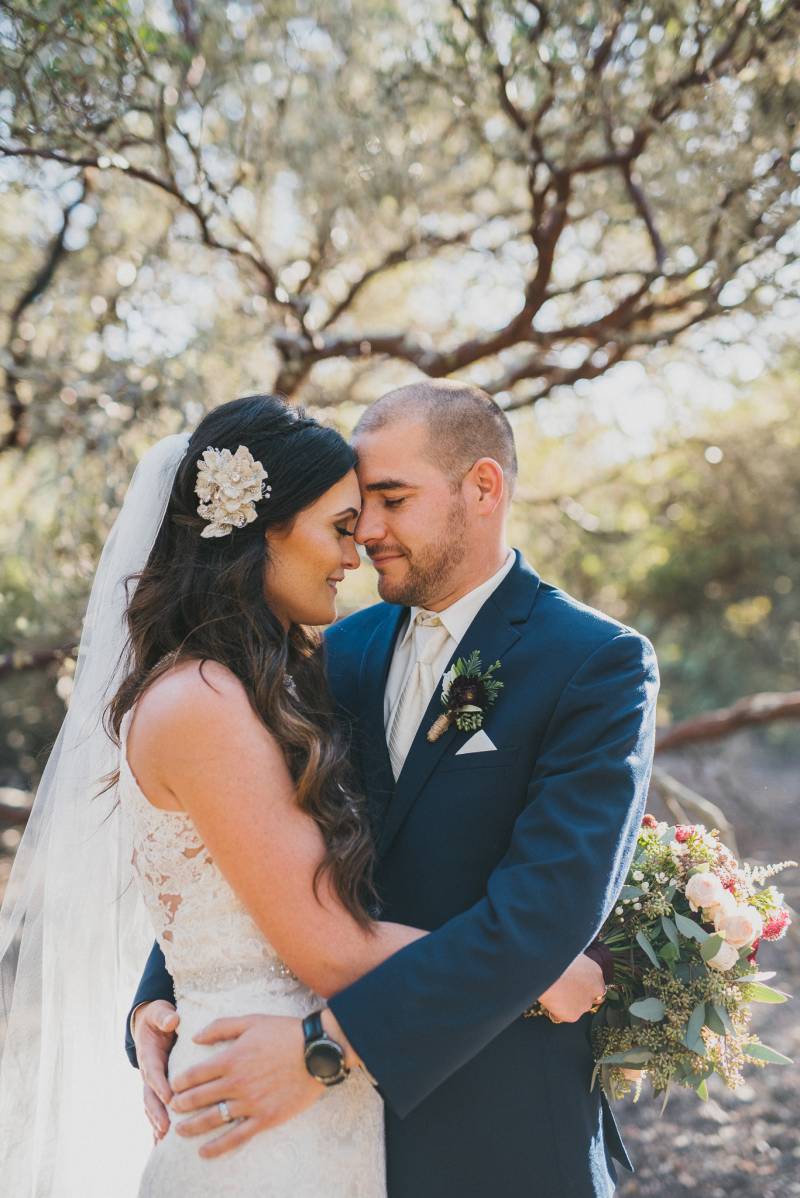 GIRL MEETS BOY

Steven and I met at The LL, a bar in our home town of Visalia CA. I was out with my brother and his friends when Steven saw me and asked me for my number, and the rest was history. We dated for four years and were engaged for 3 more years. Steven asked me to marry him in a surprise proposal in front of all our friends and family. I threw him a graduation party, and when he went in front of everyone to thank them all for attending he got down on one knee and asked me to marry him, obviously I burst in tears and said yes! After Steven finished school, we set to say I do on October 1 2016 at the beautiful Tiber Canyon Ranch in San Luis Obispo.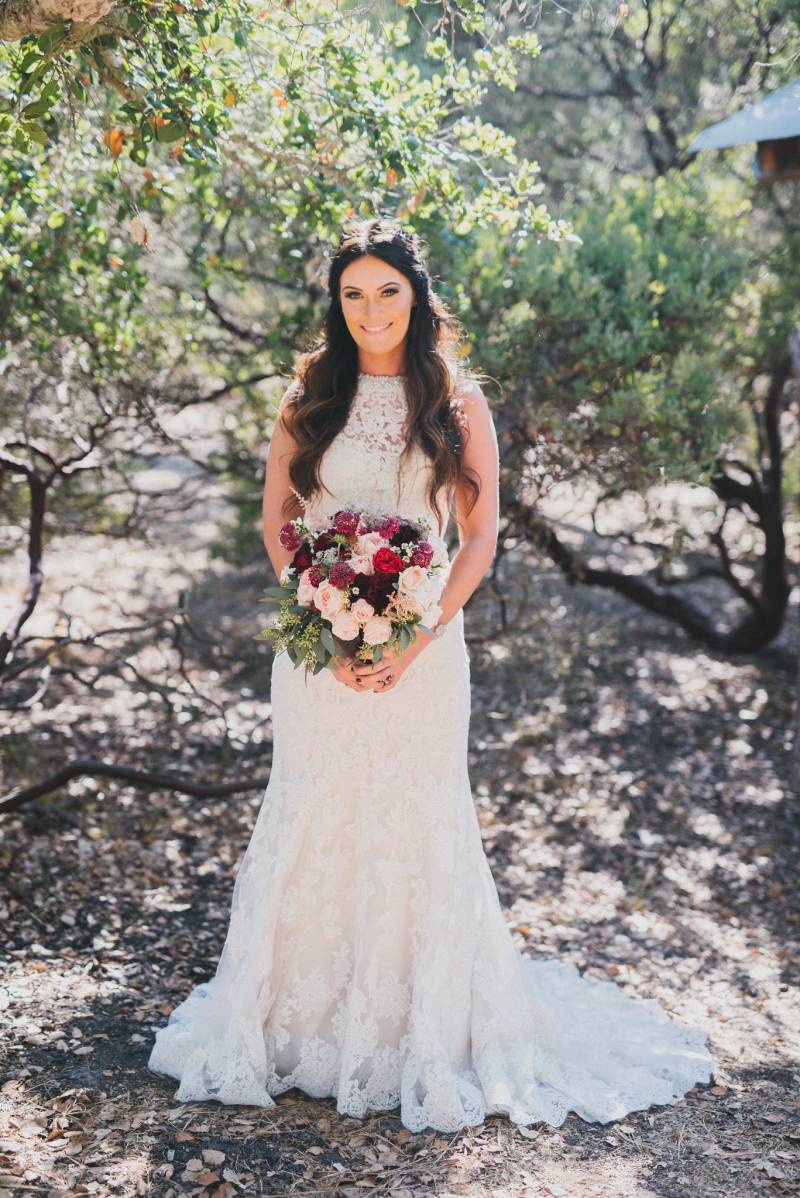 WEDDING PLANNING INSPIRATION

We had a long engagement so I had three years to nail down the wedding of my dreams, so I had plenty of time to come up with the look of our wedding. I didn't want to get too crazy with every aspect of my wedding I wanted it to be calm, cool and fun. I've always liked the simple clean look with a bohemian twist. I had chosen to do a very natural look that didn't consist of many colors except for a splash of deep burgundy in the bridesmaids dresses, our bouquets and the napkins on the table. There were other subtle hints of gold in our votive and our photo backdrop, everything else was creams and greenery and the simple beauty of the nature around us at our beautiful venue. Our venue was the biggest aspect of our look, it was naturally so beautiful and full of lush green succulent plants, it set the tone for our whole natural simple bohemian look.
THE DETAILS

Last minute my father booked Upper Crust to do the appetizers at our cocktail hour and they were a total hit, everybody loved them! There were skewers which was easy for people to grab and eat with their drinks. We also decided to do a donut bar as our dessert table, which was something I knew I had always wanted to do from the beginning because it was different, our favorite treat and suuuuper affordable. This was the biggest hit at our wedding everyone thought it was cute, looked cool and tasted amazing, they were completely gone by the end of our wedding.
RAD WEDDING VENDORS

It's so hard to say, I can honestly say I LOVED so many of our vendors! We didn't want to spend a ton of money on our wedding and we wanted it to be super reasonable and still have quality work and I feel like we had the best of both worlds. Our wedding photographer Plum Jam Photography took breath taking magazine quality pictures of us. Our coordinator Taryn Schubert with Beloved Coordination was the coolest person to work with and made the day super simple and relaxed like I had hoped for. My florist who is an amazing artist and one of the sweetest people you'll meet, Lori Boe with Lori Boe florals. Chris Anderson with Tiber Canyon Ranch our wedding venue was also so great to work with. And of course Hey Gorgeous Formal wear that made my husband look so amazingly handsome and saved the day on my fathers suit! There were many more, these guys for sure were the standouts and all amazing down to earth people.
MEMORABLE MOMENTS

When Steven and I were swept away after dinner to go take beautiful pictures at sunset overlooking all the beauty that is Tiber Canyon Ranch. I remember having goose bumps during this photo session as we felt at ease and full of happiness surrounded by the beauty, I felt like I needed to be pinched
ADVICE FOR NEWBIE BRIDES

I loved that I never freaked out about the wedding. I planned it in a way that was going to be super easy and comfortable for me but still be beautiful. With this said I would definitely recommend a coordinator. I almost didn't get one to save the money but honestly it is totally worth it and allows you to plan everything and then pass on all the details to them the month before and it takes all the pressure off of you. Taryn with Beloved Coordination was such a comforting aspect to our wedding. I was able to tell her my vision and what I wanted and told her I trusted her if she had to do things a little different and that I wouldn't freak out. Going into my big day all I had to worry about was seeing my handsome husband and reading my vows. Brides remember that this is the reason why you are doing all of this is to marry the man that you will be with forever, so don't sweat every detail and let yourself become a bridezilla, the day goes by too fast and then its over! So focus on your love and happiness, don't over plan every detail and get a coordinator!