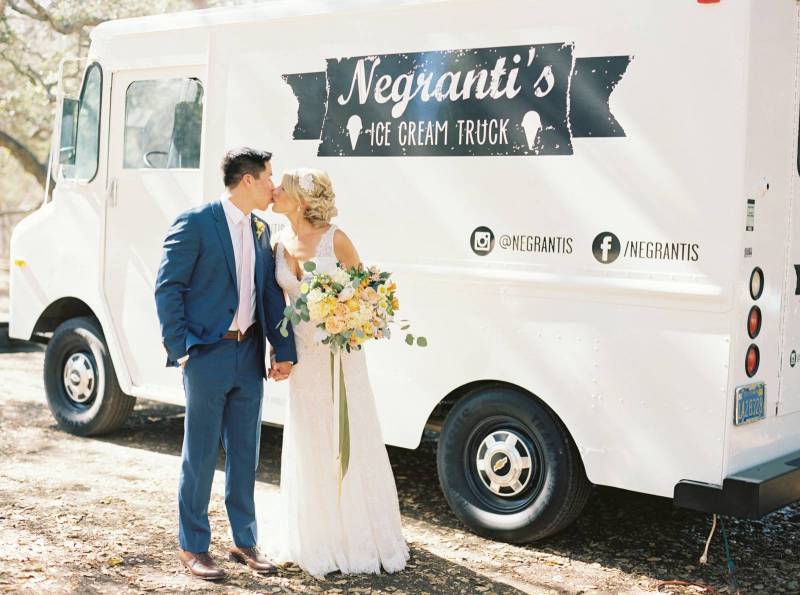 Want to make your special day a little sweeter? The Central Coast has lots of fun dessert options for you that will do just that! Negranti's, SLO Mama Sweets and Sugarlips Mini Donuts, are a few of the wonderful Dessert Trucks you can book. Read more about these tasty treats below!
NEGRANTI'S ICE CREAM TRUCK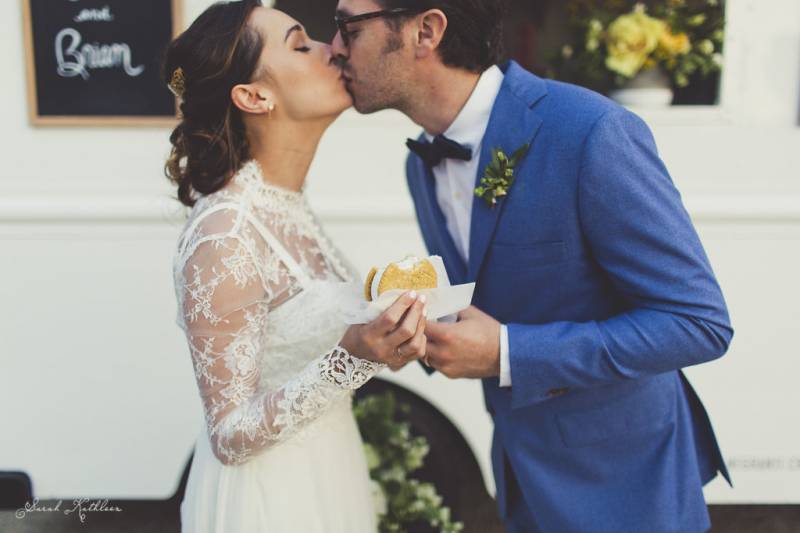 "It is the goal of Negranti's Ice Cream Truck to create a fun, memorable, and sweet experience for our couples and their guests! The classic charm of our little truck adds elements of joy and nostalgia to celebrations. More than once we have rolled into a wedding and the guests started clapping - it's that kind of excitement and happiness the truck brings that makes us love what we do!"
- Alexis Negranti
"Negranti's Ice Cream Truck includes three hours of unlimited scooping for all guests! Yep, all the ice cream you can eat in three hours. We also create three completely custom ice cream flavors for our couples - we LOVE creating fun and unique flavors. Last year we made a Thai Iced Tea ice cream (delicious); this year we have an Indian wedding and are creating an Indian inspired flavor just for them - so fun! We can churn out anything from a 'grooms' flavor, like a boozy whiskey salted brown sugar, to a sophisticated lemon lavender or blackberry rosemary ice cream. Whatever couples can dream up, we enjoy making. We also offer ice cream sandwiches, which are always a hit!"
- Alexis Negranti


"Our ice cream truck is an effortless dessert choice for a bride and groom! No set up is required on the event side - we simply need a spot to park! We provide our own set up and power ... we roll in and are ready to scoop within fifteen minutes. We'd love to hear from you and help make your event just a little sweeter."
- Alexis Negranti


"The magical experience of hearing the ice cream truck coming and the thoughts of the delightful contents which it holds are enchanting memories for many of us. With a delicious assortment of traditional ice creams as well as local and artisan favorites from Doc Burnsteins and Negranti Creamery, SLO Mama Sweets vintage ice cream truck is sure to delight. "
Kathy - SLO Mama Sweets
"Whether your event is elegant, casual or rustic chic, it would be our pleasure to provide you and your guests a sweet taste of the past, serving you in our authentic uniforms as you listen to the glorious sounds of 1940's big bands and early 1950's music. With the lovely jingling of our brass bells, we hope you will be transported to a dreamy time gone by as you enjoy our tasty frozen treats!"
Kathy - SLO Mama Sweets


"Piping hot mini-donuts, sprinkled with your favorite sugar or glaze makes for the perfect addition to any event! For over ten years, Sugar Lips Mini-Donuts has been serving their fan favorite mini-donuts at events throughout the Central Coast. Using an adorably adorned vintage trailer, Sugar Lips makes their mini-donuts on site at any wedding venue of your choosing, offering you and your guests the freshest, warmest and most unique dessert option around. Their mini-donuts can be served made-to-order, allowing each of your guests to select their favorite topping, including cinnamon-sugar, powdered-sugar and hand-drizzled classic vanilla, rich maple or chocolate glazes. "
- Sugar Lips Mini Donuts