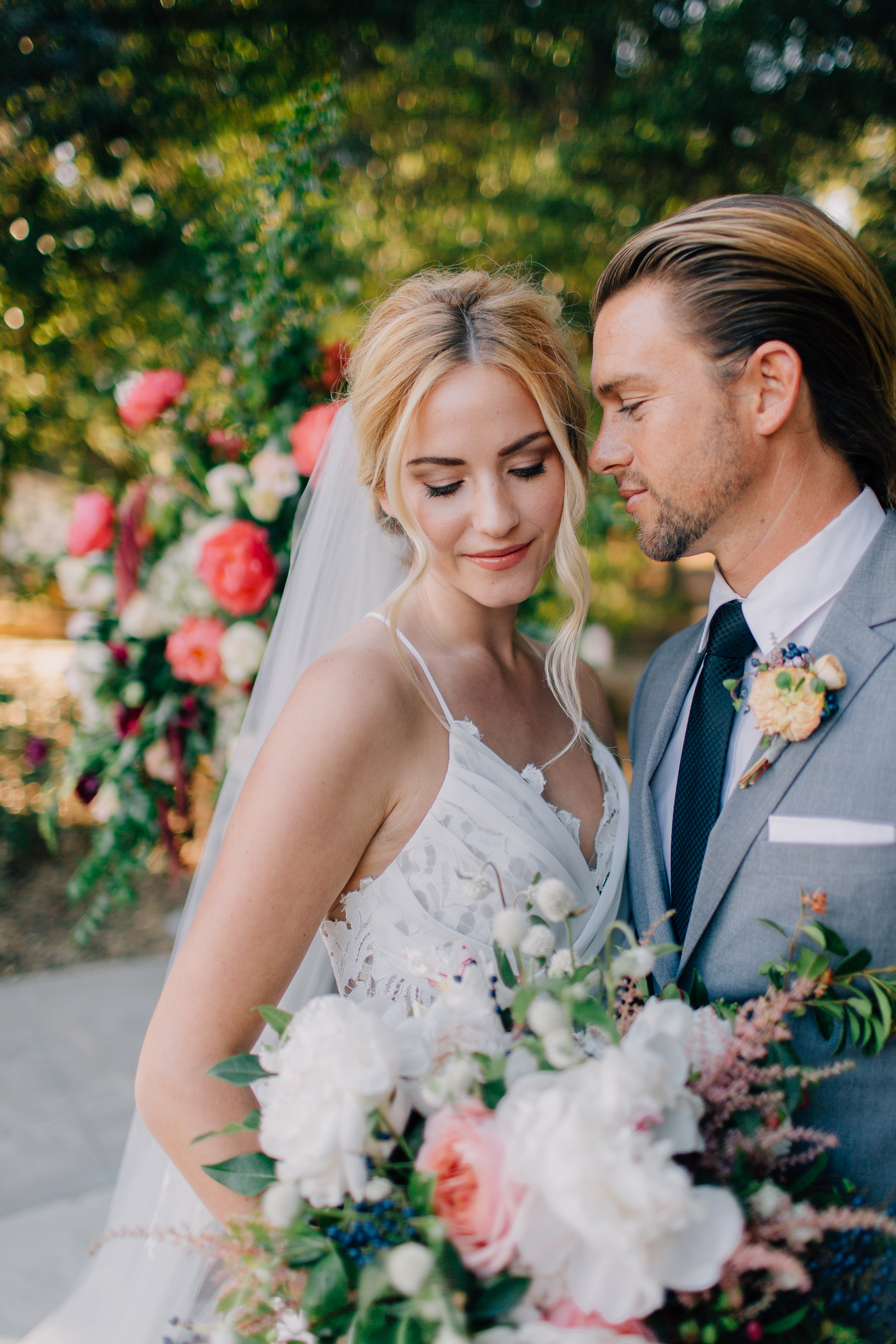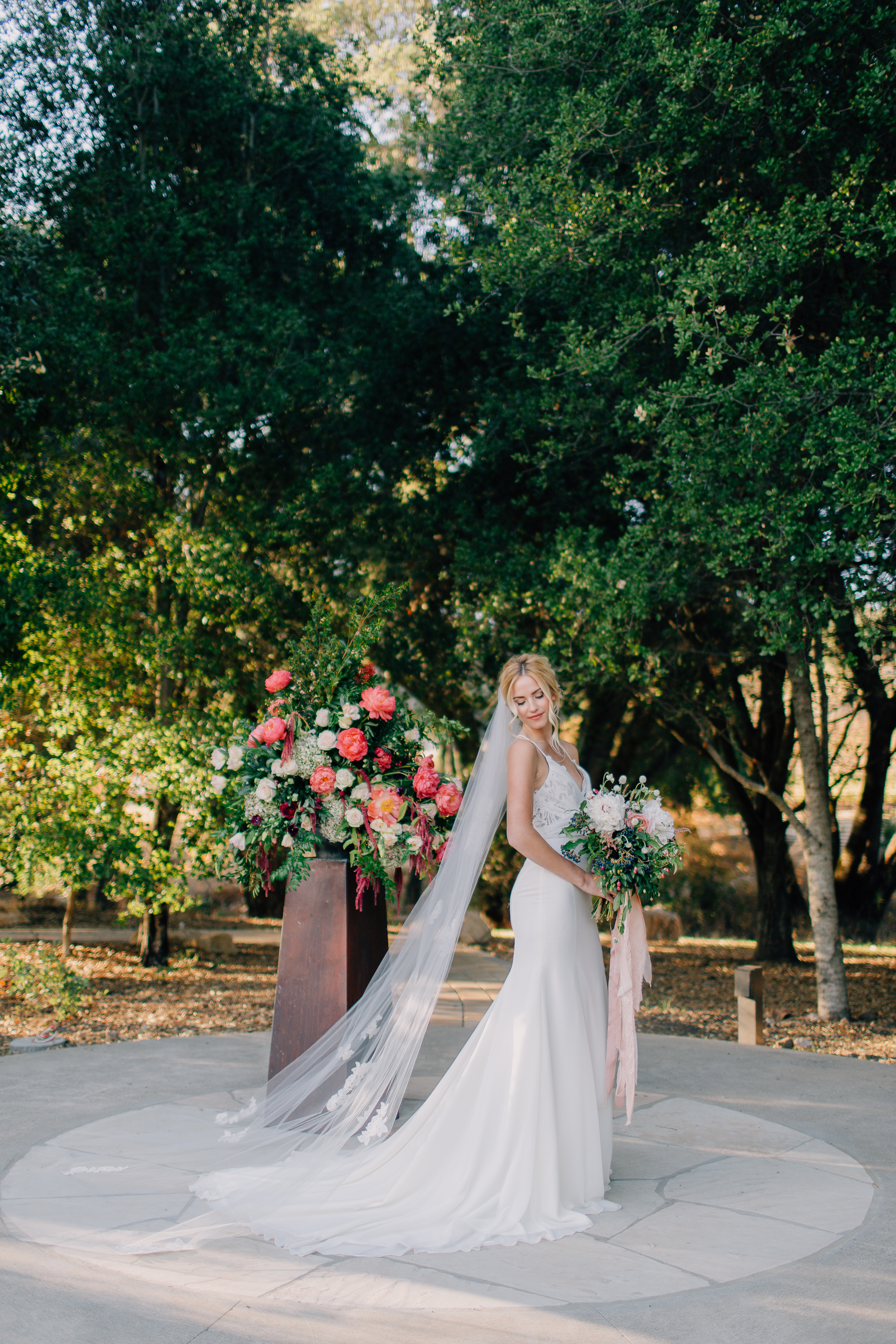 "Nestled beneath a canopy of ancient California Oaks, amidst shimmering vineyards lies a unsurpassed wedding venue that will be sure to impress the most discerning of couples. Romance abounds in the newly-renovated Solo Barn Courtyard of Halter Ranch. Take a journey deep into the heart of Paso Robles' historic Adelaida Wine Country when you visit this special site. Couples with a flair for fashionable and rustic elegance will delight in the amenities of Halter Ranch's wedding suites, chic Silo Barn and enchanting courtyard. Drawing inspiration from the famous wine country sunsets and the abundance that Spring provides, our vendor team set out to create a memorable illustration of the possibilities to WOW at Halter Ranch."
- Azurae Shults of Ciel Bleu Event Design & Laurel White of Adornment Flowers & Finery
"Halter Ranch is an established winery on the Central Coast of California, but they are just launching their brand new Wedding Venue this year!
This shoot was a labor of love for all involved. Halter Ranch is such a gorgeous property, we wanted to really showcase what it has to offer and get some truly stunning images for their promotion.
The colors and tones were filled with tons of greenery and soft pink accents, slate gray made an appearance in the groom's suit, the concrete wine caves and the tableware, and the last big element we included was candlelight. " - Lindsey Gomes
"Some of the areas we photographed at included the new ceremony site! Under a canopy of oak trees, the round alter area was accented with one large floral piece. The caves at Halter Ranch are a beautiful and unique place to take some wedding day portraits surrounded by wine barrels. There is a hidden pond at Halter Ranch that was another beautiful place for some portraits and is right next to some perfect rows of grapevines! The 3 red silos and the white barns are signature sites of Halter Ranch!" - Lindsey Gomes
"Laurel of Adornments created the incredible dessert table filled with so much greenery and the perfect pops of pink to fully accent Trumpet Vine's delicious desserts! The candlelight was a huge factor is most areas we photographed. We really wanted an intimate and romantic feel, and the candles provided just that. The lounge area in front of the red silos with Scout Rental Co's beautiful furniture was perfectly accented with a cowhide rug, which brings the ranch/country feel that the Central Coast offers and a rustic coffee table with again, candlelight and beautiful florals. The bar was a true masterpiece! Underneath the oak trees, the wood bar gave the perfect rustic feel, accented with gold shelving and lush florals, the perfect place to get a glass of wine. The sweetheart table was placed in front of the white barn and oozed romance. Dripping with gorgeous linens that cascaded off the ends, the florals were kept simple but abundant, and again, candlelight to show off that romance! The tablescape was placed right in front of the silos, which made the perfect and unique backdrop for a romantic spring or summertime dinner under the stars. A velvet pink runner, tons of tall candles on rustic candlesticks, the perfect pops of greenery and florals, and the most incredible charcuterie board prepared by Trumpet Vine Catering. Menus and name cards from Salt & Stag Creative perfectly added to the classic and romantic feel of the day." - Lindsey Gomes