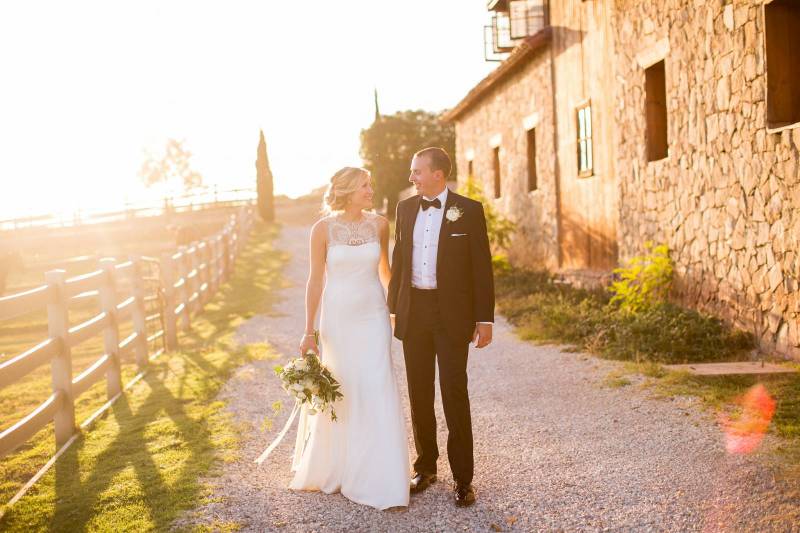 "Working with Madison and JR was a dream from the beginning! Not only are they easy-going and have amazing taste but they sure know how to pick a venue! Klentner Ranch was the perfect setting for their wedding day. The polo field turned private estate is absolutely stunning and the star of the show is the epic view. We wanted to keep their wedding elegant and simple so the guests could enjoy the beautiful couple, panoramic ocean vista, custom cocktails, and a 10-piece band. Soft rustic colors and organic florals from Passion Flowers Design and a simple, casual design played a major role in this dreamy wedding! We love a good statement bar, and this was the perfect opportunity to bring one in! We set a 15-foot linen-draped backdrop and added 8-foot mirror with hand lettered cocktail menu hanging above the bar as a personalized addition that complimented the fact that we brought in Flair Project to mix custom cocktails while whirling and twirling and wowing guests! Considering the openness of the layout at Klentner, we wanted to focus the energy of the guests once they were in the reception area. Custom lighting & draping over the dining & dance space was the way to go - making the space feel elegant but cozy. The guests danced the night away on a simply stunning seamless white dance floor while rocking out to Jump Start from BobGail Entertainment and finishing the night off with a chef-manned crepe station from Pure Joy Catering. This wedding couldn't have been more of a fairytale but still as comfortable and memorable as could be for Madison & JR and their family and friends."
- Sophie Spier of Amazing Day Events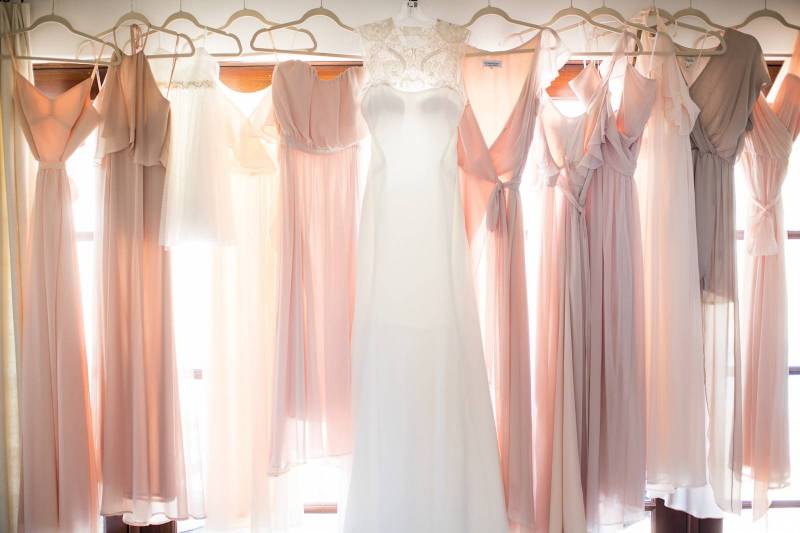 ADVICE FOR NEWBIE BRIDES
Don't rush into decisions sometimes I think I would just make a decision to be done with it. Biggest piece of advice is don't wish it to be over, take every step in and enjoy it!
GIRL MEETS BOY!
J.R. and I met in college when we had every class together our senior year. We first became best friends that then turned into dating! After 4 years of dating, 3 of those long distance, JR proposed on our college campus, Point Loma in San Diego.
WEDDING PLANNING INSPIRATION
JR is from San Luis Obispo and I have grown up in Newport Beach so we wanted something that represented both of us. We agreed on a simple and classic look with all neutral colors to bring out the beauty of our surroundings. I can add that I have always loved all the groomsmen in a classic black tux, all guys love wearing a classic James Bond tux.
RADDEST WEDDING VENDORS
I was so happy with all of our vendors. Cameron did an amazing job with photography and understood us so well. Sophie Spier's with am amazing days events is the best wedding coordinator a bride could ask for. She handled everything before anything happened. Our bartenders were pretty incredible as well, everyone is still talking about our incredible drinks and friendly bartenders. I want everyone to get credit, Bella Vista designs with all the draping and bar design- unreal! Pure joy with the yummy food- those churros. And I think our band sounded like we were at a concert, best wedding band you could get, Jump Start with Bob Gail. Our florist Passion Flowers Design listened to exactly what I wanted especially for the tables and arbor. I LOVED the florals on the arbor.
MEMORABLE MOMENTS
Obviously walking down the aisle to marry my best friend was the best moment. But I remember standing in the brides room moments before that looking down at the reception site and then down at the ceremony site and everything was BETTER than I could have imagined. The other moment is the first dance with J.R., it was the most beautiful sunset I have ever seen with our incredible band and everything just looked amazing. It was an incredible moment.
THE DETAILS
We really wanted a fun place to hang out with a bar and lounge area so we were really excited to see how that turned out.