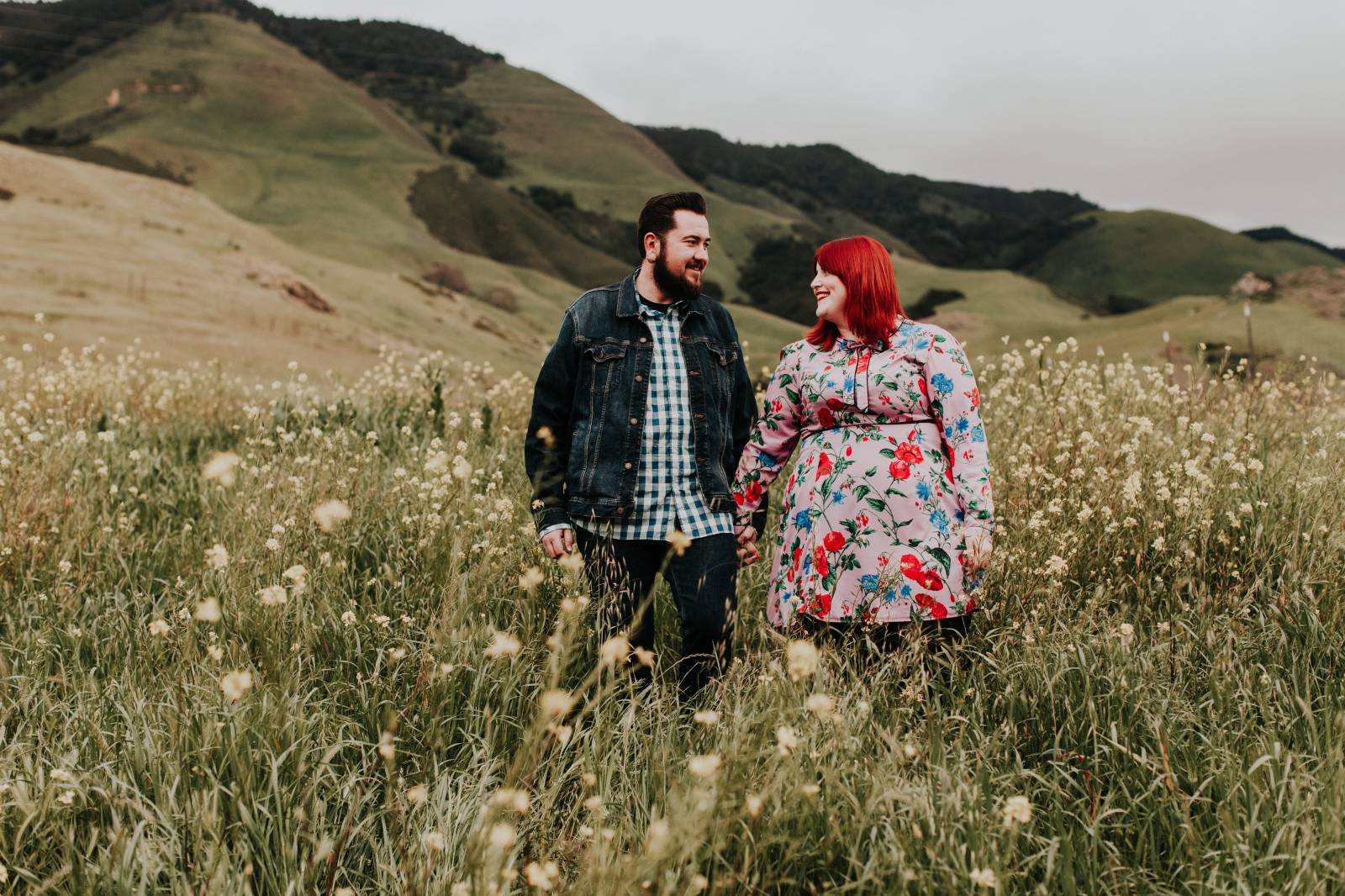 We always know we are in for a treat when a new gallery from San Luis Obispo wedding photographer Alexandra Wallace rolls in. This dreamy Higuera Ranch engagement shoot means all the more because it's of one of our very own TWS artists, Jenn, owner of The Queen's Bees. This is a love story we won't ever forget, from a momentary high school romance, to reconnecting 12 years later, this is one of those must read stories. Magical is the perfect word to describe this shoot.
When and how did you two meet?
We actually met in high school. He's one year younger than me and I thought he was so cute. We typically showed up at school around the same time and I'd flirt tease him. He didn't realize I was flirting and just thought I was mean, haha. We still can't fully remember how we exchanged phone numbers but we did and talked on the phone, this was before unlimited text messaging. Well we made plans to hangout and I was actually his first kiss. He eventually asked me out, but I said I can't. I wasn't technically allowed to date and was trying to be a good kid for basically the first time ever. Well he was sad and we went our separate ways. We kinda kept tabs on each other but only talked once very briefly and had only one run in. 12 years had passed and one of my oldest friends was over. We were BBQing and having wine and she brought him up. Our exact conversation went like this.
April: "You know who I see all the time who you'd be soooo cute with?!"
Me: "Who??"
April: "Dylan and his cute little face."
Me: "We're friends on Facebook, he just started following me on Instagram and liking all my photos. I'm going to message him."
And I did...The very next day I called April and told her I have the craziest thing to tell you. That I've never been so sure of something, but also felt so crazy. I told her I was going to marry him. Her response was, have you even hung out with him yet. I told her no I haven't, but everyone says you know when you know and I just know. So here we are, engaged and planning the wedding.
How did Dylan pop the question?
He popped the question at Disneyland on his golden birthday. 29 on January 29. It's a very sweet and funny story. Basically a lot of his plans kinda fell through, in a very hilarious way. Because without knowing I pointed out how it would suck for anyone planning to propose because certain things were under construction and he agreed very passionately, little did I know. When he did pop the question I actually was really confused and didn't realize what was happening. It even took me a few moments to realize and then overcome with shock I started laughing and shaking so hard. I couldn't be controlled. Poor guy thought I was laughing at him. I forgot how to speak all I could do was shake my head and whole body in a giant yes. The whole thing was caught as it was happening. It was perfect. We laugh now because he had it in his jean jacket and at one point he put it in the backpack I was wearing. So I carried the ring around for a whole day.
What was your favorite part of the engagement shoot?
I just loved how silly we were and how real the laughter was. Ali would say to him to whisper sweet things to me and he'd say, "You're the worst, I hate your stinking guts, I want chicken enchiladas." And in one of the blooper real photos she told me to kinda bump into him and then told me I could do it a little harder, soooo I did. My face looks super aggressive and he looks genuinely scared. We all laughed pretty hard about it. She was great at making something that feels kinda awkward really fun.