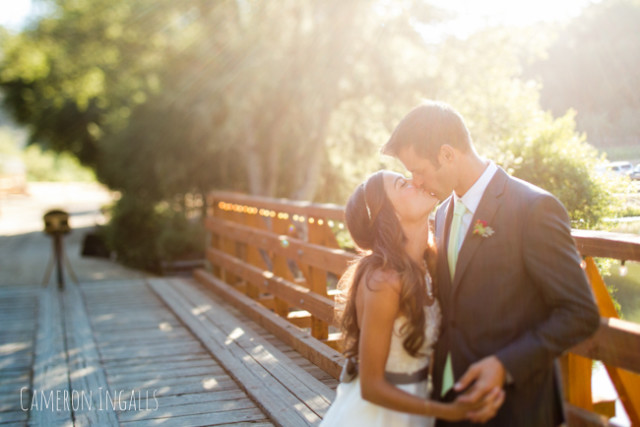 David and Brittany had a beautiful Central Coast wedding. Located in West Templeton, the Lago Giuseppe Cellars is a photographers dream. The abundance of green tree's mixed with a peaceful lagoon really set the stage for this romantic outdoor wedding. The day was photographed by Cameron Ingalls and filmed by Rain Studios who teamed up to captured the love that this adventurous couple has for one another.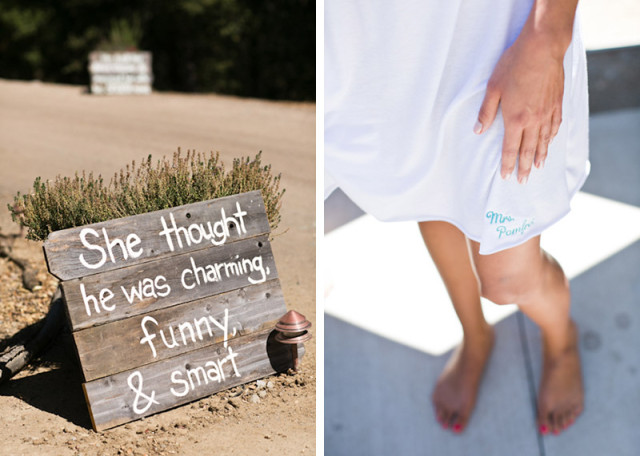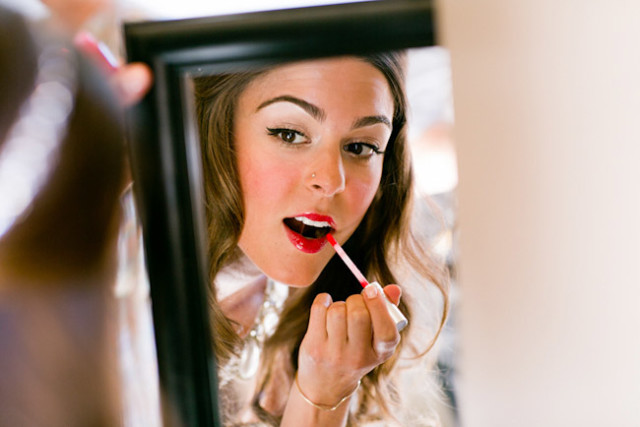 In college I became a group fitness instructor and started teaching yoga, kickboxing, dance, and resistance training at a local all women's health club (not exactly a place most go looking for love). After working there for about a year, I found that the gym was being purchased by a buyer who would own and manage the club. Little did I know that the guy turning our little gym into Equilibrium Fitness would one day be my husband!
For the next year we flirted at work, but we both felt a true relationship between owner and employee wouldn't be appropriate. Dave would come take the dance classes I would teach. It was very endearing to see him trying so hard, even after he accidentally spun into one of the other female participants. Finally, after weeks of talking on the phone for hours each day like high-schoolers, we went out on our first date. From that night on we were completely inseparable. We kept our relationship a secret for a few weeks, but after only a month, we knew that what we had was serious enough to go public! Five years later, we were married on the anniversary of that first date.
For Christmas Dave presented me with an invitation that said, "Please join me for an exciting adventure on December 31, 2011." We live in the country and our backyard looks out onto several acres of vineyards. On New Year's Eve day, Dave took me on a zip-lining excursion through those very vineyards. At the end of the final zip-line, he caught me as I landed, removed my bulky zip-lining gloves, and said, "Are you happy?"
"Did you have a good day?"
"Did you have a good adventure?"
After asking me, "Do you want the adventure to continue forever?" he got down on one knee and proposed. I was ecstatic and shaking and in disbelief and so ready to start our new adventure together!
There were so many details that made our day so completely us. I loved our journal, which had our handwritten vows inside. We each wrote our vows inside the journal beforehand (making sure that we didn't accidentally peek at the other's entry before the big day). During the ceremony we passed it back and forth to read our words to each other. Now we fill the journal with love notes and reflections on our marriage that we write to each other on special days.
I also loved my wedding gift to Dave, which was a flashmob in the middle of dinner. He loves Ke$ha (a fact which he gets teased about mercilessly), so I choreographed a dance that a ton of our friends learned in the weeks before the wedding to Tik Tok by Ke$ha. It was amazing that our friends took the time and effort to really perfect it for Dave. The look on his face when we all went up there was amazing (and watching all my girlfriends' husbands try to dance was pretty great too)!
Wedding Planning Inspiration...
The style of our wedding was a mixture of organic and rustic elements and a little bit of glam. Our table cloths were cream sequins, but on top of those were old bricks and succulents growing in driftwood. We wanted something that felt like us, just a little more dressed up! We wanted the wedding to feel very personal, so most of it was DIY. Dave rescued some old fence boards from a structure being torn down and we created the signs that told the story of our relationship. We used the boards to create the escort card frame and then hung a clue for each guest. In order to find their table number, the guest had to find which clue best described them (it could be a memory, and inside joke, or description) and then flip the card over to find their table. I also hand-painted the names of seven special places to us on placards that Dave had made to serve as our table "numbers." Dave took the rings from old wine barrels we had on our property, along with a few mason and antique jelly jars, to make the gorgeous homemade chandelier that hung above our sweetheart table. My mom's best friend planted 68 succulents into pots for our favors, and picked lavender from her property to decorate the ceremony chairs. We also designed our own wedding invitations with the help of a friend who has her degree in graphic arts.
The ceremony was the most amazing event of my life. Seeing Dave for the first time after walking down the aisle, I couldn't stop touching his face and wiping his tears away. We were both complete cry babies! To hear him read me the vows that he wrote for me, and to be able to share my heart with him was so incredible. Dave's uncle was our officiant. Together, we created our perfect ceremony with him. His uncle wrote a sweet piece about each of us and why we belonged together which he read to us for the first time during the ceremony. We also had our mothers each write a letter that expressed their love for us and their wishes for our marriage, which they read to us for the first time during the ceremony as well. We felt our ceremony really set the stage for the rest of the wedding, and sharing our love so intimately and openly with everyone there felt like such a special start to our marriage.
Other meaningful details: Dave's father passed away when he was 26. He was there in spirit in many ways. Dave wore his father's boots and we used his father's wedding ring as Dave's band. The ring had his parents' wedding date inscribed on the inside, so I surprised Dave by inscribing our date, along with the words, "Let the adventures begin," as a play off of his proposal.
RADDEST Wedding Vendors...
Our photographer, Cameron Ingalls, was amazing! Not only did he capture our wedding in such meaningful ways, he was there for the entire planning process to help with timelines, other vendors, and any other questions we had. Photography was very important to us, and now we have the most incredible images to look back on that remind us of each detail of that day. Those photos will last a lifetime and we will be able to share them with the generations of our family to come!
We also loved our videographer Josh Morris at Rain Studios. He was so funny and easy to be around that it wasn't awkward at all to be filmed by him and his paparazzi crew. The love and energy he puts into editing his films is so apparent, and the videos that we got back of our day truly blew us away. It's so fun to be able to show our wedding "trailer" to friends and family.
Rhyan Townsend (make-up) and Janina Cannon (hair) felt like having two more of your best girlfriends with you during the process of getting ready. They were professional and fun and both had impeccable attention to detail.
Our DJ Chris Clark was amazing. He was the exact opposite of the nightmare cheezy wedding DJ that makes each table sing for their supper or sings along to the songs he's playing. He made such an incredible effort to get to know us as a couple, and made us special edits for each of our ceremony songs. His cuing was spot on and his energy was amazing!
Oh, and obviously working with the amazing personal trainers at Equilibrium Fitness for Women beforehand got me in shape for this little shindig ;)
Advice for Other 'Newbie Brides'...
Keep it as small as you can! If you had 120 guests, if you spent only one minute with each guest, it would take you two hours to connect with everyone! We vowed in the beginning to only invite those who would be there to support our marriage for the rest of our lives. It made our wedding so much more intimate and we felt able to really open up and share our love completely.
Never lose sight of what the day is about to you as a couple. We never felt too stressed regarding the planning of our wedding, because any time we would start to feel overwhelmed, we would refocus on the fact that this day was supposed to be a time of joy and celebration, not a reason to feel anything negative. There are so many details that it's easy to get bogged down in the stress of planning, so I would tell anyone planning now to cut yourself some slack. The shape of your water glasses or the color of your napkins will not matter to you on the day of the wedding!