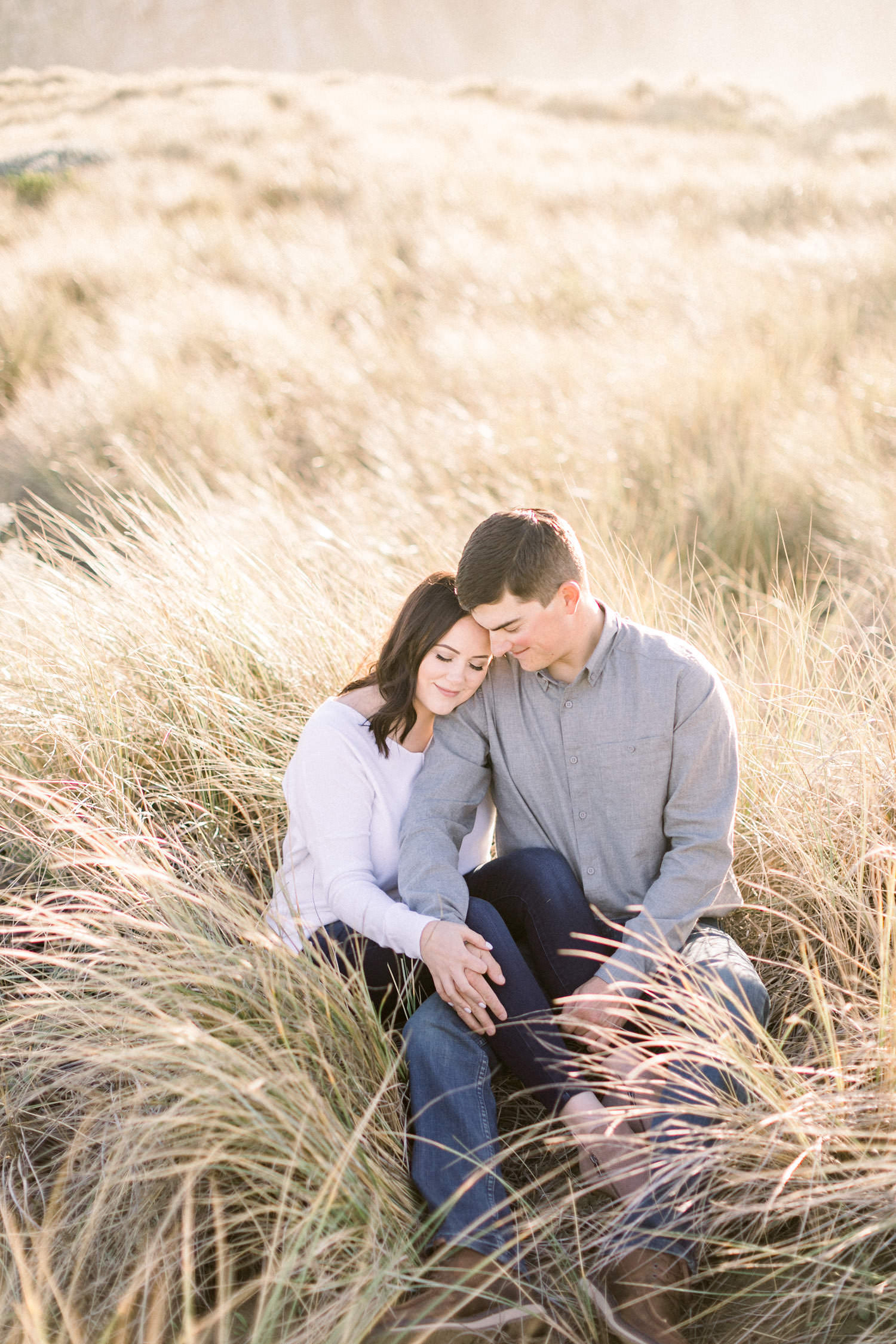 This coastal scenery paired with Kelsie and Cody's romance, resulted in the most stunning engagement photos. Kristyn Villars Photography captured this amazing couple in Morro Bay, creating a simple and airy vibe. Read on to hear the rest of their adorable engagement story. You might also recognize Kelsie, as she is on the All About Event's team.
When and how did you two meet?
I should have met Cody early on in my life. My grandparents were next door neighbors to his mom and dad in Los Osos. However my grand parents ended up moving to San Luis Obispo just shortly before my mom had me! I think this is for the better though, I probably wouldn't have been into the frosted tips he was rockin' in 2006. Later during summer of 2008 my best friend, and now maid of honor, introduced us. Cody had a huge crush on me and I was waaaaaaay to cool for some underclassmen with braces. We kept in contact through out the years and in the fall of 2015 I moved to the beach for some fresh salty air and new scenery. We got back in contact shortly after Our first date was a movie night in. We drank cheap beer and watched pulp fiction. As typical as it sounds I feel in love with him almost instantly. Here we are six years later!
How did Cody pop the question?
Cody asked me to be his wife in our cozy home in Morro Bay on a rainy night in. It was extremely intimate and special.
What was your favorite part of the engagement shoot?
Kristyn. Kristyn is not only an amazing photographer but friend. Cody and I loved spending the late afternoon with her. I was concerned about how Cody would do - not that I'm some super model or something - but I was worried he would get annoyed with posing and kissing and all the things involved in a shoot! Kristyn was INCREDIBLE. Before we started she reminded us why we were there taking this photos, that it was our love that had brought us here and to let that show through in the photos. We can't thank you enough for what she has captured. We are not only looking forward to having her take photographs on the big day, but to be their with us.
Anything else you would like to tell us?
Yeah, that Cody is the absolute best thing that's ever happened to me. Put that in there! ;)