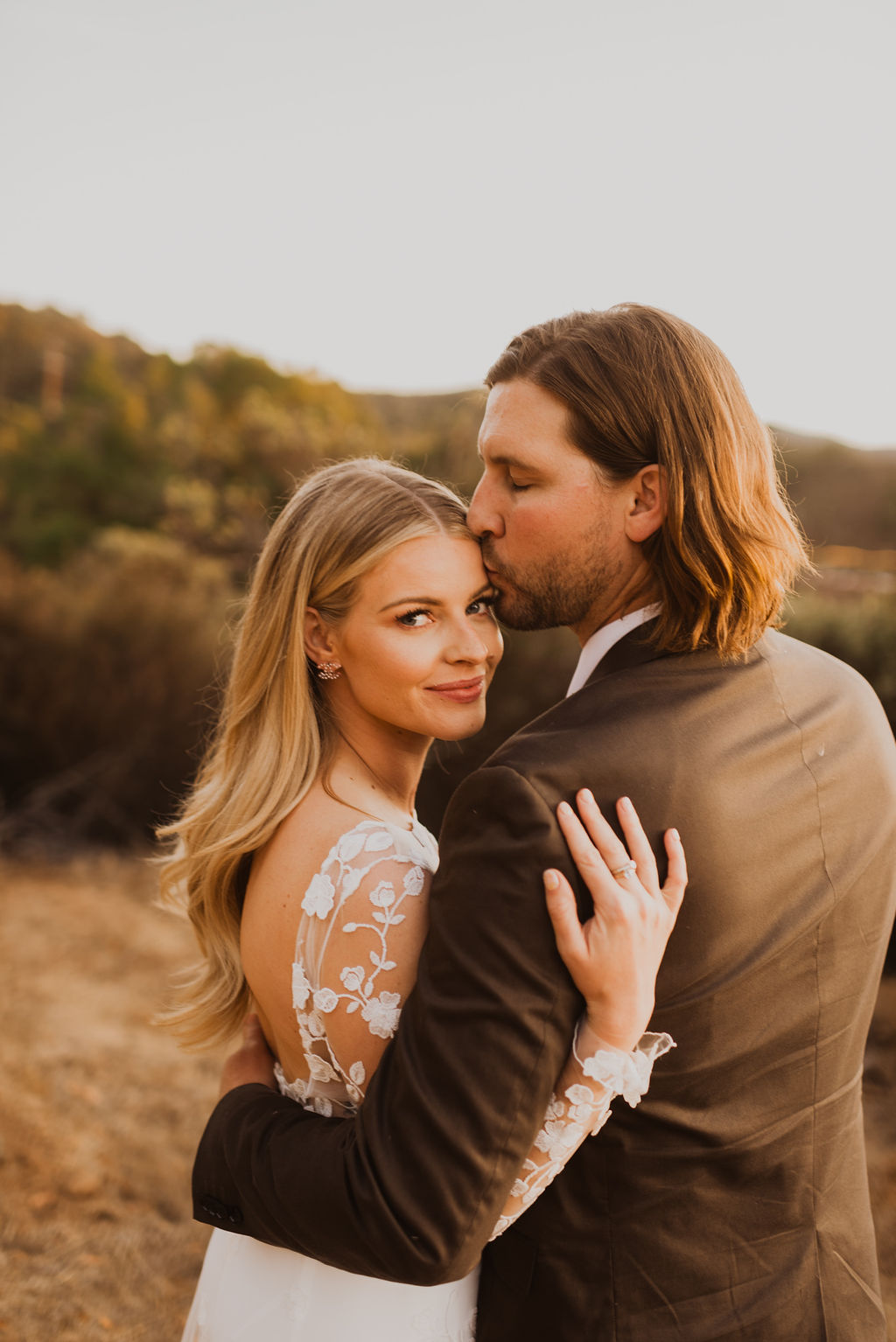 Intimate, organic, and personal sums up this incredible wedding captured by San Luis Obispo wedding photographer Fox and Plume. Set on the couple's stunning property at Toro Creek Farms, this bride and groom the knot with their closest family and friends, followed by a reception and a 150 ft table for all their guests to celebrate at. Flourish Event & Floral Design brought the bride's floral dreams to life, creating an all over earthy environment, with sparks of all things color! Keep scrolling to see the rest of the day, and the bride's magical outfit change.
Girl meets boy!
Brendan and I have been together for five and a half years. We basically met, and have been together ever since. He proposed in October 2018 on the backroads of Templeton. We went to our favorite pumpkin patch and picked pumpkins and then celebrated at Mcphee's Grill. It was so special and intimate. We then started the journey of the wedding planning process... which was a blast!
Wedding Planning Inspiration
We picked our venue, which was the property we live on in the mountains of Atascadero. So we wanted a lot of neutrals and earthiness. But I would get really inspired by colorful weddings and party's. I love setting tables so a lot of inspiration came from searching table settings and it would just spark more & more ideas.
Color Palette
I really didn't pick a color theme. I guess if I were to narrow it down it was all neautral with hints of burnt oranges and soft pinks. But we literally had a rainbow arch for the aisle so there were lots of colors all over the venue.
The Details
Well, seeing everything put together as you arrive to your wedding is the best! But once I really got to look around, our 150 ft table was stunning and so fun to look at all of our friends and family together. And I was obsessed with our colorful flower arch by Flourish SLO. And my bouquet! All the flowers.
Memorable Moments
Brendan and I got to take the car right after we got married and we were just by ourselves for about 10 minutes and it was so surreal. We loved that moment. And there aren't pictures of it (which might be a good thing) but we did a silent disco at the end of the night and I don't know if we've ever had that much fun!
Raddest Wedding Vendors
KAYLYN! Our wedding coordinator of Bundle and Bash. She literally works harder than anyone I know and does it all just because she loves love. She has a special eye for details and I felt so calm the entire day because of her. Our wedding photographer, Rachelle Allred of Fox and Plume Photography is AMAZING! I tell everyone to use her and everyone wants to because she's so talented. Our wedding band The Coffis Brothers, who are from Santa Cruz but sound like a Tom pretty rock folk band of your dreams. We loved all our vendors and couldn't have done it without any of them.