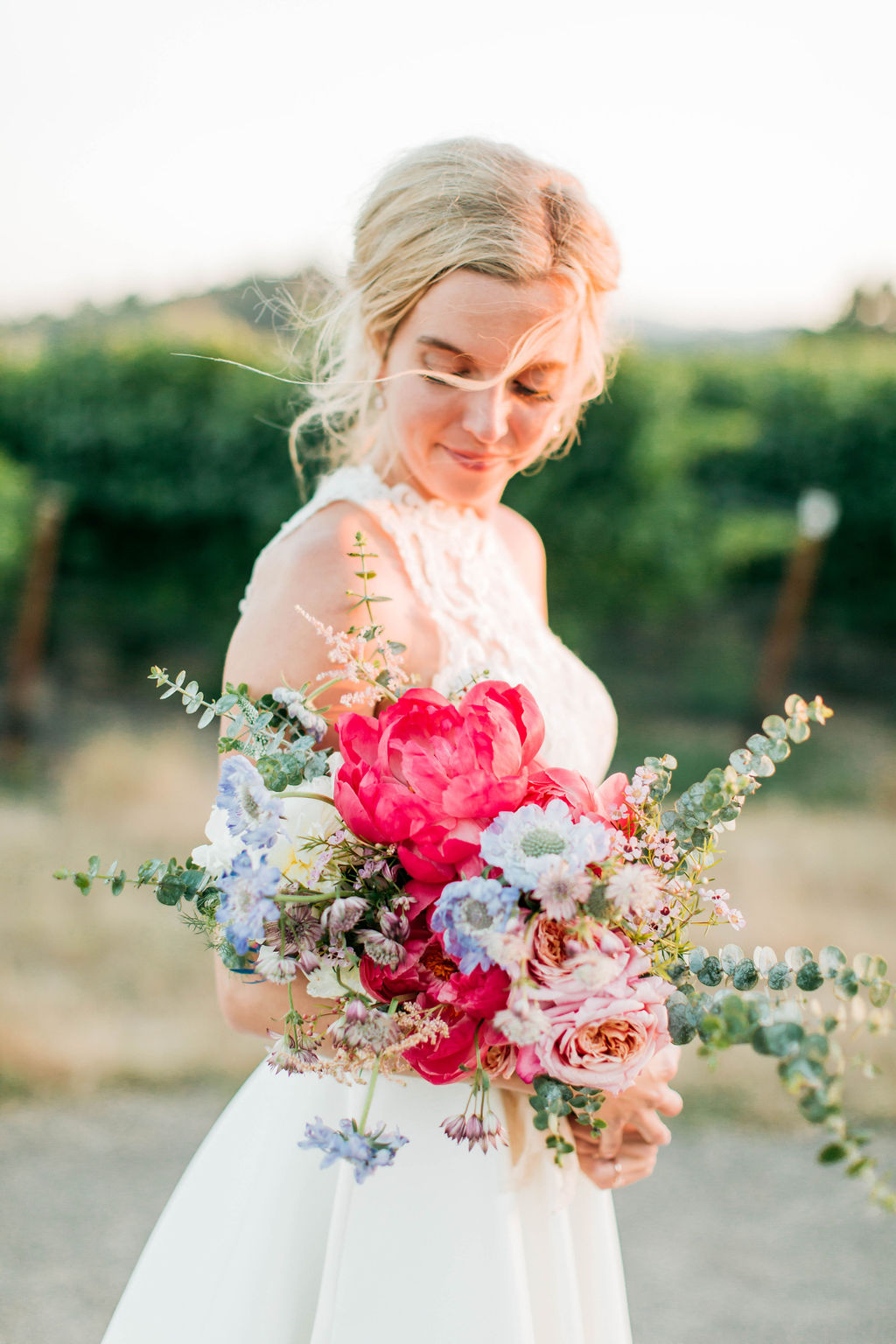 When the bride is up for a colorful wedding, you know you are in store for some jaw dropping florals. San Luis Obispo wedding planner Vino Fiore Events brought together a show stopping wedding, from nailing the floral design to the flow of the day! The White Barn Edna Valley hosted the day, perfect for the couples desire to throw a light, fun, and spunky celebration of their love. The details that caught our eye were the uniquely curated table-scapes, the floral backdrop of the couple's ceremony, and the collection of incredible vendors, many of which are our own TWS artists. Enjoy!
Girl meets boy!
Michael and I met at the end of our sophomore year of college. Our friends put on a wiffle ball game on an old softball field on sunset cliffs in San Diego. We both showed up & had never met before. We introduced ourselves to each other & then ran into each other a few times on campus after that. A few weeks later it was the last week of school & there was one final wiffle ball game. After that game Michael messaged Allyson on Instagram and the rest was history. We talked all summer long and then came back to school in September and started dating soon after. We dated for a little over 2 years and then Michael proposed in November of 2018 during a wiffle ball game he coordinated with some of their closest friends and family. Allyson was so surprised & it was the most perfect day.
Wedding Planning Inspiration
I wanted our wedding to be fully us. Full of fun, love, good food, and lots of dancing. I love flowers and so the flowers were a focal point for me. I wanted the atmosphere to feel light, fun, and colorful. We didn't necessarily have one color we focused on or a specific thing but rather I just had a lot of my favorite things there.
Color Palette
My bridesmaids wore different shades of light pink and the boys wore black. My flowers were very colorful and playful. They were a mix of wildflowers. Our tables were also full of color too with teal, white, pinks, and greens. There were so many colors. It was perfect.
The Details
I was very excited for the flower backdrop for the ceremony. My dad built a beautiful white arch that we strung colorful carnations from. I will have to say that was one of my favorite details! From the balloon arch to the cotton candy cart and ice cream truck, it was all a dream come true.
Memorable Moments
Our first look and walking down the isle with my dad were two of my very favorite moments. Our first look was so special and sweet. Seeing him as I walked up to him in my dress overwhelmed me with a sense of joy and peace and I couldn't stop crying tears of happiness. Then as I walked down the isle with my dad seeing all of our closest family and friends filled me with so much joy and I couldn't contain my excitement as I saw Michael waiting at the end, again another moment filled with tears of happiness .
Raddest Wedding Vendors
HauteSugar was amazing! She was so fun, sweet and entertaining. The cotton candy was so cute and tasted so good! Everyone loved it. The ice cream truck by Negranti's Ice Cream was such a hit as well. Everyone loves ice cream and it was the perfect summer night snack to have! Our wedding planner/florist Nena from Vino Fiore Events also did such an amazing job at making my dream wedding come to life. My hair done by Nichole Potter and makeup by Tami Bernard made me feel like a true princes and so beautiful - they are the best of the best! We were honestly so happy with every single vendor we had. We couldn't be more thankful!