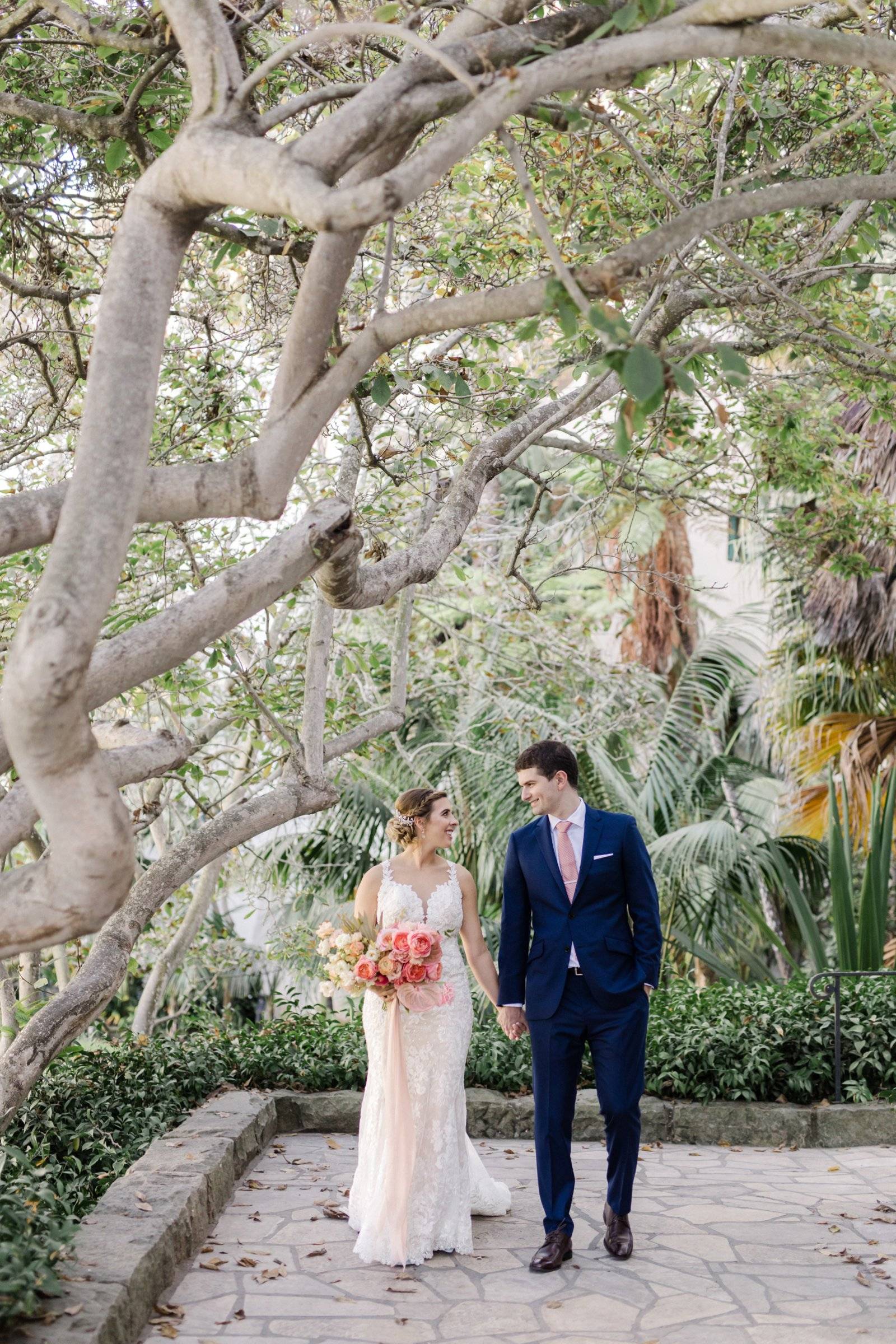 From light and airy colors during the ceremony, to rich and moody tones during the reception, this Santa Barbara wedding has all of us wide eyed. The stunning florals by Idlewild, to the fun table scapes designed by Onyx & Redwood, each detail speaks volumes of this adorable couple. Their love began in Santa Barbara, and after moving to New York for a job, they knew they needed to come back to California to tie the knot! Emily from Anna Delores, captured everything perfectly, making it tricky to only showcase a view from the gallery.
Girl meets boy!
Faris and I met our first week at University of California, Santa Barbara. I was an out of state student (from North Carolina) and knew absolutely no one. My assigned roommate was much less shy than I am and met Faris in the dorms and when she found out they were from the same town, Huntington Beach, they became friends. She invited me to hang out with them one night and it was an instant connection. He actually lived in the dorm room right above mine! We dated all through college and our last year Faris got a great opportunity to work for a bank in New York City. As we got close to graduation, Faris proposed to the cliff side overlooking the beach at UCSB and asked me to move to New York with him. We still live in NYC but when, a couple years late, we were picking a location for our wedding it was a no brainer. Of course it had to be back in Santa Barbara where we met and fell in love. Plus it's the most beautiful place in the world with the beach, the wineries, the mountains, I mean c'mon. We chose to have our wedding in late September on the same date that we had started dating 7 years prior.
Wedding Planning Inspiration
We wanted our wedding to be unique, personal, and elegant. Even though it was in a California, we wanted to bring some New York elements into our big day. Onyx & Redwood did an unbelievable job of listening to us and our story and then creating a design that surprised and delighted us the day of our wedding.
Color Palette
We chose to keep things soft for the ceremony with pinks and beige and then add some edginess with black and gold for the reception. It was perfect.
Memorable Moments
The most memorable moment of the day would be our ceremony. Our college friend officiated and Faris and I both wrote our own vows that had everyone laughing and crying at the same time. It was perfect. The other most memorable moment was when our photographer, Emily (who is the absolute best) took us to the roof for sunset photos. It was a nice quiet moment to breath and just be together and realize wow, that just happened, we're actually married.
The Details
The wedding arch was one of my favorite details of the wedding. It was such a stunned and incorporated anthuriums, which are my favorite flower. For the reception, black and gold painted palm fronds were added and our desserts were displayed underneath. It was too beautiful to be used for just one part of the night. After the ceremony everyone wanted a picture by the arch with the breathtaking view of the mountains behind. Another element of the wedding that I absolutely loved was our escort card display. Our planner, Jess, designed this gorgeous chain link fence on which everyone locked a small lock at they picked up there escort cards. It mimicked the love locks placed on Brooklyn Bridge near where we live and where our engagement photos were taken. Best of all, she sent the fence to us after the wedding and it's now hanging on our wall as a piece of art and a beautiful reminder of the best day of our lives.
Raddest Wedding Vendors
Wow, that's tough but it has to be our photographer Emily from Anna Delores Photography. She was able to capture every detail so elegantly. She is so fun and spunky and a pleasure to be around which is really important because you are with your photographer probably more than your groom that day. She also surprised me during the reception with a beautiful framed photo from our ceremony which was an incredible surprise. Also she flew all the way to NYC a couple months before the wedding to take some NYC engagement photos to use at the wedding! I mean, what can I say, she is unbelievable.
Advice for Newbie Brides
Trust your planner. They know what works. Our planner was so creative, I gave her almost complete independence to design what she thought we would love, and she was spot on. Plus, the less details you have to deal with, the less stressed you will be the day of!