True love knows no bounds! This couple's sweet love story plays out perfectly at their Santa Margarita wedding, and was misted with a beautiful rain shower - adding to the romance. With a great team of San Luis Obispo wedding vendors on board, Jules and Christian enjoyed their time with family and friends, and danced the night away.
Can you describe the couple's vision for this wedding?
From San Luis Obispo wedding planner + designer Embark Event Design: Jules and Christian wanted a simple and sweet wedding day with mauve hues and lots of natural greens. They wanted to keep their focus on celebrating their love story surrounded by those they love the most, and honor their families!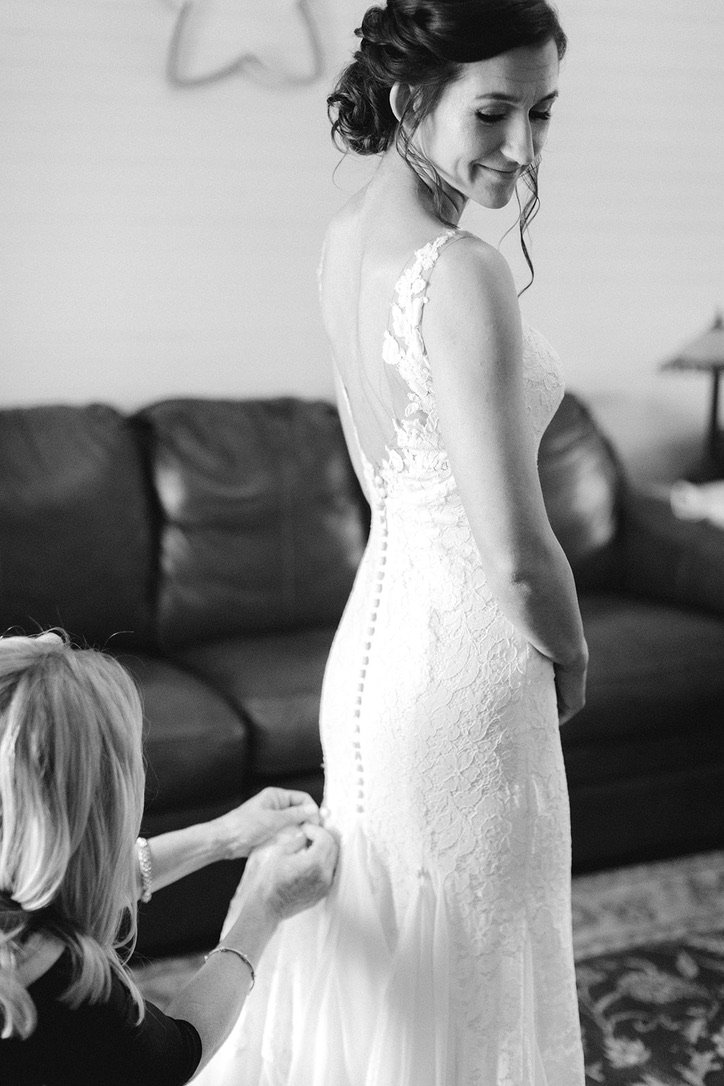 As one who contributed to the design what was your inspiration?
From the designer: We chose lots of warm tones with mauves and blushes to add dimension to this design. Each of these soft color choices reflected the tones of the venue's historic house, where Jules and her maids got ready for the day.
How did you utilize your skills and experience to make your bride's vision come to life?
From the designer: It was such a joy to work with Jules to create something special with her. She was undoubtedly head over heals in love with her fiance Christian, so the planning process was a breeze! Her vision was simple - to keep the focus on family, fun, and love - and to have a great night! She did such an amazing job of incorporating both of her sweet families into the day, and letting the wedding be a showcase of their love, and her family with Christian.
Girl Meets Boy
From the bride: Christian and I met through church and became good friends. We hadn't dated anyone for a few years because we both wanted to wait until we found someone we could see ourselves marrying. As we got to know each other more and more, I realized Christian had all the qualities I was wanting in my future husband. When he officially asked me out in December of 2017, I knew I would end up marrying him! He even told his family three weeks in that he was going to marry me. We dated for about 11 months before he proposed. He took me to a gazebo overlooking the ocean at sunset. We embraced each other as we took in the breathtaking view. He began to tell me how much he loved me, how he wanted to spend the rest of his life with me, and then asked me to marry him! It was the easiest "yes" of my life!
Tell us about 1 or 2 memorable moments from the wedding day that stick out to you

From the bride: First looks with my dad and Christian. I've always been very close to my dad, so it was very special and emotional to share that moment with him. My first look with Christian was so sweet! I loved getting to spend a few quiet moments with him before our ceremony. It helped relieve some of our nerves and enhanced our joy and excitement! Christian and I added some faith-based elements to our ceremony since our faith is very important to us. We started our ceremony with a song of worship and took communion together as our first act as husband and wife. Those moments were so special!
Tell us what inspired your wedding style and or theme.

From the bride: We both loved ranch-style weddings, and I wanted to keep it romantic, simple, yet still elegant!
What colors did you choose for your overall theme?

From the bride: Dusty rose, blush, white, navy blue, and some gold accents. The florals added some shades of green and a darker red as well.
What details about your wedding were you the most excited about?

From the bride: My dress! I found my dream dress at Moondance Bridal and I was so excited for Christian and all our loved ones to see it! Our vows- we wrote our vows together in the weeks leading up to the wedding. It was so special to come together, agree on what our marriage would stand on, then make those promises to each other on our wedding day. Since we essentially said the same vows, it was the perfect way to personalize our ceremony while maintaining the feeling of traditional vows.
Describe 1 or 2 details that you were the most excited about.

From the designer: I was so excited about the interior of the barn! I love the stone detail, and how it created a cozy space for us in the midst of a huge storm. Listening to rain pitter patter on the roof was such a peaceful addition to the evening. I also loved each of the speeches that took place at this wedding. Each person near and dear to the bride and groom shared a tearful testament to just what amazing people they are, and how their new marriage is going to be such a beautiful thing! There wasn't a dry eye in the house as Jules' father shared beautiful words of his sweet daughter and new son-in-law.
From the designer: Jules + Christian didn't mind the rain at all - it added to their delight on their special day, and kept the focus on them! As a wedding planner, it was a dream to work a couple so clearly in love.
Tell us which wedding artists knocked your wedding shoes off and why!
From the bride: San Luis Obispo wedding planner Embark Event Design. Sarah was so incredibly helpful in the wedding planning process and on the day of! She is so sweet, kind, and professional, and she wanted to ensure Christian and I got everything we wanted out of our wedding day. She made the process as smooth and stress-free as possible, and I am so thankful for that! I couldn't recommend her enough! San Luis Obispo wedding photographer Amber Lynn Photography went above and beyond to make sure every moment of our wedding day was captured. She is so talented, detail-oriented, and personable! We will cherish our wedding photos for life! We were also very impressed with our venue, Santa Margarita wedding venue Santa Margarita Ranch!