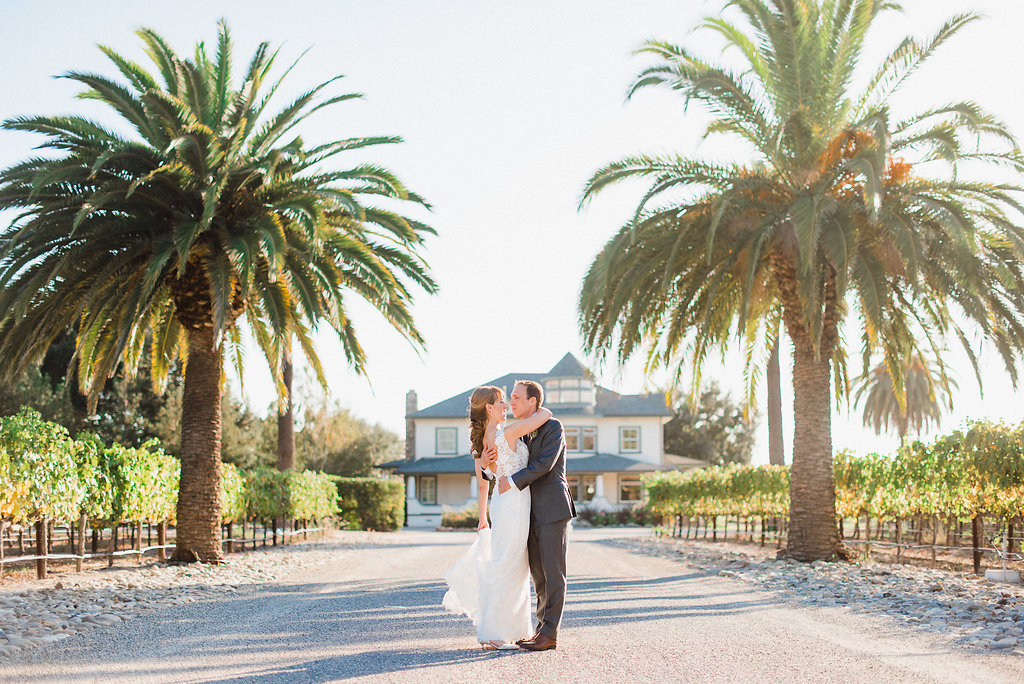 The Santa Barbara County wedding venue, Crossroads Estate in Los Olivos, is a california wine country dream. Standing under a magnificent oak tree, surrounded by stunning vineyards, an enchanting estate and barn this sweet couple said "I do!" For the ceremony, a creative floral wedding circle was designed by, Anna Le Pley Taylor with the help of guests adding flowers as they took their seats. This special day was captured by Grace Kathryn Photography.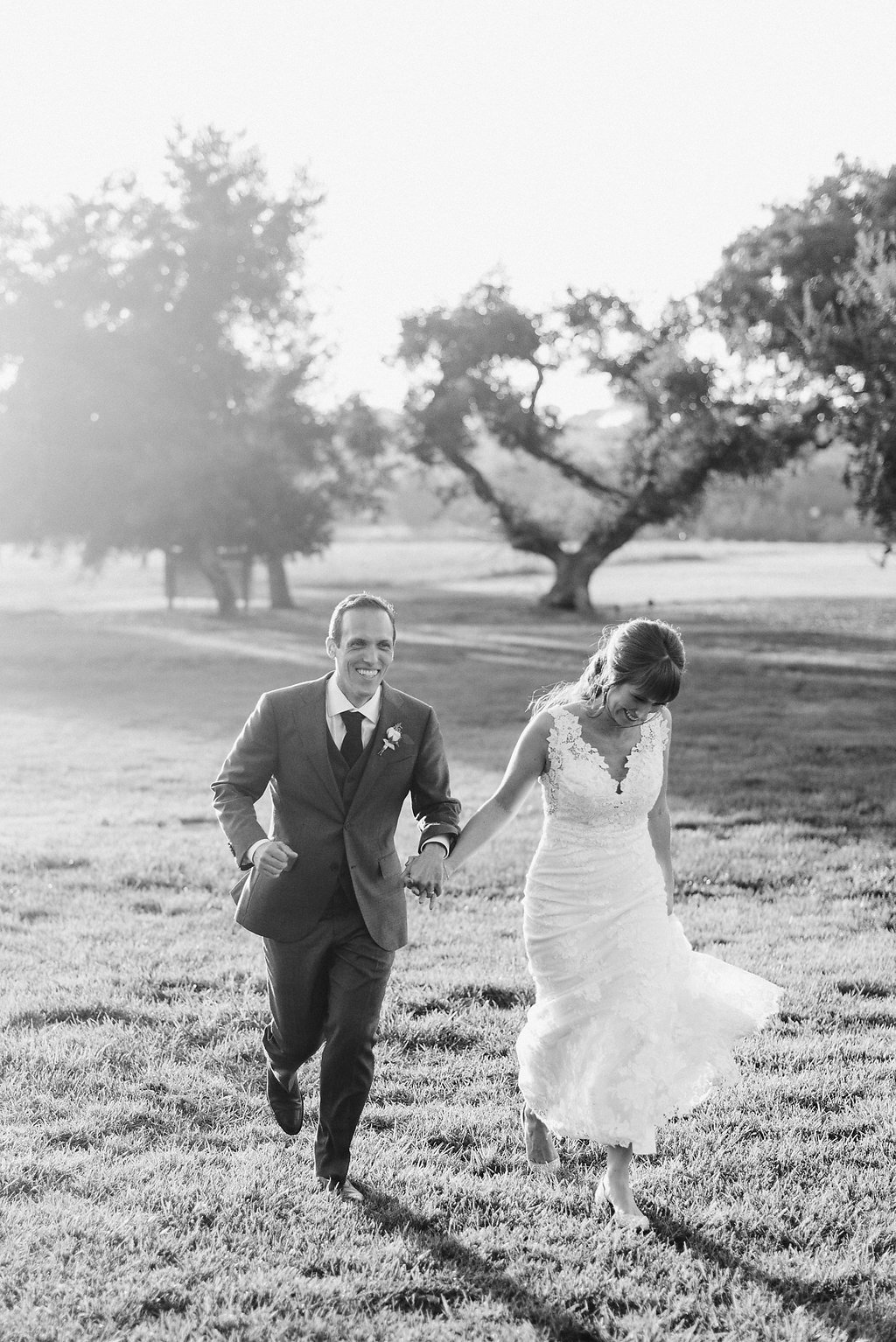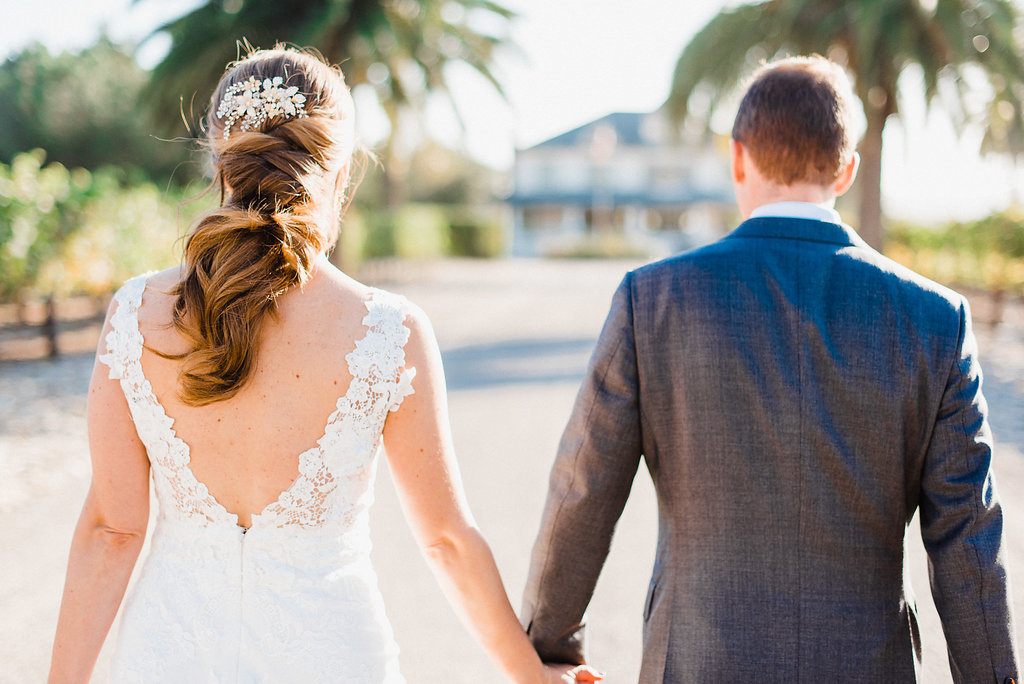 Girl Meets Boy! Tell Us Your Love Story!
Our friendship began over 9 years ago in Los Angeles. We were both navigating the ups and downs as entertainment industry assistants, and found ourselves frequently chatting on the phone after connecting our respective bosses on their calls. After deciding to meet up for drinks and put a face to a voice, there was an instant connection. A special bond began to develop, but neither of us would recognize it as something more than friendship until years later. We always made sure to stay in contact, and get together to catch up, but it was not until the summer of 2011 after Matt had returned from a year abroad teaching in Tanzania that bigger sparks began to fly. We knew that the connection was right, but the timing was not, so after a couple more years of being 'just friends,' our love was finally in a place to bloom without obstacles, and we haven't looked back since! After almost 4 years of travel adventures, bike excursions, beach bumming, dinner dates, cooking experiments, and lots of bourbon, Matt knew that he needed to ask the big question! During a long cloudy bike ride back from Manhattan Beach, we pulled over for a photo opportunity along the beach, our mutual first love. Matt proceeded to play a slide show of photos since the beginning of our relationship set to music from our favorite artist, Ivan and Alyosha. As the sun began to peak out from behind the clouds, he got down on one knee. The answer was YES!... obviously!
Tell us what inspired your wedding style and or theme.
It was a desire of mine from the very beginning of the planning to have the essence of an upscale barn wedding, which affectionately became known within my family as a 'non-barn barn wedding.' We loved the idea of something chic but rustic, elegant but approachable. We managed to get all of that and more! Finding the perfect venue, Crossroads at Firestone Winery, in Los Olivos, gave us the perfect setting to create a beautiful non-barn barn wedding!
Describe 1 or 2 details (about your wedding) that you were the most excited about.
Our officiant is a family friend that I have known since we were 4 years old. The officiant, my husband and I, met every couple of weeks to write and put together our ceremony. Every detail was thoughtful, meaningful, and personal, because we had taken the time to create the ceremony together. We even created our own version of a wedding circle, having the florist create a beautiful circle of flowers that all of the guests contributed to as they came in to take their seats for the ceremony. Right before we said our vows, our parents came up to complete the circle by placing the remaining flowers. We truly felt the love surrounding us during the ceremony. In addition to the ceremony, we were also most excited about dancing and partying the night away with our friends and family. Having a live band really brought a fun energy and kept everyone on the dance floor until the very end!
Tell us about 1 or 2 memorable moments (from the wedding day) that stick out to you.
It's hard to just pick 1 or 2 moments because the entire day was so overwhelmingly incredible and memorable. We did a first look, which was important to me not just for the convenience of being able to do photos prior to the ceremony, but also to share a very intimate moment, just the two of us, before everything started, and to really take in the magnitude of the day. It was more powerful than I could have imagined, and so special to have those moments together, seeing each other all dressed up, so excited for the ceremony and celebration to come. I am a producer by profession and a planner by nature, and I had planned out every moment of the big day. So when the lead singer in the band said 'we'll be right back after a special surprise for the bride and groom' I had a moment of panic. My mom had coordinated with my sister and bridesmaids for a funny little performance of Wilson Phillips 'Hold On' (the ending scene of the movie 'Bridesmaids') so when the song started playing, the bridesmaids all got up on the dance floor and performed/lip sync'ed to the song. It was such a fun creative surprise and made us laugh! And my mom was very proud that she managed to keep a surprise from me on the big day!
What colors did you choose for your overall theme?
Although it's not exactly a color palette, succulents were the inspiration for our wedding colors. We both love succulents, so we wanted to incorporate the beautiful green, sage, grey and purple hues for our outdoor wedding. Our florist even created our initials with succulents for the seating card table. It was absolutely stunning! And they are still growing and in our garden today! It was important to have the color palette compliment the beautiful landscape of the venue.

Tell us which wedding artists knocked your wedding shoes off and why!
We were truly lucky to have an impeccable team of vendors, creating the day of our dreams. Our planners, Kaitlin and Colette with La Fete were absolutely incredible, making sure every last detail was thoughtfully executed, making the entire day flow effortlessly so we could enjoy every moment with our friends and family. Our florist, Anna Le Pley created absolutely beautiful arrangements, monogramed letters of our initials in succulents, a vintage bicycle draped in beautiful flowers, and an incredible circle that we stood in during the ceremony. Every detail from the bouquets to the terrariums spread throughout the venue, to the greenery hanging from the chandeliers, looked gorgeous. Our band, Stew and The Crew, interacted with the guests and kept everyone dancing until the very last song. Duo, based in Santa Barbara, created a beautiful and delicious gourmet menu which had all our guests raving about the food. The food was incredibly important to us, and I made sure I was not one of those brides that didn't get to eat on her wedding day! Our videographers, Like a Letter, made a tear jerker of a highlight reel video, which we love rewatching over and over again, remembering the incredible day. And last but definitely not least, our photographer, Grace Kathryn. From our first encounter during our engagement session at the beach, we knew we had made the right choice. She understood how to perfectly capture us and the day, creating gorgeous photos that reflect the beauty of the day.
Knowing what you know now... what advice would you have for other brides planing their wedding?
Try to enjoy every moment, even the stressful ones, because it will all be over before you know it! It's cliche, but don't sweat the small stuff. Figure out what's most important to you and prioritize that. And give yourself a cut off day before the wedding, where you let go and just enjoy. Someone gave me a good piece of advice for the reception: Grab hold of your husband/wife, and stay together the whole night. It's easy to get caught up talking to all your guests, but you don't want the night to end and realize you didn't see your partner at all!