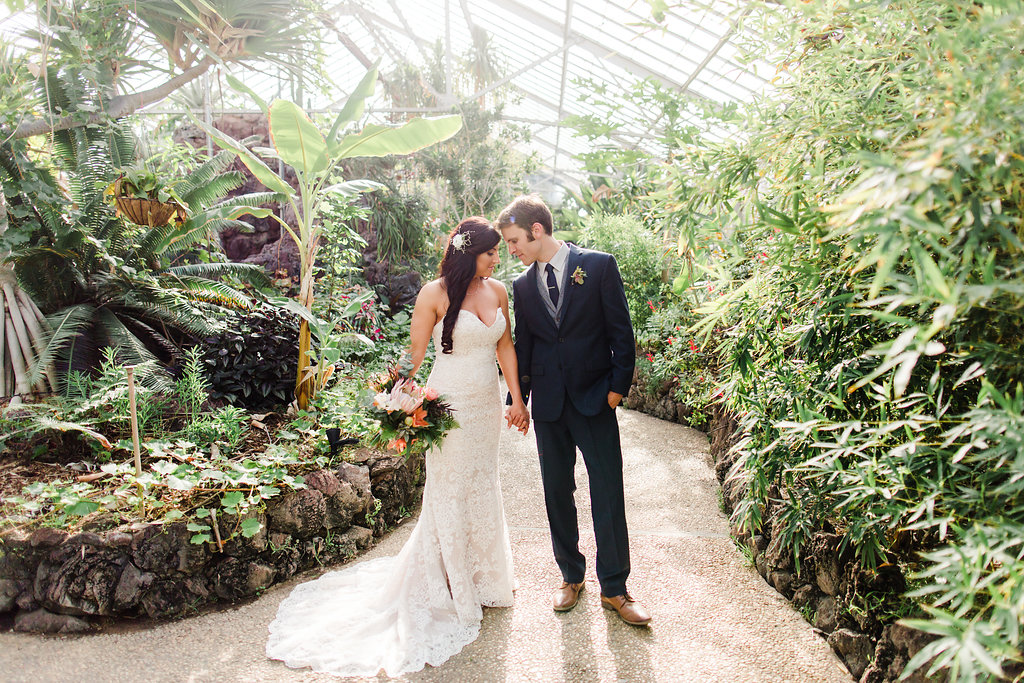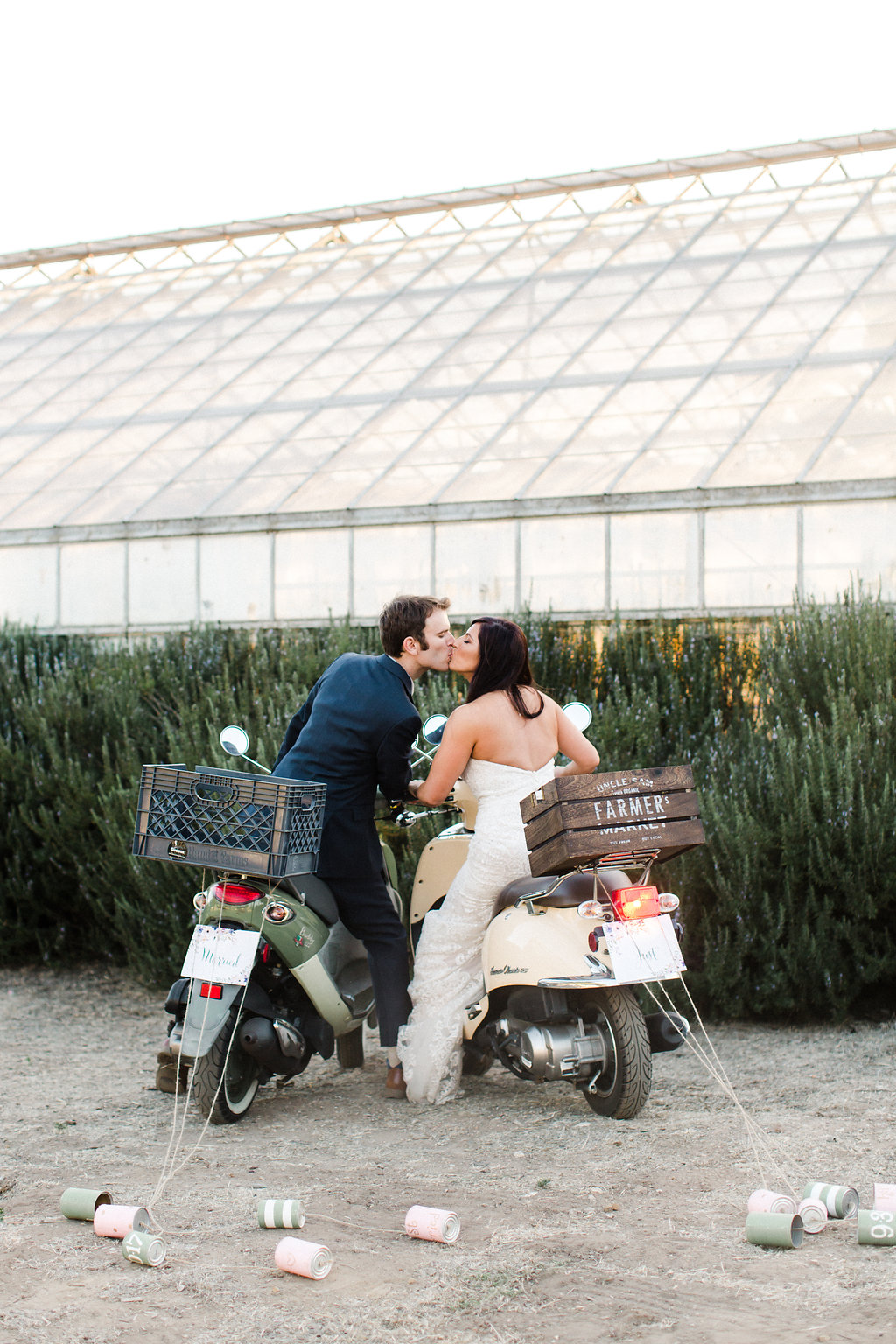 Tell us what inspired your wedding style and or theme.
"Daniel and I love going to festivals and fairs, so we wanted a wedding that would have a similar atmosphere and feeling. One of our first decisions was that we wanted a food truck to cater dinner and an ice cream truck for dessert. We knew that if we had the food truck vibe, then the rest of the wedding needed to be fun and lively with lots of colors! I also love the boho style which contributed to a lot of my design inspiration."
Boy Meets Girl! Tell Us Your Love Story!
Daniel and I met playing kickball as teammates on E=MC Hammered when we were in our late twenties. Our relationship grew from teammates to soulmates rather quickly, as there was an instant connection for both of us. We loved spending time together, going on adventures, and traveling to new destinations. We both opened each other up to new experiences that we never thought we would do: Daniel introduced me to his love of backpacking, and I introduced Daniel to my long-time dream of owning a scooter. A few years, two scooters, and many adventures later, we got engaged on my 30th birthday in our favorite city- New Orleans, LA. It was a complete surprise when Daniel proposed on the rooftop of our hotel overlooking the city, and I of course said yes!
Tell us about 1 or 2 memorable moments (from the wedding day) that stick out to you.
Daniel I decided not to do the traditional vows. We slightly changed the wording of a children's book, Rosie and Michael, into our own quirky twist about our relationship. The response from our guests was amazing! Everyone was laughing and crying. I feel like it really showed our guests who we are as a couple, and I can still hear the "awe's" from the crowd to this day. Also, one thing our guests continue to rave about is how amazing the food was, thanks to The Lime Truck! I never hear of food being memorable at a wedding, but it sure was for ours!
What colors did you choose for your overall theme?
Pops of bright colors! I didn't necessarily have a color palette that I was following and I didn't want the traditional two color choices. But I knew that I wanted to have a lot of bright greenery with pops of magenta, coral, turquoise, and purple. It sounds like it would clash, but it fit our theme perfectly!
Describe 1 or 2 details (about your wedding) that you were the most excited about.
I was most excited about how our wedding venue would come together and how our guests would perceive it. Since the venue was a blank slate, it gave Daniel and I an opportunity to create a wedding that was unique to our personality and relationship. We definitely put our whole heart into the planning of our special day. The Orchid Farm is a beautiful and special place that has so many things to love. I was excited to have the guests arrive and see the ceremony under the big, magnificent tree, and then take them to the deck overlooking the ocean for cocktail hour, and then the reception in the beautifully decorated greenhouse. I felt like it was a unique experience for the guests, and it did not disappoint! Daniel was definitely looking forward to the honeymoon in Jamaica after the wedding, but he was also excited forThe Lime Truck after having an amazing tasting experience!
Tell us which wedding artists knocked your wedding shoes off and why!
We were really lucky on our wedding vendor choices and it's hard to pick out 1 or 2! Jaime with Wild Heart Events did an amazing job at bringing our vision to fruition, and making our special day truly wonderful. We couldn't have done it without her! Tracey with Ella & Louie Floral took my color ideas and exceeded what I had even imagined for the floral design. Jennifer with Milk & Honey Event Rentals had a wonderful selection of unique items to fill my wedding venue and great service to go along with it. We also used Party Pleasers for additional venue rentals and they had everything I dreamed of and more with a great price! Andrea with Andrea Mae Beauty made me and my wedding party look gorgeous and has an amazing upbeat personality that you need the morning of your wedding. Darin & Sierra with Jump on the School Bus are truly professionals in transportation and took care of us and our guests. I absolutely loved the look that Bessy the Foto Bus added to our wedding theme! Emily with Anna Delores Photography captured it all with the most beautiful photos, and she went above and beyond in making us feel like we were more than just her clients. I Heart My Groom also captured our day on video that we will cherish for years to come. They also worked fantastically alongside our photographers! I can't forget all of our catering services! Tim with Simply Cocktails and his crew did a fantastic job with the bartending and wait service. Tim was also very attentive to our needs and questions. Jeni's Splendid Ice Cream Truck not only had yummy ice cream, but also made a great addition to our venue. The Lime Truck was one of the best decisions we made for the wedding and our guests still rave about it to this day!
Knowing what you know now... what advice would you have for other brides planing their wedding?
I know that cost is usually a major factor in planning a wedding, as it was for us, so it's easy to choose a vendor just because they have the best price. However, I think it's really important to choose vendors that work well together. Ask your photographer who they recommend for a videographer. Ask your florist who they recommend for event rentals. You want your day to run as smoothly as possible, and you are usually not in control on the day of your wedding. It's important to be able to trust that all of your vendors will work together in creating your special day. The few additional funds that you may spend could go a long way in the end.