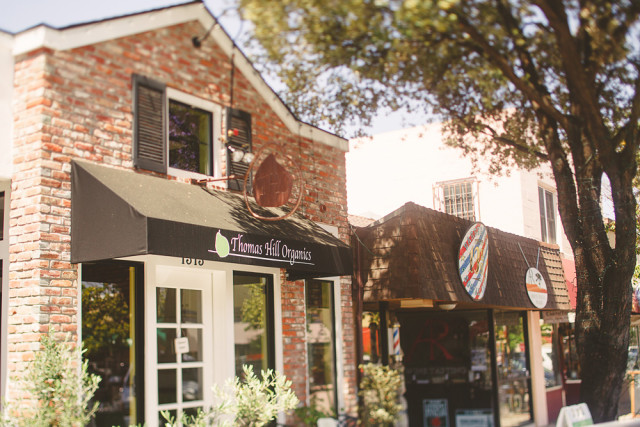 CATERER | ARTIST INTERVIEW ///
If you love food than keep reading... Warning: You will be hungry by the end of this interview!
Thomas Hill Organics is one of the first farm to table restaurants to hit the wine country of Paso Robles. Started with the minds and hearts of farmers; they pride themselves in serving nothing but the freshest, and highest quality locally produced food. Recently I visited the restaurant to taste and experience their atmosphere and cuisine and was blown away. I've also had the pleasure of experiencing and capturing Thomas Hill catering a wedding. You will see images of the Paso Robles kitchen / restaurant as well as their pop up kitchen behind the barn at La Cuesta Ranch. I was able to sneak pictures of the cooks in GO mode creating family style dishes that surprised and delighted the senses of the guests! The food seems so simple, yet has so much flavor. It's as if you're experiencing the natural ingredients to their fullest potential. Debbie Thomas shares with us more about her passion for food and creating amazing experiences for every guest they serve!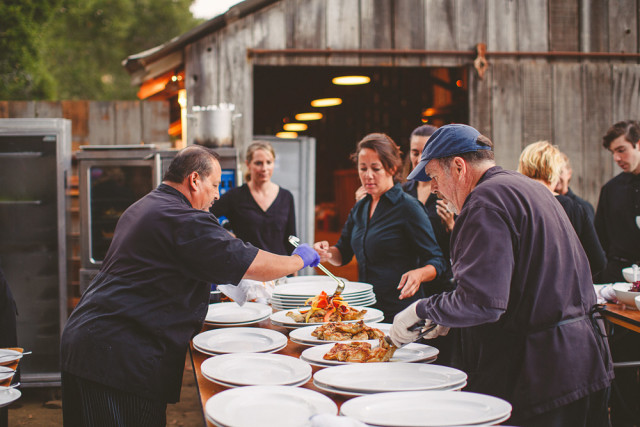 How did you get started doing what you do?
I was in sales and marketing and my ex husband and I moved up to Paso Robles to get out of the traffic in LA.
He would only agree to move if he could be an organic farmer. So we purchased a 10 acre parcel in rural Paso Robles.
We planted 900 fruit and nut trees. After 3 years we started a local CSA program and sold baskets of our fruit to neighbors and friends.
We loved good food and good wine and believed in organic, locally grown produce and natural and grass fed meat. However, we could not go out to dinner in the area and find organic produce or natural meats so we opened Thomas Hill Organics Bistro and Wine Bar. People loved our food, why? Because the produce and fruits tasted like they should, flavorful and fresh. We have been in business for 6 years and truly were one of the first Farm to Table restaurants.
Who or what continues to inspires you?
I love to eat amazingly-fresh food; that continues to inspire me! I love to make people happy. There is nothing more rewarding then to hear our guests rave about the food.
What makes your business unique?
We are unique: We are farm to table, we have a beautiful covered patio, our food is amazing and we carry locally made wines. Our chef is french trained but was born and raised in Montana. he creates unusual food pairings that people enjoy!
We cater numerous weddings and events and I constantly hear, "Wow, this is not wedding food. It's awesome!"
How would you describe your ideal couple?
Foodies! Oh, and they would be madly and passionately in love!
What's your business philosophy?
Fresh, local, amazing ingredients, great service and a beautiful atmosphere!
Favorite part of a wedding?
Why do you do what you do?
What question do you always ask the Bride & Groom?
What's your favorite place to eat?
How do you normally begin your day?
Cup of coffee, OH, after brushing my teeth and feeding my cats and dog.
What would you say is your greatest accomplishment?
Opening a restaurant and being successful. I suppose if I had children I would say "my children."
What do you enjoy doing on your day off?
Going out to eat and having someone else wait on me. :)
Tell us about your first job?
I was a cashier at a department store in the shoe department. That job lead to my career and moving to New York. There I worked in merchandising and marketing.
OK, tell us your Nickname(s)?
The Queen (that is what my staff calls me)
Tell us one thing few people know about you?
I have a fear of heights....
Wedding trend that your loving right now?
Vintage! I love the vintage china! Reminds me of my grandmother.
Wedding trend that will hopefully be out next year?
What do you miss most about being a kid?
No cares in the world!! Oh, and sneaking out the back door at night to meet friends...very daring.
What's in the top 5 of your bucket list?
Where do you see yourself (or business) in the near future?
I would like to expand and open another restaurant.