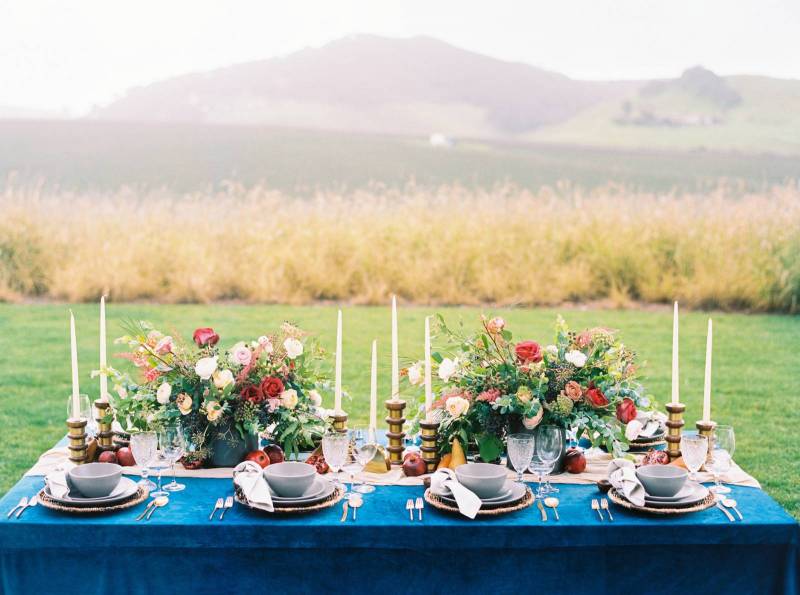 The Wedding Standard is excited to share the Gather Workshop a styling event put together by April of April Flowers, Alana Stipech and Kelsey of A Lovely Creative to teach about food, floral and wedding tabletop styling. Located at the beautiful Greengate Ranch. Take a look below and, be prepared to be in awe!
"We are three creatives that met and began working together years ago at a small, local, retail flower shop, named April Flowers. We learned and laughed with one another, and developed a friendship that grew into a little flower fam. A few years down the road, April sold the flower shop to exclusively design wedding flowers. Alana and I began on our own new adventures." Kelsey - A Lovely Creative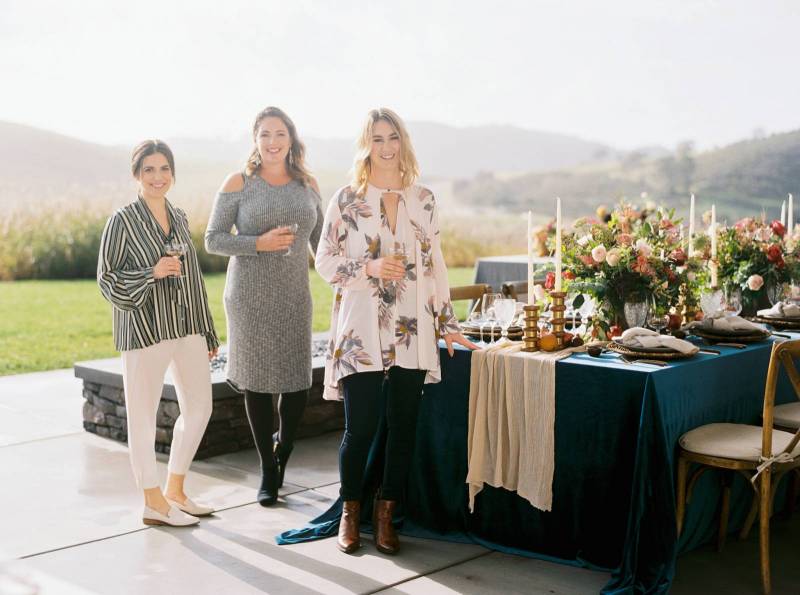 "We had a vision of keeping the workshop intimate and communal so each attendee was able to meet one another and also connect with each of us through our teaching session and break out time. We really wanted attendees to feel welcome and comfortable and most of all, enjoy their time together learning! Because this was our vision for the event, we chose to host it at the new Vineyard Cottage at Greengate Rate Ranch & Vineyard, the natural light and atmosphere are so inviting!"
Kelsey taught on tabletop styling including elements like china, glassware, flatware and accessory items like linens, teaching about choosing colors, textures and sizes for the table you are using and/or event you are hosting, including a "how to" napkin folding tutorial. Other fun tabletop accessories I taught about and explained when and how to use them included items like: salt cellars, menus, place cards and chargers. After each teaching session, attendees were invited to enjoy cheese, baguettes and other snacks along with wine, cocktails and time to chat!
In 2015 Kelsey started her business: A Lovely Creative, planning and designing weddings. Kelsey's passion is making a space feel beautiful, exciting and customized for each of her couples. Her love for special and unique experiences, interior decorating, floral design and new adventures is what led her to start a business of her own creating these experiences for others!
Alana taught about food styling and how make food look most attractive when serving and photographing food with other elements. She taught attendees tips and tricks of taking a great photo. What looks great in person, may not always translate in a photo, but now attendees have the tools to show off their work in person and via social media and their websites!
Alana's background in hospitality, florals, personal shopping and interiors have been the perfect stepping- stones to her dream career. Living in Manhattan has been an amazing adventure and has allowed Alana to work full time as a freelance art director, prop and food stylist.
April taught on floral design including: components of an arrangement, styling and design of the arrangement, seasonal flowers and choosing what is most readily available or even foraging from your yard, and how and where to source all the tools and flowers you would need locally to do this at home for hosting a dinner or party!
April has worked in the floral industry since 2006...Her passion is to use unique and surprising blooms, textures and elements throughout her designs. She believes that thoughtful details make all the difference and strives to represent that within her designs.
Once attendees learned about each element of styling we had some lunch together and broke out into one large styling session! Attendees had 3 tables to choose from and style on, creating their own scenes and place settings....attendees were able to choose from various types of glassware, china, flatware, salt cellars, linen napkins, food, fruit and paper goods to style and play with using their new knowledge of styling!
A huge thanks to the lovely ladies of April Flowers, A Lovely Creative and Alana Stipech for putting on this magical event and sharing it with us! If you're looking for a unique wedding dinner experience explore more San Luis Obispo Wedding Designers and Floral Designers!