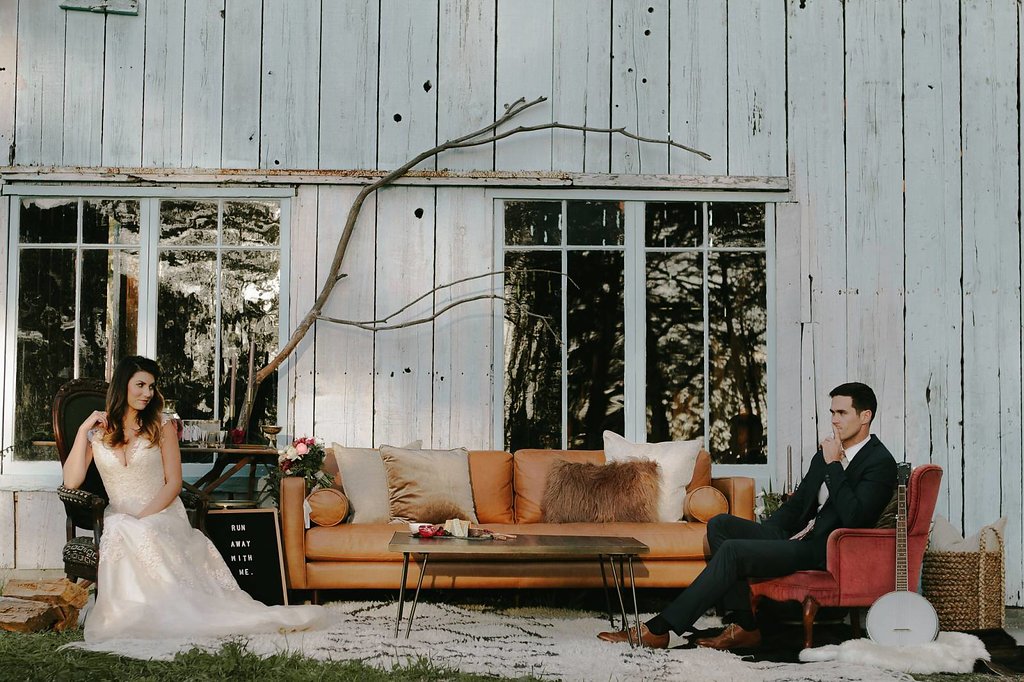 Specialty rentals and lounges can completely transform a wedding space and create a design that is unique to your own style. We caught up with three San Luis Obispo specialty rental companies to hear each of their individual expertise on all things from design, to sourcing, to trends. Continue reading to learn about these 3 San Luis Obispo based companies: Avenue Twelve, Scout Rental Co, and Embellish Vintage Rentals and how they work to create special spaces for your big day!
Avenue Twelve Rentals / Tommy Rouse:
What is your approach to creating spaces and lounges?
"The approach that I take when creating spaces and lounges is environmental physiology, which is the interplay between individuals and their surroundings. Good design is not just pulling every pretty picture that we see on Pinterest. Our environments should resonate with us and connect us with our guests in sharing our story. Before I research ideas, pull inspiration or even sketch a plan, I start my design process with a fun questionnaire, so that I can really get to know my clients on a deeper level. This questionnaire offers the time and privacy for them to give their answers honestly and without any feelings of judgment that one might feel in a face-to-face conversation. The answers to these questions allow me to step into their shoes before using my skills as a designer when creating something beautiful, meaningful and personal to them. It also allows me to build a stronger connection with my clients, which I enjoy more than the design process itself."

How do you define your rental inventory style?
"I would define our rental inventory as unique, playful and refined with a wide variety of colors, textures, patterns and natural elements that have subtle influences from around the world. The juxtaposition of unlikely style combinations has always intrigued me as a designer. I love when classic and modern elements can come together seamlessly, or when masculine and feminine features collide to create something beautiful that is fresh and unexpected."

What is the biggest trend you are seeing with lounges and rentals right now?
"The biggest trend that I am seeing with lounges and rentals right now is the freedom of choice. Design has become such an integral part of our wellbeing. It's in everything that we do, and people want to express their personal style through lounges and rentals more than ever."
Scout Rental Co. | Greer Woodruff:
What is your approach to creating spaces and lounges?
"My approach is simple... it's all about the feeling and ambiance my clients are wanting to treat their guests to. Most often, I try to capture their own personal style and bring that presence into their wedding day and lounge spaces. Whether simple or elaborate, these spaces enable their guests to sit back and bask in the delight of the big day."

What do you look for when sourcing rental items?
"There are so many things to consider! When sourcing it's always fun to grab those one-of-a-kind items, pieces that make a real statement; then balance that with timeless silhouettes and textiles."

What is the biggest trend you are seeing with lounges and rentals right now?
"I think brides are taking more risks and going a little 'outside the box' with each passing year... so playing with different colors, textures and even contrasting styles. I'm a big supporter of this as they get to create their very own signature wedding style, completely unique to them."
Embellish Vintage Rentals | Judi Powers:
What is your approach to creating spaces and lounges?
"I like things to be truly authentic and strive for the highest of quality. I try to work in a mixture of contemporary pieces with older pieces. Most of my pieces are antiques that I will fix up because the original quality of the piece is still so great. I like to play around with depth and height by incorporating in unusual items like a screen."
What do you look for when sourcing items?
"Quality and authenticity. I go to antique sales across California, search craigslist, and scour local spots. It can take a long time to get the things I like but I stay patient when sourcing because finding high quality pieces is my end goal. "
How would you say rentals and lounges transform a wedding space?
"They totally transform the mood that you want your guests to feel. They speak and say, 'Welcome, relax, and have fun.' They give people direction and designated spaces to be and couples get the opportunity to show their personality through rentals and lounges. It expresses hospitality, gives intimacy, and creates a place where people can be together."