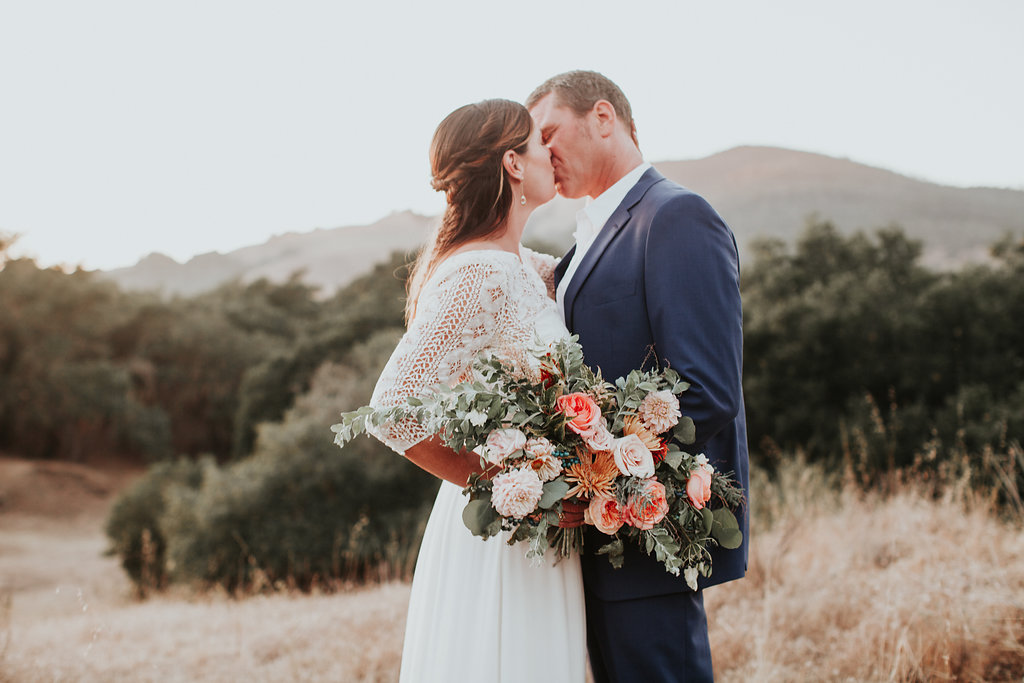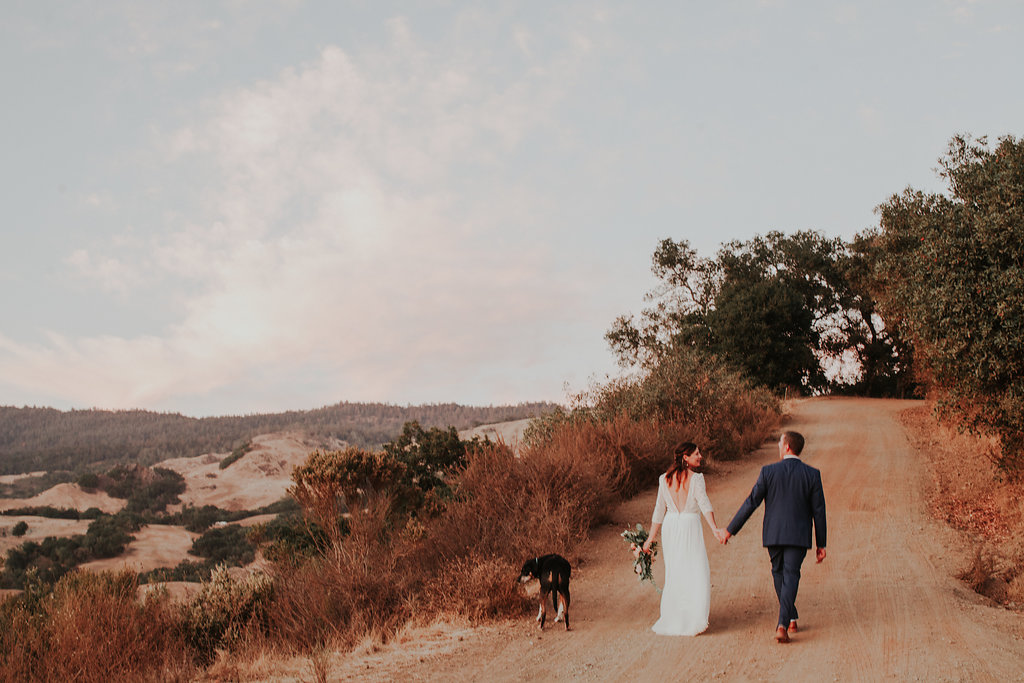 Words from the photographer, Alexandra Wallace: "Elissa and Joe tied the knot at Stepladder Ranch, tucked away in the hills of Cambria, not far from Hearst Castle. Sharing a love for sailing, adventure, travel, and Lola the dog, these two [with the help of Kelsey of A Lovely Creative!] curated a stylish celebration that was true to their personal style, with their closest friends and family. Elissa made an entrance by walking down the aisle to Going to California by Led Zeppelin, her loyal pup following closely behind her.
The reception included farmstyle tables with blue velvet runners, bountiful arrangements from April Flowers SLO, and only the best food from Flora and Fauna"
Tell Us Your Love Story!
"We met at a going away party for my (Elissa) best friend Feb 7th, 2014. Joe was visiting from RI and his college buddy had met my friend in Bali and wanted to say goodbye so he brought Joe to the party. It was very unexpected and wonderful to meet him that night. He extended his trip a week and quickly came to stay at my house. He moved across the country and in with me in San Diego nine months later to pursue his dream of becoming a pilot. 2 years later he took me flying to watch the super moon rise over the desert. He gave me a checklist of things to do as I took control of the plane. #5 was to marry him!"
Tell us what inspired your wedding style and or theme.
"We both love the ocean, but I grew up loving horses so the coastal ranch was a dream for me. But the most important factor about the venue was that it allowed me to have my dog Lola there. Stepladder Ranch is not only beautiful and dog friendly but it also has a barn that is actually a plane hangar so it tied all our loves together. Joe is very simple so I tried to keep things as organic as possible and used lots of subtle colors with lots of blues to tie in coastal vibe as much as possible."
Describe 1 or 2 details (about your wedding) that you were the most excited about.
"My entrance to the ceremony was pretty awesome. I descended a big hill from the main house with Lola in tow to the ceremony. My dad met me at the bottom and he walked me down the aisle. The Cimo Brothers played an instrumental version of Going to California as I came down the hill. It was such a perfect way to enter the ceremony - independently at first and then traditionally with my loving father. It's hard to narrow it down to 2 things. I loved the flowers and the band and the family style dinner so much."
What colors did you choose for your overall theme?
"Blues with splashes of pink, orange and rust."
Tell us which wedding artists knocked your wedding shoes off and why!
"April Flowers is exceptional. A Lovely Creative was so awesome to work with and I actually miss her now that we don't have reason to work together any more. Alexandra Wallace couldn't have been better. She's an amazing photographer who respected our weird requests and was so unassuming and lovely."
Knowing what you know now... what advice would you have for other brides planing their wedding?
"HAVE FUN. Don't waste too much time or money on the small insignificant things. Decide what is the most important (to me it was the music and the atmosphere) and focus on getting those right. Figure out how to make it last longer :)"