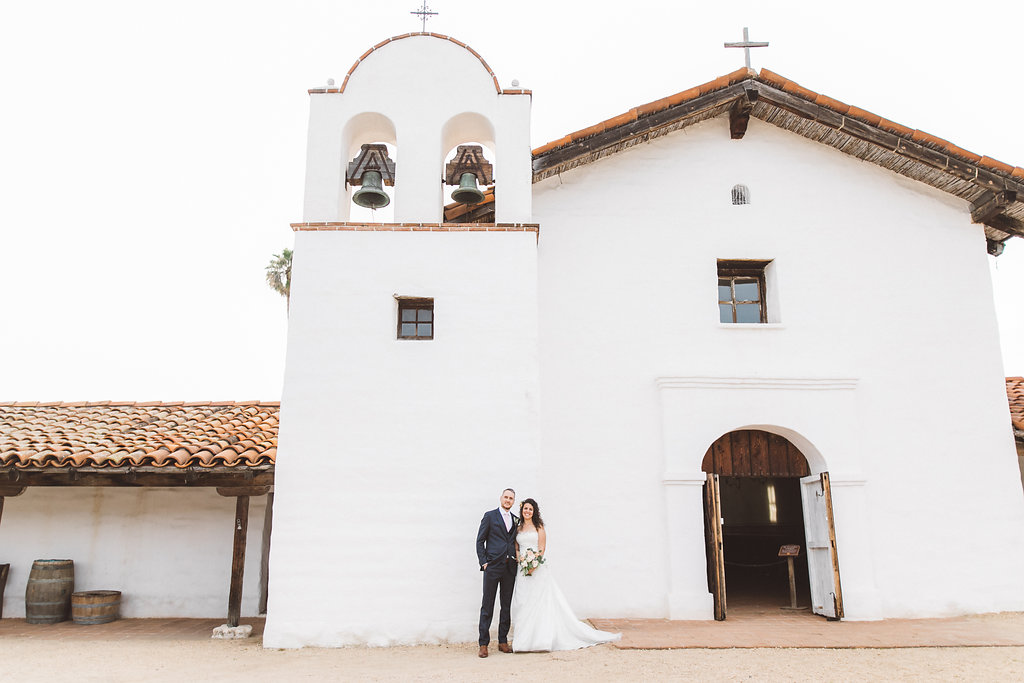 The historic Santa Barbara Courthouse was the perfect simple and romantic Santa Barbara Wedding Venue for this laid-back and intimate springtime wedding! This fun day was highlighted by a breathtaking first look under a magnolia tree, post ceremony coffee at Handlebar Coffee, and a trolley ride to the reception venue where it ended with the bride and groom sharing a meal surrounded by close family and friends, just as a wedding should be! Every beautiful detail and sweet moment was captured by photographer Anna Delores.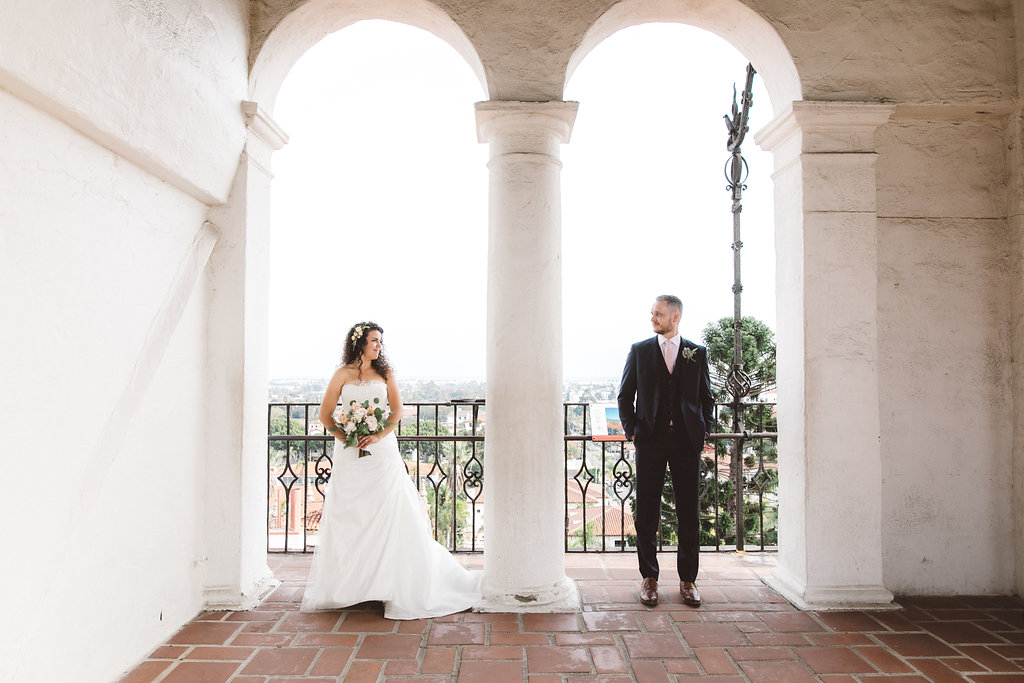 Words from the photographer, Anna Delores: "Josie and Evan fell in love over their shared love of breakfast, bad puns, and freelance filmmaking. They make their home in Los Angeles with their rescued Greyhound, Pippet, and first met while editing projects together. The wedding itself was infused with homage to Josie's blended Swedish and Moroccan heritage (guests departed with her father's take on the North African spice blend ras el hanout, and sang Swedish drinking songs during dinner service!). We went from the Santa Barbara Courthouse for their Mural Room ceremony to bridal party portraits at El Presidio, followed by coffee at Handlebar and a trolley to their reception at the Duo Events space."
Boy Meets Girl! Tell Us Your Love Story!
"We met in grad school, both studying to become film editors. We edited quite a few projects together as friends... and then as best friends... and then we really couldn't stop hanging out when the projects ended! After living together for five years, we decided to adopt an ex-racing greyhound together. After a fun day in San Diego and playing with greyhounds, we picked our dog and went to celebrate. That night, Evan proposed and our little family was complete."
Tell us what inspired your wedding style and or theme.
"Our families come from places that also happen to be design styles - I'm Moroccan and Scandinavian. Evan is from Santa Barbara, CA. We wanted to have Moroccan food and Swedish drinking songs and Papel Picado. To ground the different styles, we also kept it very geometric and springtime. Is Moroccan Romantic Geometric Modernism a style? I think it is now."
Tell us about 1 or 2 memorable moments (from the wedding day) that stick out to you.
"I think every bride's favorite parts are the ones they didn't/couldn't have planned for. We were married at a beautiful historic courthouse and having so many tourists wish us a happy day while we took pictures made me feel so bridal and happy. I especially loved sitting in the center of our long dinner table at the reception. I was able to peer down both sides and see all my favorite people in the world."
What colors did you choose for your overall theme?
"Because of our springtime date, we chose blush and sage."
Tell us which wedding artists knocked your wedding shoes off and why!
"Our photographer, Anna Delores, was a godsend. Neither of us are very comfortable in front of a camera and our families are not very good listeners but you wouldn't know from the photos. Our caterers, Duo Events, were also outstanding - My mother has some pretty severe food allergies and her specially cooked dinner looked just as good as what everyone else was eating! It made her feel included and taken care of."
Describe 1 or 2 details (about your wedding) that you were the most excited about.
"We both spend the time going through our priorities and FOOD was at the top of the list. We picked our caterers before we picked our venue! I was also very excited to have all my friends and new family sing our traditional Swedish drinking songs - we printed out phonetic lyric sheets for everyone and it was both incredibly sweet and hilarious."
Knowing what you know now... what advice would you have for other brides planing their wedding?
"If a project that's important to you feels overwhelming, make it a group activity! We made the garland for the 64' table ourselves. I bought a bunch of PBR, hooked up a boombox and invited every extended family member to come help out. It ended up being one of my favorite pre-wedding activities!"