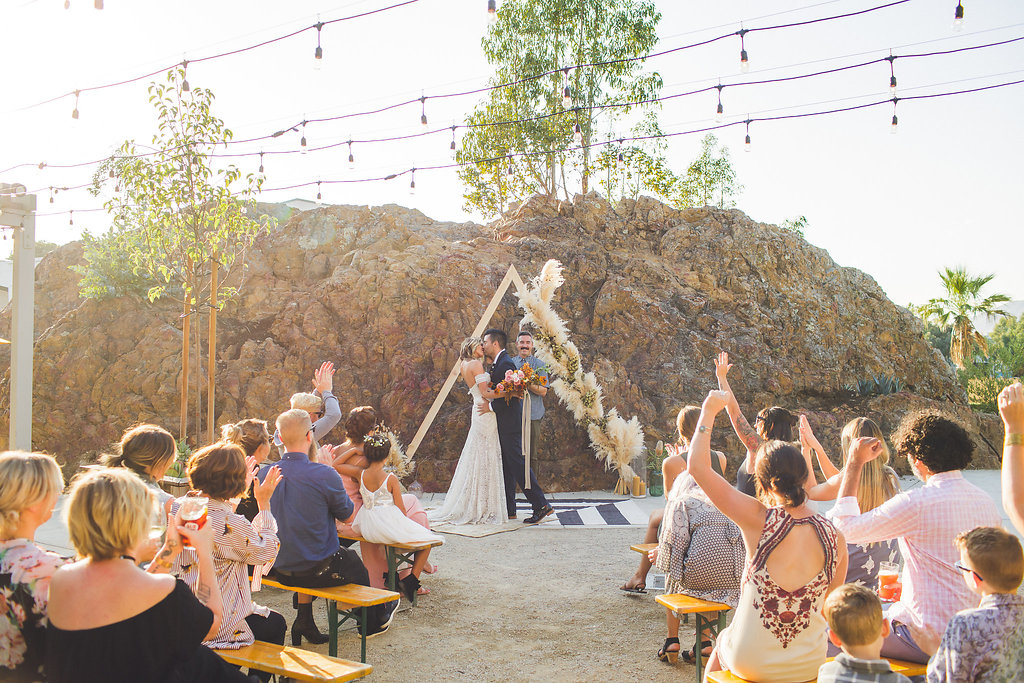 Looking for a fun and unique San Luis Obispo wedding venue? Slo Brew The Rock is the perfect spot! With multiple venues available on the Central Coast to offer a wide variety of accommodations, SLO Brew has remained one of California's longest standing brew pubs since it first opened its door in 1988. The hand-crafted micro brews, quality dining, and world-class entertainment has made SLO Brew a pivotal component of the Central Coast and with its recent addition of The Rock location has become a popular up and coming event venue ready for all of your wedding celebrations. We caught up with the catering and events manager, April Baserga, to hear all about what makes this venue so great!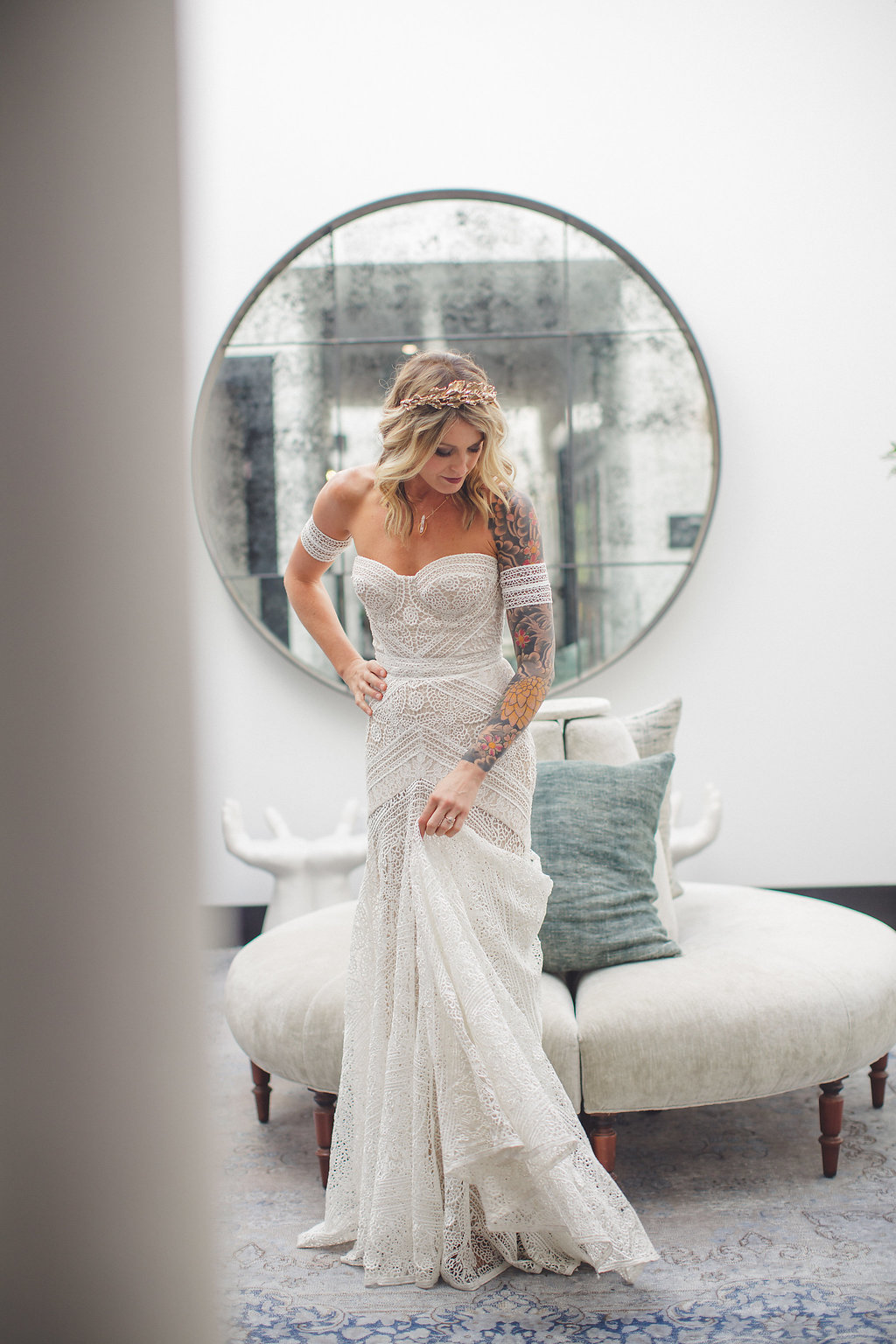 Describe your atmosphere and feel.
"SLO Brew offers impeccable dining at both of our locations, epic entertainment, handcrafted microbrews and world-class accommodations. With multiple venues available, we can host your entire wedding weekend from welcome party to send off brunch, and everything in between. The vibe is rockstar chic with a nod towards unforgettable celebration. We can accommodate groups from 20 to 600 for everything from a rehearsal dinner to the next level after party. The Lofts, one of San Luis Obispo's most sought-after accommodations, will ensure your friends and family are more than comfortable while your celebration weekend is in full swing."
What amenities come with the venue?
Full-service catering department, indoor and outdoor event space, tables and chairs, linens and napkins, brewery, dedicated bathrooms for event guests, handicap accessible, pre-existing exposed market-bulb lighting for the outdoor venues, pre-existing sound.
Describe your options for ceremony locations?
We have a few unique options. Our first, and most popular, is right in front of The Rock. It is beautiful, natural, epic and photos would lead anyone to believe you are in a remote destination. It's an amazing outdoor option for a ceremony that is unlike anything else you will find in the Central Coast.
Our second option, if you want to host something indoors, is our eclectic event center that has floor to ceiling windows with incredible light and a minimalistic design so it can be easily transformed to meet your ceremony vision dreams.
Lastly, we have some incredible options for intimate elopements at our SLO Brew Lofts downtown.


Does your venue include a day of Coordinator?
We don't offer a day of coordinator, however, we do require that you hire a planner or coordinator if you are hosting your wedding with us.


Do you offer your venue for rehearsal dinners?
Absolutely! Since The SLO Brew Rock acts as SLO's best backyard party, we have great options for peripheral wedding functions. Our Beer Garden and Patio Terrace are perfect choices for a night under the stars. Booking the space includes lawn games like ladder toss, corn hole, ping pong, and giant jenga which offers great opportunities for your guests to interact in a relaxed environment. We offer beer and wine at The Rock so it's a great place for guests to kick back but not get too out of hand the night before the wedding. We also have late-night, post-wedding brunch, bridal shower, and bachelor party options at any of our locations so we can incorporate SLO Brew into your wedding weekend any way you want. We are dog and family friendly too so everyone is welcome!
What rentals are included?
Tables & Chairs.


Do you have a Bridal Suite for Getting Ready?
Accommodations and a Bridal Suite is available for rent at the SLO Brew Lofts location downtown.

What makes your venue unique?
The SLO Brew branded locations have a long-established history of creating epic events in SLO. Our brew atmosphere provides an authentic beer-centric experience for our event guests.


How would you describe your ideal couple?
A couple that is looking for an experience that is not a traditional formula wedding. Our couples are looking for an authentic great time for their guests that includes great beer, food and a party. Often our couples are from out of the area or went to school in SLO and are looking to come back to the area to celebrate. Our couples trust us to bring their vision together and provide the backdrop for a great weekend in SLO.
What's your business philosophy?
To handcraft the SLO experience by brewing up epic times and good spirits through extraordinary events.


Favorite part of a wedding?
Feeding the bride! I always make sure that a cute plate of all the hors d'ouervres is delivered to the wedding couple when they're doing post-ceremony photos. Being a bride myself last year, I know how hangry you can get and I, as the catering manager, get the luxury of serving some of the first bites to the just-married couple. I also adore the crazy uncle that (almost) every couple warns me about- they're my favorite guests because they keep things interesting and light during high energy times.


Why do you do what you do?
I love event day and seeing how months of planning and logistical coordinating with multiple vendors can make 10-hours of someone's life pure magic. It's hard to describe how incredible it feels to see a wedding couple blissed out of their minds on their big day. The energy from the dance floor, the flashing of the camera, the smiles when dinner is served - it's this intangible energy that I haven't been able to find outside of the event world.
What question do you always ask the Bride & Groom?
What do you care most about and what are you comfortable giving me carte blanch on? By understanding the couples' priorities, it allows me to focus on the details that matter the most to them. Is it the timing of the dinner service? Is it making sure the MOB always has a drink in her hand? Every couple is so distinctively unique and I want to ensure I spend my energy on things that matter to them and not let my wheels spin on things that they don't really care about anyway.


Wedding trend that you're loving right now?
I love that wedding couples are serving whatever food they want instead of going traditional with their menu. I think the elevated family style format is a huge win for a wedding as is brings tables of guests together over shared plates of food.


Wedding trend that will hopefully be out next year?
Electronic invites. I am ALL for saving the environment with less paper but there is a certain feeling you get when you receive a traditional wedding invitation; they are classic. I cherish my grandparent's wedding invitation as it has historical relevance to our family's growth and I just can't imagine a wedding website providing that same sense of connection to future generations.


Where do you see yourself (or business) in the near future?
I see me flying through the brand-new event center with a huge smile on my face. SLO Brew is about to embark on the really exciting venture of opening the largest indoor music venue in the Central Coast. We will have some of the biggest entertainment acts in the world coming through and providing live music to the Central Coast jam-loving community. The event center will also act as our main indoor wedding venue which is going to open up an entirely new opportunity for private events in SLO.


Name and define one attribute that defines being a TWS member for you.
Commitment. SLO Brew does not take being a TWS member lightly and we are committed to continuing the standard of excellence that this community so beautifully promotes.