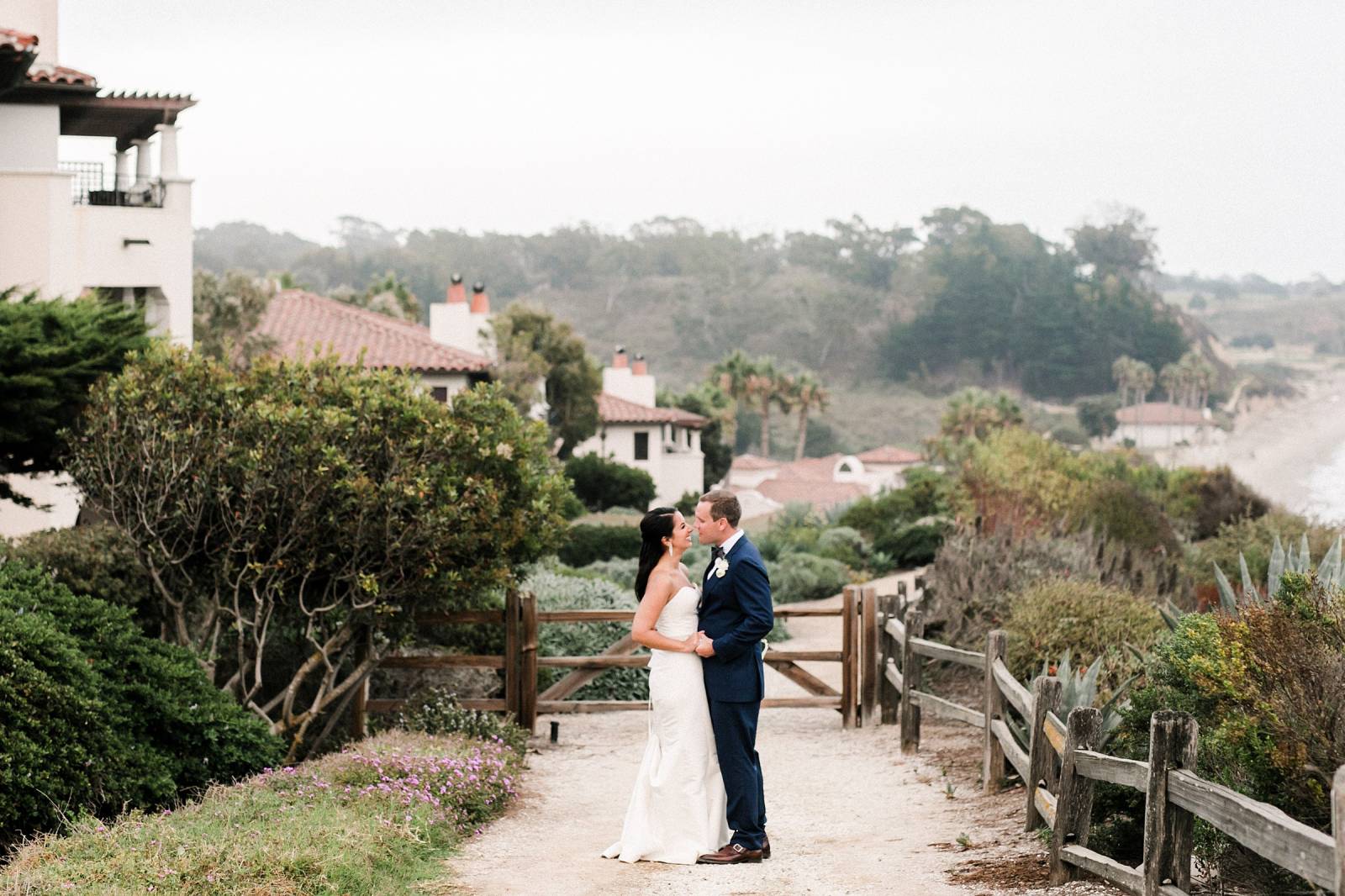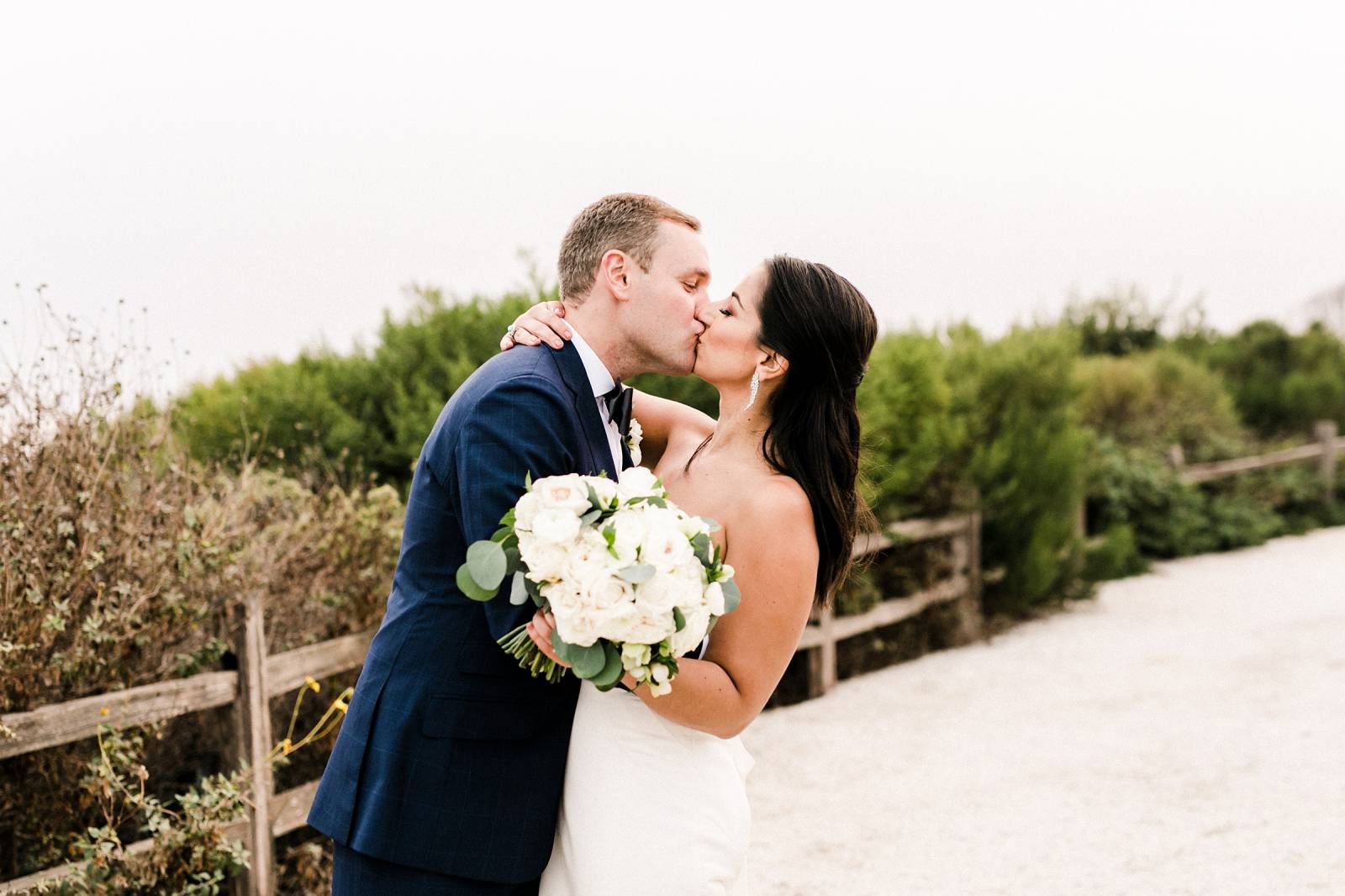 Girl meets boy! Tells us your love story!
"Jared and I first met at KPMG National Training in Orlando, Florida in 2008. We were just friends. We hit it off, and had a blast for the week we were there. We continued the friendship over countless (un)productive hours of emails, mine from San Francisco, and his from Stamford, Connecticut. Our story takes its first turn in mid 2009 when I, along with two of my best friends) decided to crash Jared's Man's trip to Las Vegas. It was on this trip, followed by a weekend in the Big Apple that we both starting to realize that we really liked being around each other. Fast forward 7 years, with a 2.5 year long distance relationship + a cross-country move to San Francisco (for Jared), Jared planned a romantic engagement weekend with both our families at the Ritz-Carlton Bacara, Santa Barbara. As we arrived at the Bacara, Jared insisted on immediately "going for a walk" which was suspicious as it was right in the middle of the third quarter of Game 4 of the NBA Finals (Go Warriors)....and moments later he dropped down on one knee on the beautiful bluff and popped the question. We walked over to the Ocean Terrace and I was surprised to see both our families there waiting to celebrate!"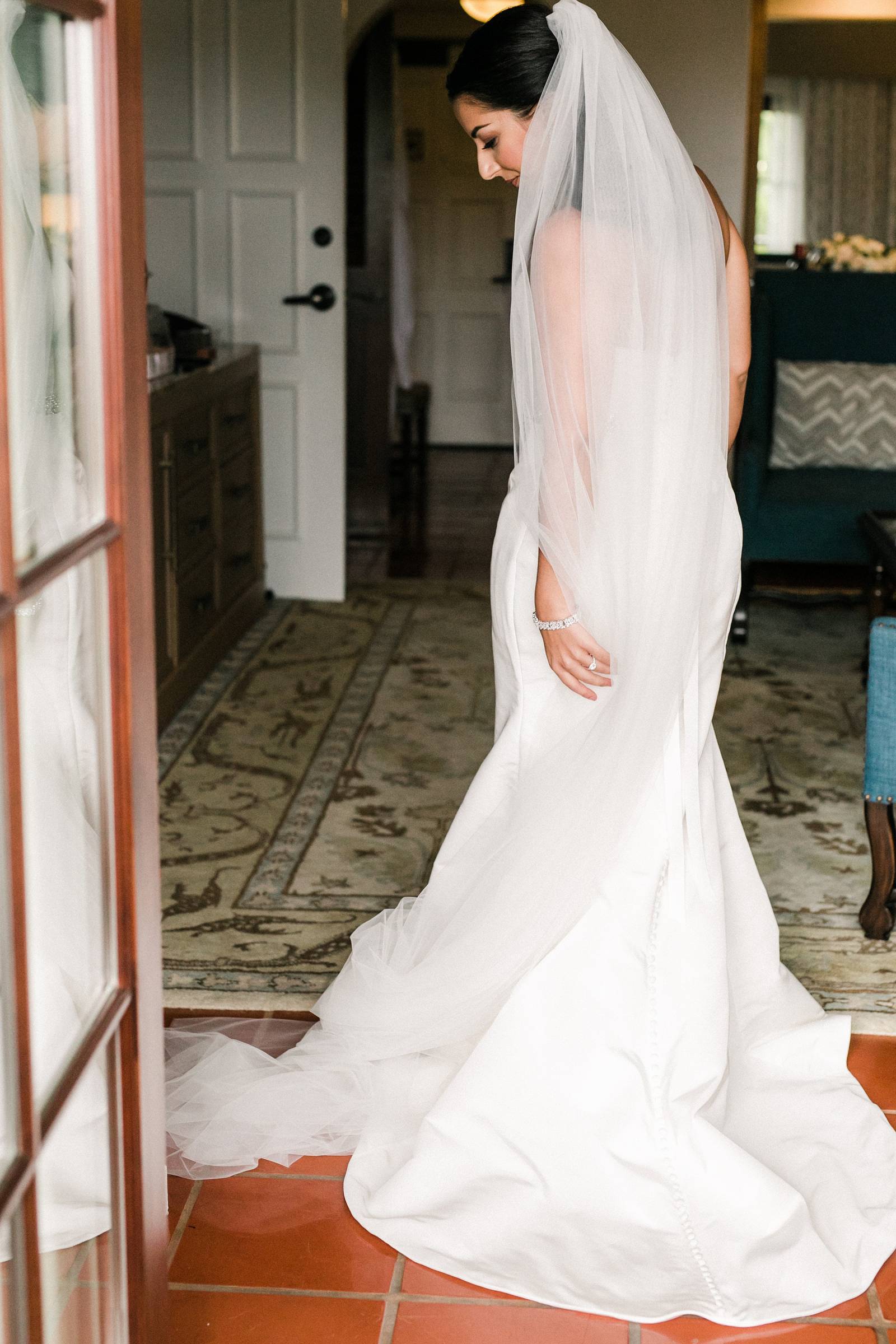 "Hair and Make-Up Artist, Lacey from 805makeup and her hair team was wonderful. I usually do my own makeup for special events and now wish Lacey could my makeup everyday. She uses quality products and delivers exactly what you want. Her hair team is also fantastic. We had a large bridal party and they did a fantastic job on everyone."
Tell us which wedding artists knocked your wedding shoes off and why!
"We could not have had a better vendor team and I owe it all to our amazing Wedding Planners, Sophie and Kelsey from Amazing Days Events, for a majority of the recommendations. They were all truly a dream to work with. They are SO on it. They were on top of every single detail, kept us all organized, provided great and honest advice throughout the planning process and executed everything flawlessly (or at least it seemed flawless to me!) .Our Wedding Photographers, Emily and Rhianna from Anna Delores Photographer. They are the dream team. They work so well together and made it super fun and easy to take wedding photos. Their photos are absolutely beautiful. Our Wedding Videographer, Jeremy from Jeremy Foster Films: While still new to the wedding video scene, Jeremy worked so hard to bring together a film that highlighted all of the special moments of our big day. Definitely recommend him for folks looking for a budget friendly videographer."
What colors did you choose for your overall theme?
"I knew from the beginning that I wanted a neutral palette - white + blush + greenery - and a hint of blue in the groom and groomsman suits."
Tell us what inspired your wedding style and or theme.
"After attending 30+ weddings in our relationship history, we had a good feeling for what we liked and dreamed about for our wedding day. We picked a destination wedding as we wanted a weekend long celebration with our friends and families. We had considered Mexico, since it's one of our favorite vacation destinations, as one of the destinations for our wedding and loved that the Bacara brought the beautiful ocean style that we dreamed of, combined with a classic, elegant, Spanish-style luxury decor. We planned for a formal wedding and loved that we were able to do this along with the ocean/on the beach feel."
"Our Floral Designers, Tracey from Ella and Louie Floral Studio: I went into the planning process knowing nothing about flowers. Absolutely nothing. I shared some ideas with Tracey but really let her run with it. I didn't know what most of our flowers were going to look like until the day of and I was absolutely blown away. I never thought I'd be so obsessed with flowers until I saw the flowers Tracey put together for our wedding."
Describe 1 or 2 details that you were the most excited about.
"We were the most excited to have our friends and families together in the same place for an entire weekend. In terms of the details, we were really excited about it all from the beautiful flowers, to the incredible dinner and drinks, to the music (to ensure everyone stayed on the dance floor the entire time!). We wanted to keep the party together on the dance floor but we were intentional about setting up a cigar bar during the reception as another place for guests to hangout and mingle on the terrace overlooking the ocean."
Tell us about 1 or 2 memorable moments that stick out to you.
"Walking into cocktail hour to a big cheer from everybody. And seeing the mix of everybody from your life blending together...you got your college roommate chatting with your Uncle, and your coworker sharing a laugh with your high school science teacher, its crazy. Another memorable moment was having one of our closest friends officiate our wedding. We have him zero instructions and had no idea what he had prepared for our ceremony. It was so fun to hear everything he put together. And lastly, our vows. Unknowingly, Jared and I had ended our vows with a quote from Kevin Durant's MVP speech [referencing his mother] "You're the real MVP."
"Our Wedding DJ, DJ Zeke Santa Barbara was awesome. He helped us put together all of our music (ceremony + cocktail hour + reception + dancing) and executed flawlessly."
What advice would you have for other brides planing their wedding?
"Make lists and stay organized. There are a lot of a little details to get through but it's very manageable if you stay organized. Do not leave things for the last minute or else you'll be stressed leading up to your wedding day. Additionally, partner with vendors you trust. I truly trusted our vendor team and knew they would do the right thing."