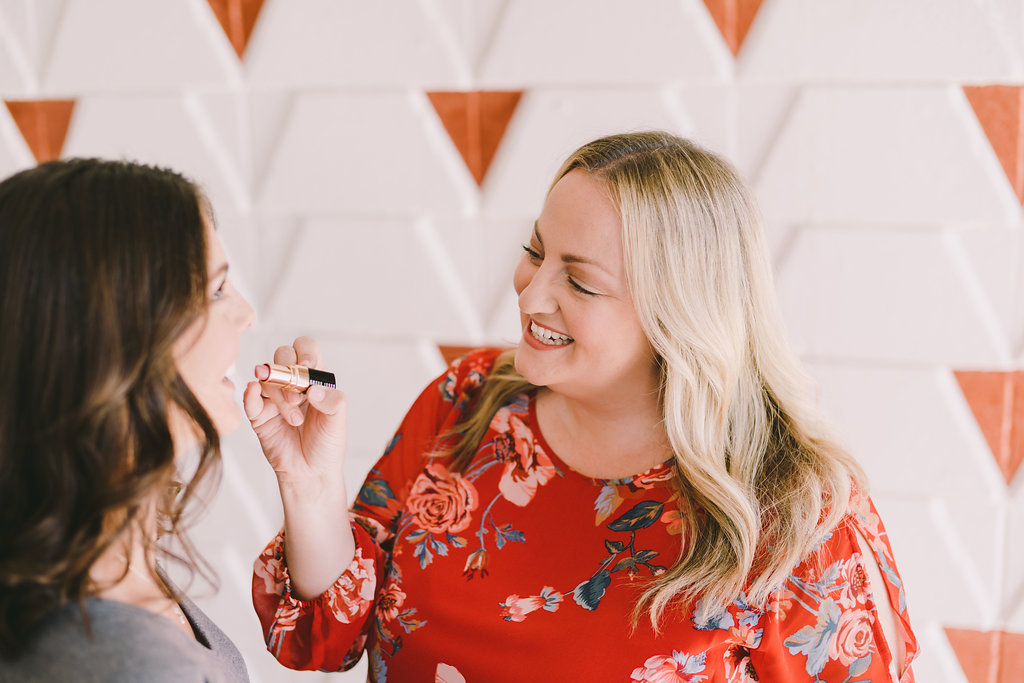 CANDACE MILLER is an accomplished makeup artist who has worked with clients ranging from brides, to runway models, to Hollywood actors. Her fun, bubbly personality brings instant warmth to any room she enters, and her makeup artistry will leave anyone feeling flawless. Sound like a pro? You bet she is. She's given us her biggest pieces of advice for brides navigating the path to bridal beauty!


1. SAY YES TO HIRING A MAKEUP ARTIST
Do yourself a favor and decide to hire a makeup artist. You might think you can just do your own makeup on your wedding day, but there are so many things to factor into that decision. Makeup artists have a kit worth thousands of dollars, filled with products that will help you to look your best on your wedding day. This is our job! When I do makeup for a wedding, I am layering products in a specific way to make you look amazing - not only in person, but also in photographs. An artist can also give you advice on what will be best for your specific features and what colors to use to achieve your perfect bridal look. This is a day that everyone will be looking at you. Spend the money, hire the makeup artist.


2. DO YOUR RESEARCH
Not all makeup artists are created equal. Just like any planning you do for your wedding, research is key! It's important to know what kind of look you want for your big day before you start. You want to find an artist that matches your style, and who can follow through. Some artists can do any look thrown at them, and that's amazing! But, it's also rare. Most artists have their specialty down pat. Some artists can whip out a natural bridal look like no other. Others are great at a full coverage look with smokey eye and lots of color. Take a look at their website, Instagram if they have it, or even a Facebook page. Read reviews and find out how long they have been in business. Also make sure that they have experience in the procedures of a wedding day. An artist might do amazing work on a single model for a photo shoot, but it's much different when that artist has a timeline to stick to and needs to do makeup on nine girls all while trying to balance different requests and styles. Can that artist survive an eight hour day? Ask around if any friends or family members can recommend someone. Being confident that they can deliver will make you feel so much better!
3. BOOK EARLY
If an artist is good, they will get booked early. We are talking sometimes six months or a year in advance. So get on it ASAP! Also be aware that you might be competing with another bride to book your same date. If you know you want that artist, sign the contract. Of course, do your research and read that contract thoroughly! This will guarantee that they are all yours. If you wait on it, you might have another bride swoop in and sign on the dotted line that same day. Ask the artist if they have any other brides asking for that same date. This might help you to move things along faster. Don't be afraid to ask lots of questions before signing, but be aware that the longer you wait the chances of losing that artist might grow.
4. SCHEDULE A BRIDAL TRIAL
I can't stress enough how important a bridal trial is. Not only for you, but for the artist as well. A trial is for experimenting and creating a look that you are happy with! It's also to make sure everyone is on the same page before the big day comes. With that being said, come prepared for your bridal trial. The first thing I ask my bride when doing a trial is what kind of look are we wanting to create? When the bride comes back with an answer of "I don't know, do whatever." I know there will be trouble. This is your wedding day! You might have spent $20,000 on the venue, flowers, cake, and your wedding dress, but the one thing everyone will be looking at all day is your smiling face. Plus you are going to be photographed! This is your time to dream and feel beautiful. It's so important that you come with at least one picture example of what you want as a starting point. That way you and the artist can have a place to start from for talking colors, what will work best for you, and how you want to feel. If you say do whatever, the artist will. And you might not be happy with it. Take the time to research a look you want and don't be afraid to speak up! At the end of your trial be honest. If you don't like the lip color, say something. If you feel like it's too heavy for your taste then say it. As an artist we want to make sure you feel the best you can and are happy. Again, this is the time to get it perfect so on the day of your wedding you feel amazing.
5. SKIN CARE
A lot of brides feel lost when it comes to skincare and how they can prepare to look their best for their wedding. It's important to consult with an aesthetician in your local area six months to a year before your wedding to talk about what products and procedures you will need to get your skin looking its best. Don't wait until two weeks before your wedding to get your first facial. Your skin needs time to adjust and react to new things. One thing that really makes makeup look flawless is skin that is happy and hydrated. You will need less foundation and concealer to cover up blemishes. Plus your skin will glow from the inside out. Invest the time and extra money on your skin and you won't regret it!


6. TANNING AND SPRAY TANS
Every bride wants to look amazing in their wedding dress, and sometimes that means getting a tan to avoid weird tan lines and achieve an even skin tone on your big day. But, there are a few things to keep in mind before you do this. If you are going to go the route of sun tanning, either outside or in a tanning bed, you want to do it gradually. Don't go sit out in the sun for six hours, three days before your wedding. A sun burn is the hardest thing to match and cover up when it comes to foundation. Using makeup to cover up a sun burn can irritate the skin and also create an ashy look, especially on the face. I once had a bride who went into a tanning bed every day the week leading up to her wedding - her face was literally cracking and bleeding in areas. It was a nightmare. Be very careful with your skin leading up to your wedding. Also, keep in mind that if you get a spray tan before your wedding, your artist will need to match that color on your face. Be smart and let your makeup artist know if you are doing anything dramatic.
7. GIVE YOURSELF EXTRA TIME
The morning of your wedding will go by in a flash. This is such an important time because it can set the vibe of your entire day, whether it's fun and calm or a panicked and stressed. What can you do to make sure you have fun and feel calm? Give yourself extra time. I always give a 30 minute buffer when creating my makeup timeline right at the very end. Some brides have argued with me that they don't want to start 30 minutes early, and I get it. That's 30 minutes less of sleep and 30 minutes less time to do stuff, but trust me, it's needed! The morning of your wedding, you will have people asking you tons of questions that you will be pulled aside for. Consider the pause you'll take when the photographer shows up, and answering their questions. You might even have a bridesmaid that shows up late and pushes the entire timeline back. It's an important 30 minute buffer! Give yourself that grace. If you don't end up using it that's okay - you now have extra time to relax and drink a mimosa. But if you don't have it you might feel frantic and regret it.
8. KEEP YOUR ARTIST AROUND FOR TOUCH-UPS
So, it's your wedding day and you are feeling amazing! Your hair is perfect, the dress fits like a glove and your makeup is on point. You've chosen to do a first look with your new husband before the wedding at 1pm and the wedding starts at 4pm. In between you will be taking lots of photos, maybe shedding a couple tears of joy and also kissing your hot husband, all before you even walk down the aisle. Your lipstick is almost all the way gone and you have been sweating because it's a warm day. Don't you wish you could turn to your makeup artist and have them fix you up? No matter how good your makeup artist is, you will sweat, you might cry, you will be talking and laughing and kissing and your makeup will do its best to stay in place, but it won't be perfect forever. I encourage brides to spend the extra money to have your makeup artist stick around. You will be glad you did when you get your photos back!